Having toe-tapped our way across Austin Texas, our next musical destination was Lafayette, Louisiana, the heart of Acadiana, or Cajun Country, where accordions rule, whether in the form of traditional Cajun music or the amped-up, revved-up variant called Zydeco, which the African Americans play with such verve.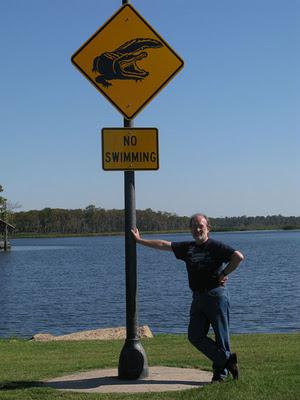 The moment we entered Louisiana we started to do stupid things. No, there weren't any alligators lurking nearby, but this grinning galoot is about to discover that 35,000 mosquitoes had him surrounded and were hungry for Aussie blood. Even when we got back to the car and swiped ourselves down we still had a few thousand of the little bloodsuckers on us, and it took us many miles of driving to finally get rid of them all from inside the car. Welcome to Bayou Country!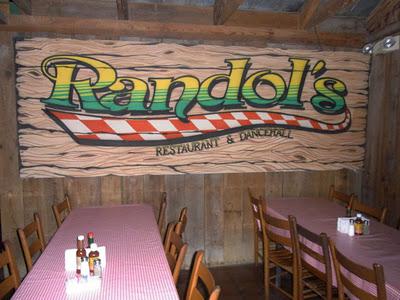 We didn't waste any time once we got to Lafayette. We headed out to Randols, a restaurant and Cajun dance place out in the Lafayette 'burbs. Our good friend Lorna had warned us "whatever you do, don't eat at Randols" and so we ate at Randols – and survived! The food was actually pretty good; they must have fed the old, dud chef to the gators since Lorna was here.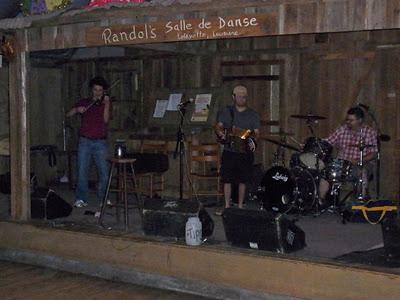 Playing that night at Randols was a Cajun band called Low Maintenance, and while these guys played really well, they did like a good few minutes between songs while they joked around on stage and discussed what they were going to play next.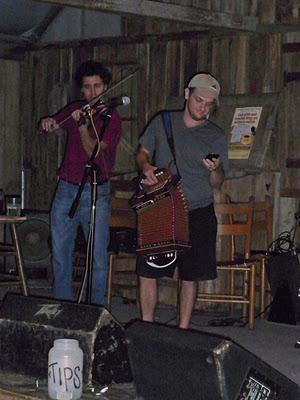 We loved the very relaxed lead singer/accordionist, who checked his mobile phone messages while the fiddler did his solos.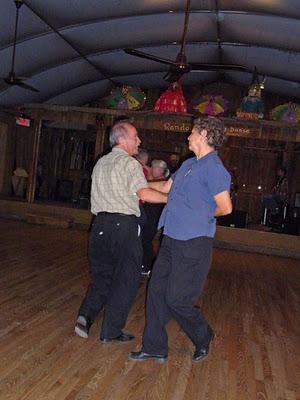 The crowd wasn't large that Wednesday night, but there were some dedicated two-steppers who danced to every tune, and this pair were the winners of our unofficial Fred & Ginger award for best dancers.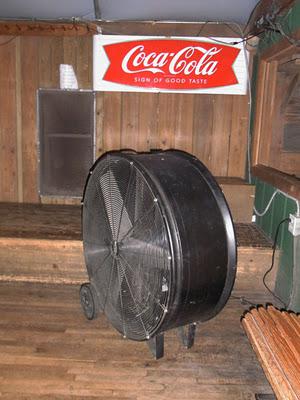 Thought it's the fall season, the evenings are warm and balmy and dancers work up a sweat, but no worries. In two corners of the room industrial-size cooling fans whirred and thrummed away all night.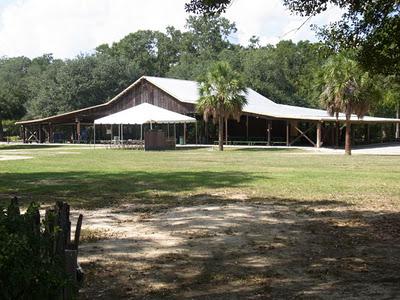 A few times in our Lafayette stay we came across amazing dance venues that didn't have anything scheduled that day. This superb open-air space is at the Acadian Folk Heritage village in Lafayette. It looks a bit like a giant Australian outback woolshed, and it's purpose-built for Cajun dances.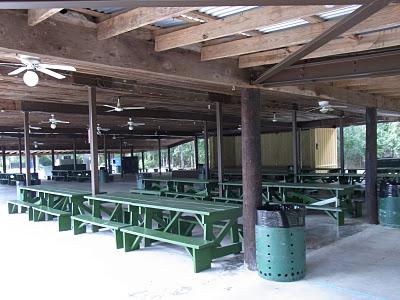 In the background (with the yellow walls) is the stage; there are tables and benches everywhere for people to eat and have a drink; those giant cooling fans in all four corners, and plenty of parking space nearby for hundreds of big pickup trucks.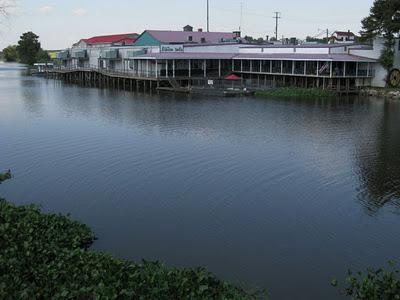 Another venue that wasn't playing when we drove by was the Atchafalaya Club at Henderson.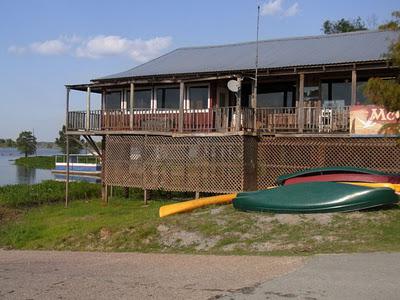 Two miles down the road from the Atchafalaya Club, on the other side of the levee bank, right on the bayou, was McGee's Landing, which I featured in Tummy Time 4 recently. Now, we thought we were going to hear some Cajun music at McGees, as the person there on the day we first visited said that dinners started at 6, the band at 7 on Fridays, Saturdays and Sundays. So we arrived on Friday night at 6, had dinner, and by 7.30 there was still no band. "Oh no, said the waitress, on Fridays the band doesn't start playing till the football is over. They'll be here by 10 or 10.30."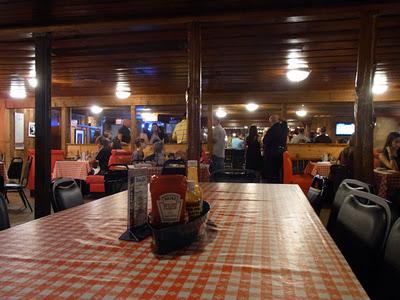 And so we jumped in our car and moved on to Breaux Bridge a few miles away and came across the Breaux Pont Cajun Restaurant, where Lee Benoit and his band were playing and the folks were having a great old time.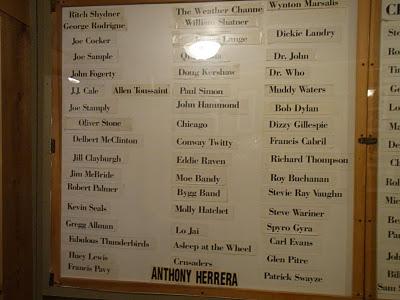 The foyer of the Breaux Pont had a board listing all the people who have played here, and not many venues can boast a line-up as varied, and famous, as this lot. I wonder how the locals liked Bob Dylan?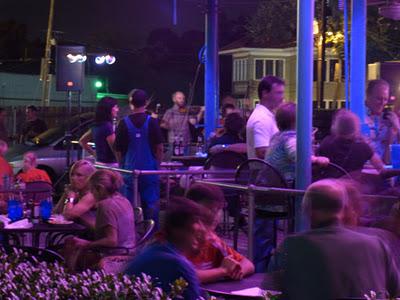 Not yet finished that Friday night, on the way back to our hotel we spotted a band playing at the Filling Station, right across the road from our hotel. We never did learn that band's name, but they were fun, too, just playing out in the courtyard outside the restaurant.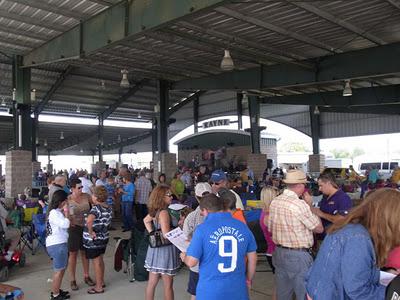 The next day we noticed there was a music festival on at Rayne, about 8 miles west of Lafayette, and so we headed there. Even though Rayne is a smallish town, they have a huge covered outdoor area with a stage in the centre, again purpose-built for hosting music gigs. We left when the sad country singers came on, and promised to stay sad for the next hour. It was fun until the Zydeco stopped.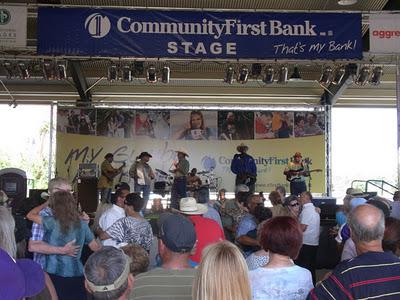 That afternoon (we pack it in!) we headed down to New Iberia where they were having a Gumbo Cookoff, with entertainment from Zydeco bands provided in yet another purpose-built outdoor music stage and dance area. Every town seems to have one of these great venues, and the locals come out in droves to take part in the fun. These are all family days, with every known age-group there. The difference between the Rayne event and the New Iberia event is that Rayne was an all-white crowd, while New Iberia was much more of a mix of ethnicities.
So let's finish off with 20 or so seconds of Geno Delafose and his zydeco band having fun in New Iberia. I love the zydeco rhythm and verve, but I am always blown away by the lyrics. This one is called "My Baby Loves Zydeco" and that's about it for lyrics. There's another one called "Who's got my hot sauce?" and that's all the lyrics you need to know to sing along to that one, too.
As usual we're playing catch-up with our blogs, because Pammy and I have moved on from Cajun Country, and we're doing this blog from our hotel room in Natchez, on the banks of the Mississippi River, up in the state of Mississippi. We're having a brief stay here just to look at some of those old plantation houses, and then we're heading down to New Orleans, where I've been told there is more great music and food awaiting us.
Let the bon temps roulet!