When I saw this story, especially this long shot of the street, it had me wondering if this was an old western movie-style 'high noon' shootout. Were these two people shooting at each other, like some historic duel? Or was there a separate shooter, who shot both victims, with the surviving shooting victim trying to run away?
I'm betting instead that the gun and the shooter were neither of them legal.  Raising again the crucial question of how do these guns go from being legal at the time they leave the manufacturer, to being in the hands of people who use them illegally, and what can we do about this that we are not doing.
From NBC Philadelphia.com: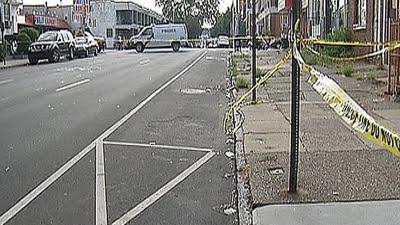 One man is dead and another injured after a shooting in West Philadelphia Sunday night.
It happened around 6 p.m. in the 5300 block of Chestnut Street. Investigators say a 20-year-old man was shot twice in the chest. He was rushed to the Hospital of the University of Pennsylvania where he died a short time later.The other victim, also 20-years-old, was shot twice in the back and once in the arm.He is listed in stable condition.No arrest have been made in the shooting.