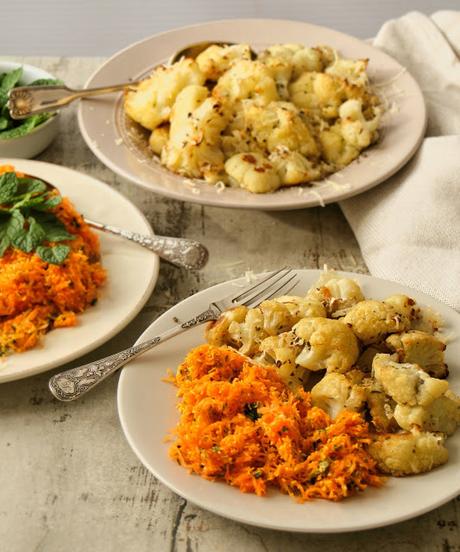 I am keeping it simple this week with two good all-year-round side dish recipes that I hope you will love as much as I do. And by simple I mean easy - these dishes may not require much effort but they are not at all lacking in the flavour department!
We are all still loving our cauliflower, not so? So when you are not chopping it into cauli rice or wizarding it into pizza this is a fabulous way to prepare it. I love cauliflower in all forms but there is something wonderful about the texture and flavour of cauliflower that has been roasted in the oven, rich and almost buttery. The first time I made this dish I just about ate half a tray on my own!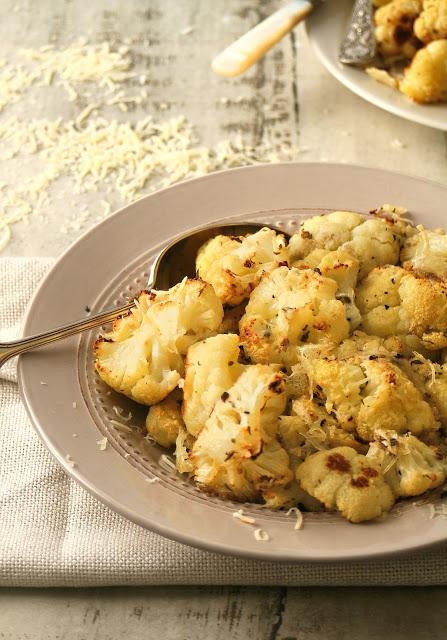 Then there is the carrot salad. Admittedly rather retro, but this version has a fresh burst of flavour and, I think, an interesting combination of ingredients. I love the versatility of this dish, it works well as a summer side dish or salad but is also great alongside a rich curry in winter.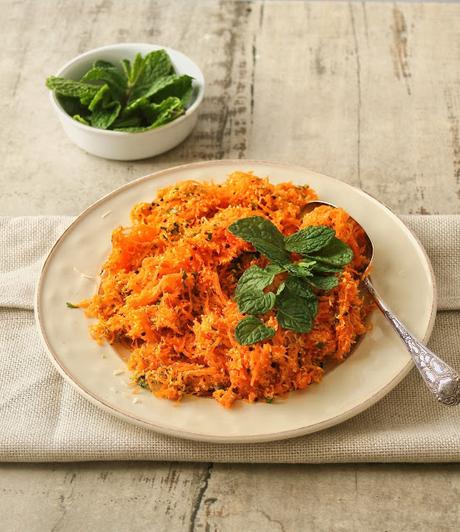 Cook's notes: The cauliflower should be served immediately, however, the carrot salad can be made in advance and stored in the fridge.
_________________________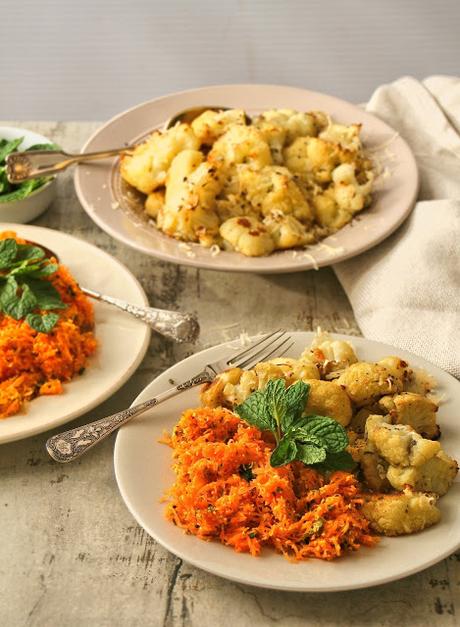 CARROT & CORIANDER SALAD
2 cups finely grated carrot
1/3 cup desiccated coconut
1 tsp black mustard seeds
1/3 cup coriander, finely chopped
1 tbsp mint leaves, finely chopped
Step 1.) Place all of the ingredients in a large bowl. Mix well. Can be served immediately or kept in the fridge until ready to serve.

OVEN ROASTED CAULIFLOWER
1 head of cauliflower (about 700 g)
4 sprigs rosemary, leaves removed and chopped
small pinch of chilli flakes (optional)
good grinding of salt and pepper
30g grated parmesan cheese
Step 2.) Cut the cauliflower into florets and set aside.
Step 3.) Combine the olive oil, chopped rosemary, garlic, chilli flakes, salt and pepper in a large bowl. Add the florets and toss well until they are coated in the olive oil mixture.
Step 4.) Spread the cauliflower on the baking tray in an even layer. Roast for 25 minutes or until the cauliflower is just tender and starting to go brown.
Step 5.) Remove the tray from the oven and sprinkle the parmesan over the cauliflower. Roast for a further 5 minutes until the cheese has melted. Serve immediately.