Thank you to my long time friend Marilyn ..
Who was on holiday in India..
Marilyn and her husband were in Fort Kochi (Cochin)  Kerala,
and she told me they were shown how to fish
using these nets. Can you imagine?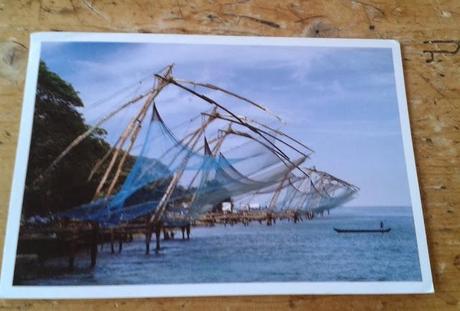 These nets are known as Cheena Vala
and  are fixed land installations for an unusual form of fishing —
shore operated
lift nets
They are mostly found in the Indian state of
Kerala
. Huge mechanical devices hold out horizontal nets of 20 m or more across,each structure is at least 10 m high and comprises of a cantilever with an outstretched net suspended over the sea and large stones suspended from ropes as counterweights at the other end.
 Each one is operated by a team of up to six men.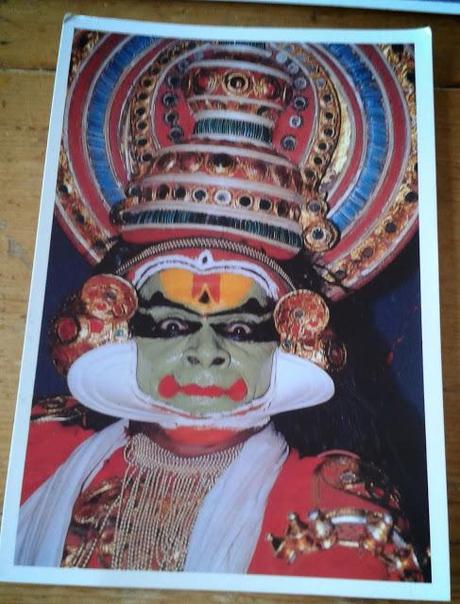 Here we have a Kathakali dancer...
Kathakali  is a stylized classical Indian dance/drama noted for the attractive make-up of characters, elaborate costumes, detailed gestures and well-defined body movements presented in tune with playback music and complementary percussion. It originated in the country's present day state of Kerala during the 17th century and has developed over the years.
Marilyn and Trevor go to some very interesting places, great that she remembers me and my
collection , which I think is now around about 120 cards , could be more!!
Big Thank you to Marilyn .
♥ ♥ ♥ ♥ ♥