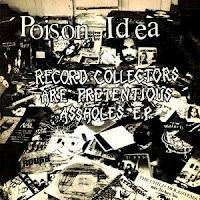 Poison Idea - The Fatal Erection Years (Pick Your King)
So it appears that the mighty Poison Idea will rise again. Despite the fact that guitarist Pig Champion died in 2006, unstoppable vocalist Jerry A has been leading a new version of the band for about 5 years now. They're playing an insanely killer festival in Brooklyn this Zeptember alongside Pentagram, Agnostic Front, Negative Approach and Powertrip (featuring Jeff Dahl, who cut a great single with Poison Idea way back when). I've been a huge fan for decades but never got to see Poison Idea in their prime. To get me even more excited, Southern Lord is starting to reissue the band's catalog. Earlier this year they put out Darby Crash Rides Again (The Early Years) compiling their most primitive punk rock.
Next up is an excellent reissue titled The Fatal Erection Years containing the classic Pick Your King (1983) and Record Collector Are Pretentious Assholes (1984) EP's. Both of these records show a band in transition moving away from an overt Germs/Black Flag influence into their own unique behemoth. Everyone always makes jokes about how heavy these guys were physically but their sound was even heavier. Pretty early on these guys started to enjoy alienating part of the punk audience with their obnoxious behavior and love of metal. Needless to say I loved them from the second I heard them. Pig Champion could come up with killer riffs to compete with anyone while Jerry A was the perfect frontman. Imposing, alcoholic and not afraid to breathe fire on stage in some tiny little punk dump. Pick Your King has lots of short, fast songs with titles like "Pure Hate" and "Self Abuse." It also has a song called "(I Hate) Reggae" which I loved playing for my uptight, humorless Clash loving friends. Man, they really hated that one! Record Collectors… had a great album cover featuring some of Pig Champion's choicest sides that had me drooling in envy. The album was the next step in their development. The songs are even harder, but better written with the beginnings of their patented style becoming more apparent. "A.A.," "Legalize Freedom" and the rest were all kick ass blasts of pure punk with a solid rock n roll foundation and the best elements of metal.
The rest of this collection combines some rare cuts from various artist albums, including a blistering cover of The Stooges' "I Got A Right." Then there's a low-fi live show from 1983 with lots of profanity. Kinda sloppy at times but what do you expect when there's chaos on the stage and in the crowd. You definitely feel like you are there. Bonus points for a very immature song called "My Hard-On Withers In Your Face Live" and a nasty "Louie Louie." Taang records reissued a lot of Poison Idea records on CD many years ago with pretty terrible sound. The levels are really low on those discs and these new ones from Souther Lord are much improved. Can't wait to see what extras they have for the all time classics War All The Time and Feel The Darkness.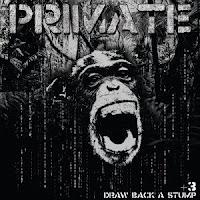 Primate - Draw Back A Stump
Just before I got the promo link for the Poison Idea record I got one for the debut from Primate, a grindcore supergroup featuring Bill Kelliher of Mastodon and Kevin Sharp of Brutal Truth. The first thing I thought of when I heard their album Draw Back A Stump was how much it reminded me of Poison Idea. Not surprising since Kevin had a side project with Buzz of the Melvins called Venomous Concept. I'm fairly ignorant about grindcore. I saw Pig Destroyer once and thought they were awesome. The 8 other bands on the bill all sounded the same to me. Anyhow, I'm sure there's a lot of obvious comparisons that a grind fan would make but I'm too old to know.
An earlier version of this record came and went quickly in 2011 but this one has some additional guitar tracks as well as a remix and fresh mastering. Bonus tracks, too. The opening title track starts off with lots of guitar noise and a screaming monolog about "chaos theory." I almost decided to turn it off right there but had nothing better to do on the subway ride to work. Things quickly improved and a procession of memorable riffs followed. "Hellbound," "Wasted Youth" and "Get The Fuck Off My Lawn" had me raging on the rails. What really caught my attention was the cover of "Drinking And Driving" from the last Black Flag album In My Head. Great song from an overlooked album. Primate's sound is very heavy and matches Kevin's frothing at the mouth vocal delivery. Given the hectic schedules of everyone in this band, who knows if they'll tour but I'd pay money to see them. I'd also recommend it to other old dudes like me so they have something new to play in between their battered Zoetrope and Necros tapes.
--Woody