Dear Luke and Leia,
This weekend we decided to jump aboard a plane for two days in Bocas Del Toro, Panama. It is a short flight which we take from Panama City's Marcos A. Gelabert airport in the Albrook area. The flight is only 45 minutes and has great views of the interior of Panama.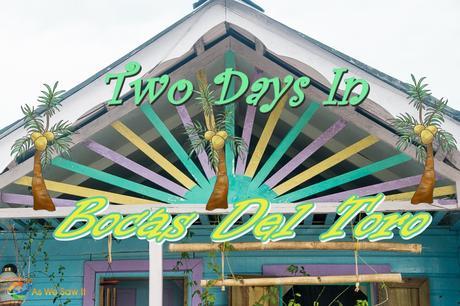 Two Days In bocas Del Toro, Panama
Day one in Bocas Town
Bocas town is the main town of the island section of Bocas Del Toro province and houses the only airport. There are four main islands that tourists visit, Isla Colon, Isla Solarte, Isla Bastimentos and Isla Carenero. Isla Bastimentos has the famous Red Frog Beach, where many poison dart frogs can be easily found.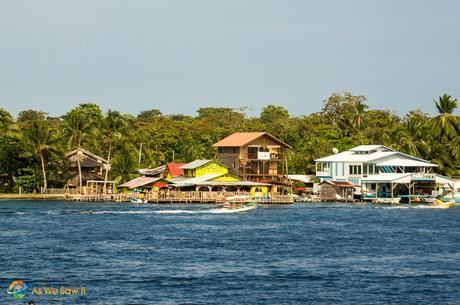 View across to Isla Carenero from Bocas Town Hotel
The rest of the first day we spent exploring Bocas Town. There is so much here, yet so little pressure to do anything at all. Bocas Town is a sleepy little town with a deep island feel like many other Caribbean islands but without the outrageous crowds. Just walking the streets you get the feeling you have drifted away back in time to a less stressful period.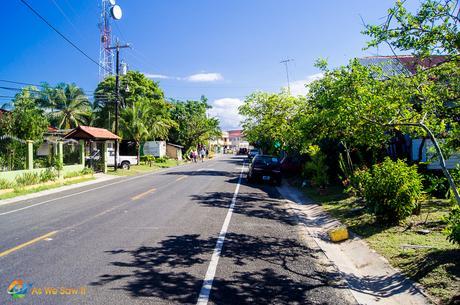 Walking the streets of Bocas Town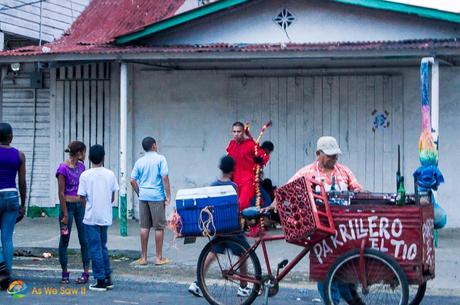 Street vendor with a modified bicycle.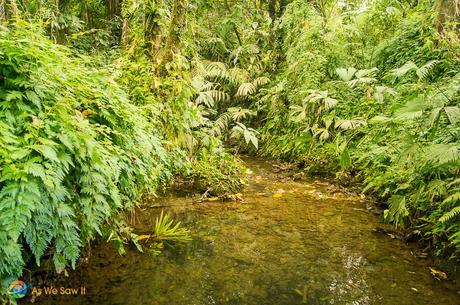 Reserve area in the middle is Isla Colon.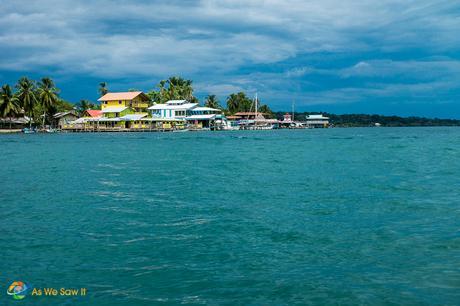 View of the bay separating Isla Colon and Isla Carenero.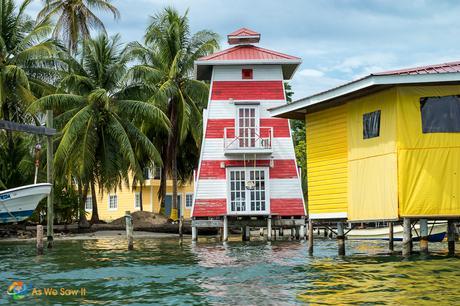 Buildings on Isla Carenero, just take a water taxi to visit.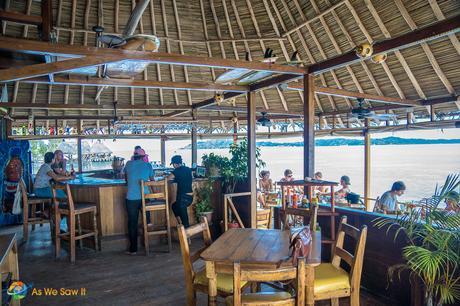 Had a drink at Bibi's on the Beach.
That evening we sought out good food and entertainment and had great success. We found both items on our list available at Lemongrass Cafe. We had a perfectly seared Ahi Tuna steak with Asian fusion flavors and a delightful gentleman playing guitar for us during the meal. With Caribbean style music filling our ears and Ahi tuna filling our stomachs, the evening was perfect.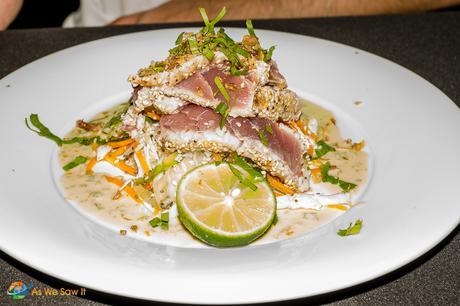 Seared Ahi Tuna with Asian Fusion flavors at Lemongrass Cafe'.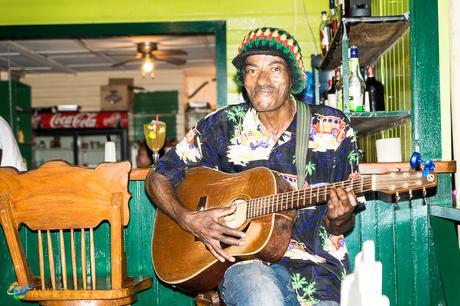 Our evening entertainment by this delightful guitarist.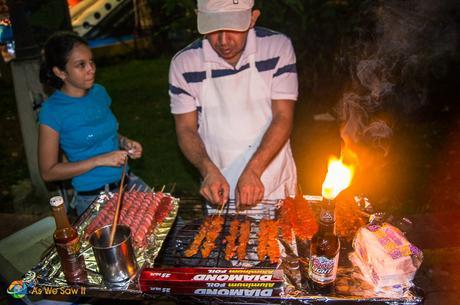 Evening snack from a street vendor.
Day Two Island Cruising, Dolphon watching and Snorkeling
The next day we took a tour that included dolphin watching, island cruising and snorkeling. I was so excited about the Under Bocas Del Toro section of the tour I sent it to you first. The rest of the tour was great. We stopped at a place for lunch that seemed behind God's back, but had a delicious meal of fresh caught snapper and Maduros, a sweet fried plantain.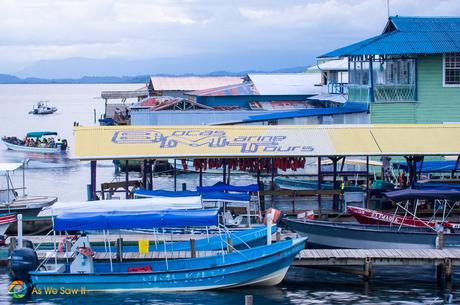 Catch a boat tour from the marina.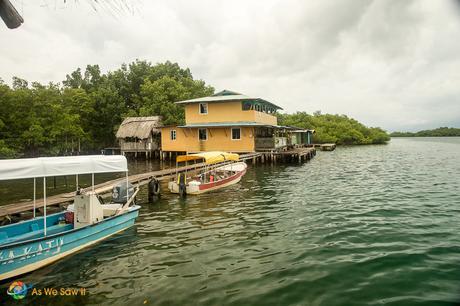 Boats lining up for lunch at Jasmin's.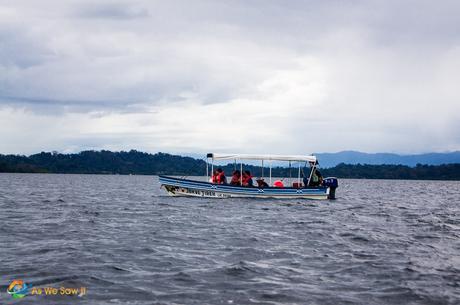 Dolphin watching in Bocas Del Toro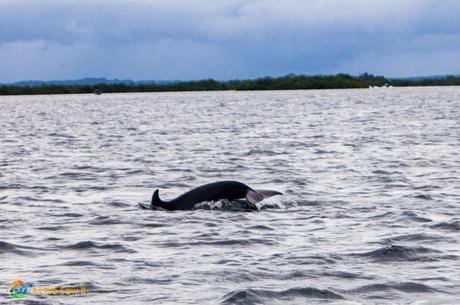 Catching the tail end of a fast swimming dolphin in Bocas Del Toro.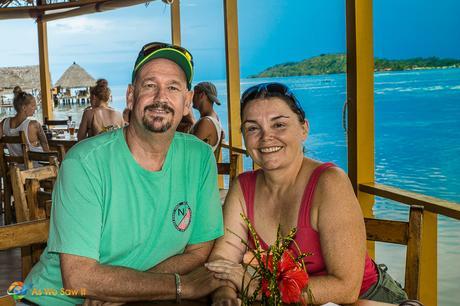 Linda (nana) and Dan (pap) at Bibi's on the Beach.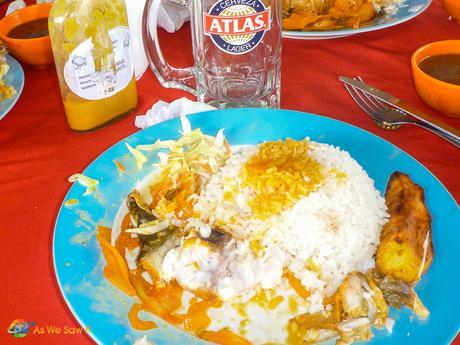 Snapper with rice and Maduros, a sweet fried plantain.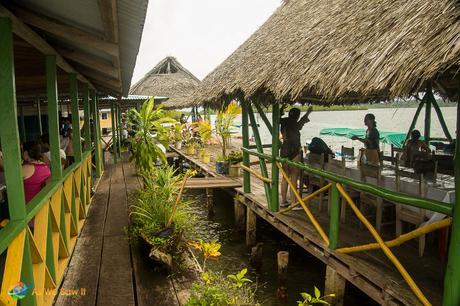 Jasmin's Cafe' located somewhere in Bocas Del Toro behind God's back.
After lunch, we cruised over to Red Frog Beach on Isla Bastimentos for some swimming and to attempt to catch a Red Dart frog. We love the vast expanse of white sand beach that Red Frog beach offered, but spent more time catching the Dart frogs. It is very important that if you catch one, do not touch any mucus areas of your body and go wash your hand when finished, as these frogs do secrete a poison used to hunt by native Indians.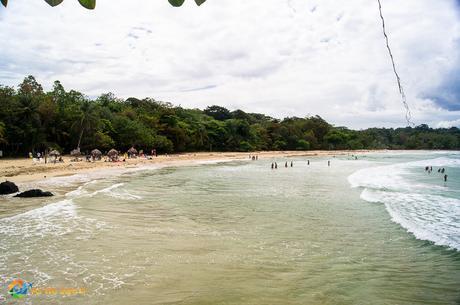 Red Frog Beach on Isla Bastimentos.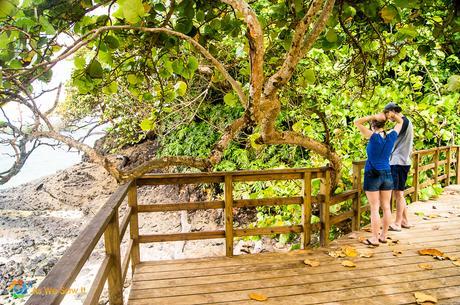 Walkway to Red Frog territory.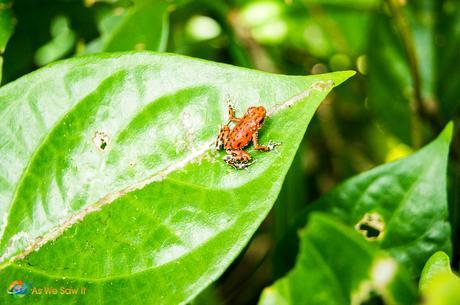 Red Poison Dart Frog.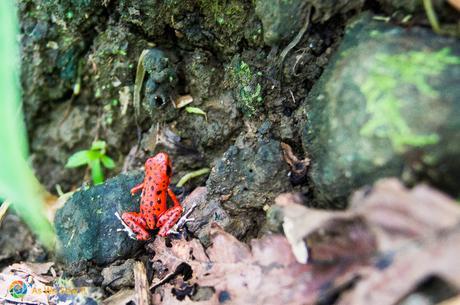 Just set free this little guy, a Poison Dart Frog.
Well it is sadly time to head back to pick up our luggage and fly back to Panama City after two wonderful days of doing everything in Bocas Del Toro while doing nothing at all. The best vacation of it's kind.
Love,
Nana and Pap
♥
P.S. – If you have Pinterest you can click the top left of any photos in our story to add them to your Pinterest boards. We would actually like that a whole lot.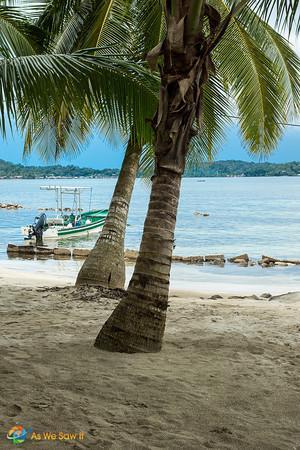 Palm trees, boats and beaches are the call of the day in Bocas Del Toro, Panama.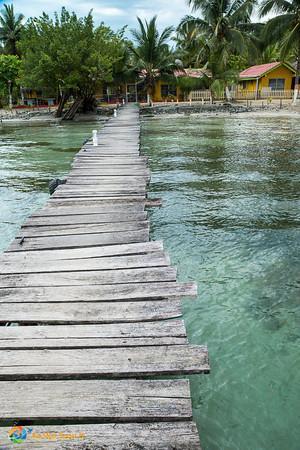 Pier onto Isla Carenero over crystal clear waters.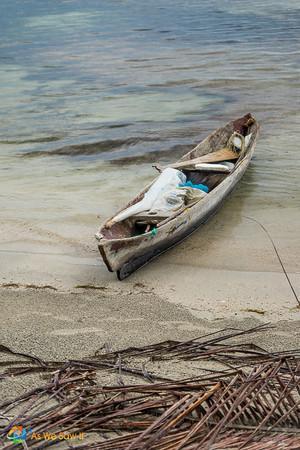 Dugout canoes still in use on Isla Colon.
To join #TheWeeklyPostcard linkup, paste the code (in the gray box below) into the text editor of your travel-related post or sidebar and then add your link by pressing the blue button below.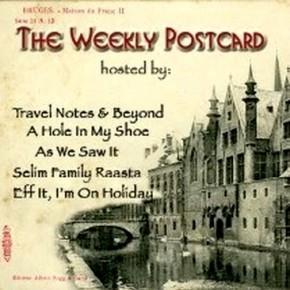 An InLinkz Link-up
(Visited 7 times, 7 visits today)