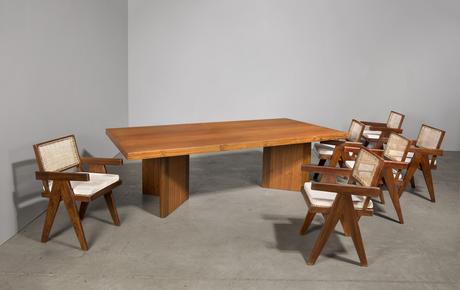 "Like all the greatest architects and designers, they were sensitive to the geography and history of their environment." says Dan Tolson, director of the 20th Century Decorative Art & Design department. Using local woods like sissoo and teak, Le Corbusier and Jeanneret built on the traditions from the country's history. They also utilized caning, another traditional technique for covering the seats and backs of chairs.
While museums are often popular places to exhibit historical art and design, it's not uncommon for an auction house to provide a similar experience. For any design enthusiast, the auction house can be a great resource to learn more and see pieces from your favorite architects, designers, and artists. In the upcoming Design auction at Bonhams New York, the iconic furniture designed for the north Indian city of Chandigarh by Le Corbusier and his close collaborator, his cousin Pierre Jeanneret, will be presented alongside classic lighting and furniture designs on June 21, 2016.
"Following the partition of the country, the city was conceived as a beacon of hope for a new India, a fresh start, set apart from its colonial past and founded in the moment," says Dan Tolson, director of the 20th Century Decorative Art & Design department. Chandigarh is the capital of two states, Punjab and Haryana. The city was designed and planned by Le Corbusier with close help from Jeanneret. The visionary plan became an epic reality. From residential and civic architecture to furniture and lighting, the city's distinct design continues to influence architects and designers today. "One of the most inspiring aspects for me is that the furniture was conceived 50 to 60 years ago and is as relevant to how we live today as it was then, perhaps more so." Tolson says.