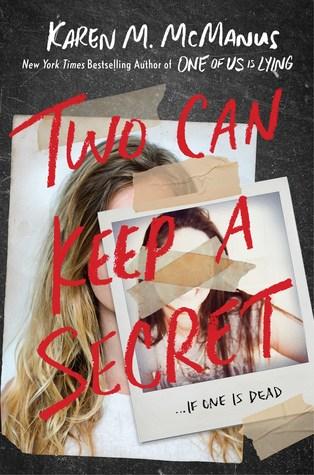 Two Can Keep a SecretBy Karen M. McManus
336 pages | January 8th 2019 | Delacorte Press




Echo Ridge is small-town America. Ellery's never been there, but she's heard all about it. Her aunt went missing there at age seventeen. And only five years ago, a homecoming queen put the town on the map when she was killed. Now Ellery has to move there to live with a grandmother she barely knows.
The town is picture-perfect, but it's hiding secrets. And before school even begins for Ellery, someone's declared open season on homecoming, promising to make it as dangerous as it was five years ago. Then, almost as if to prove it, another girl goes missing. 
Ellery knows all about secrets. Her mother has them; her grandmother does too. And the longer she's in Echo Ridge, the clearer it becomes that everyone there is hiding something. The thing is, secrets are dangerous--and most people aren't good at keeping them. Which is why in Echo Ridge, it's safest to keep your secrets to yourself.



What a mystery. 
I have to say that I must give hats off to any author who has the ability to keep me in the dark. Let us just say, that I guessed the big 'Jon Snow' reveal in Game of Thrones within the first few chapters of the first novel. 
For the second time, Karen M. McManus has managed to fool me, and kept me turning these pages until I had my answers. So far, her skill remains unmatched for me, as she keeps you guessing until the very end. You do not know who the killer is until the moment she tells you. 
In this book, the main character was relatable for me particularly, true crime fan? Check. Thinks she can solve an unsolvable case with this knowledge? Check. Likes Halloween and mysteries? Check. 
The story has a great flow and it switched back and forth between points of few without any confusion. For those who are familiar with my reviews, you also may be familiar with the fact that oftentimes, I have trouble keeping up in a book that swaps POV too often. This one held my attention and maintained clarity. 
If you love a thrilling mystery this book is certainly for you! If you haven't already read it, what are you waiting for?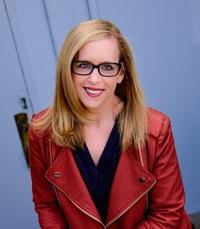 Karen M. McManus is the author of the New York Times and international bestselling young adult novels One of Us Is Lying and Two Can Keep a Secret. Her work has been translated into than 40 languages worldwide. Karen lives in Massachusetts and holds a master's degree in Journalism from Northeastern University, which she mostly uses to draft fake news stories for her novels. 
WEBSITE - TWITTER  - INSTAGRAM