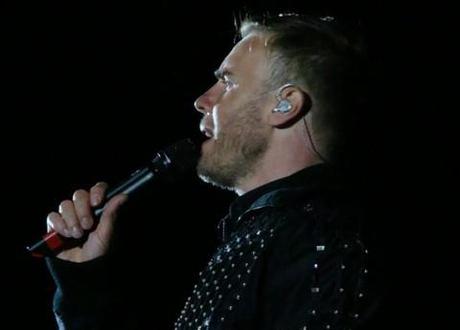 Gary Barlow has been the victim of a Twitter troll.
Microblogging site Twitter may be changing the way we experience the world – especially big events such as the Olympics – but it's also opening up a new frontier for the freedom of speech debate with several high-profile "trolling" cases.
This week, former Big Brother contestant Kenneth Tong was branded "vile", "sick" and "twisted" for a series of sick tweets taunting Take That frontman Gary Barlow, whose daughter, Poppy, was delivered stillborn on Saturday. Tong, who has been unapologetic about his twisted tweets, told several newspapers that all he wanted was to get his name out there and to get a date with model Rosie Huntington-Wiley. He was successful on the first – "Kenneth Tong" became a top trending topic on Twitter and The Sun splashed his picture on their cover.
The furore comes just a week after Dorset police arrested a 17-year-old for using twitter to abuse Team GB diver Tom Daley after the athlete lost the medal. The tweeter wrote, "you let your dad down i hope you know that"; Daley's father died of brain cancer in 2011. The user also suggested that he wanted to drown Daley in a pool and that "people like [him]" made him sick.
@gbarlowofficial's Wife recently had a Stillborn. But look on the bright side: Slimmer of the Month.

— Kenneth Tong (@MrKennethTong) August 9, 2012
What will happen to Tong?
At this point, it doesn't look like much, though other Twitter users are trying to get him either banned from the site or arrested. Legally, he's in a murky zone: After the Daley hater was arrested, Joshua Rozenburg noted at The Guardian that it was significant the Dorset police took that action so soon after the High Court cleared another twitter troublemaker, Paul Chambers, of sending "menacing communication". Chambers was the tweeter who was arrested after he tweeted that he wanted to blow up his local airport out of frustration that it was closed due to bad weather. Though Chambers was cleared, the High Court did rule that Twitter was covered under the Communications Act of 2003; it is also subject to the Malicious Communications Act of 1988, which makes it an offense to send communication that is "grossly offensive" and sent with the purpose of causing distress. The Daey hater is being questioned under that; whether Tong's tweets meet the standards for an offense under those legislations remains to be seen.
"My tweets aren't offensive to the point where they are illegal. I'm not worried about the police coming to my door. I have the best legal team," Tong told The Sun. "I know it's a bit selfish but it's about what I get out of it. This will get people's attention."
What about free speech?
There's reason to believe they won't: Lord Judge, one of the judges who ruled in the Chambers case, noted that "rude comment", distasteful and even hurtful humor "should and no doubt will continue at their customary level, quite undiminished by this legislation", Rozenburg noted. Still, the very public nature of Twitter should give users as well as prosecutors pause and "there are limits to free speech". That said,  "We should not overreact to people who publish stupid remarks on Twitter that they may live to regret in the cold light of day. The law does not concern itself with trifles – and there may be nothing more trifling than a 140-character rant. Trolls deserve to be excluded rather than prosecuted."
We don't need new laws to deal with Twitter trolls
The Association of Chief Police Officers last week rejected calls to institute new laws governing speech on Twitter; the body's e-crime spokesman, Stuart Hyde, told BBC's Radio 4 Today programme that the existing legislation is enough, and that "it works reasonably well most of the time." Hyde said that police and Twitter users should employ a "common sense" approach to trolls, and also called on Twitter to police itself better.
'Common sense' is exactly what Tong lacks
We do need tougher legislation to deal with people like the Daley hater and Tong: "If these Trolls are held accountable and duly punished with a jail sentence, others may think twice about doing this sort of thing," argued Paul Jenkins at PlanetIvy.com. Meanwhile, public shaming isn't working – all that attention is like oxygen to trolls like Tong. "Which is why the police need to start to intervening and arresting and sentencing these horrible people, who are taking the freedom speech and turning it into a living hell for others."
More on cyber-bullying and trolls

 Internet Trolls: What motivates them and how can we stop them?
BBC confronts notorious Internet RIP troll: Is humanity really this bad?
Trolling, cyber-bullying: The dark side of the internet
Trolling: The dark side of the revealed after cyber bully convicted