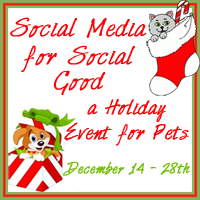 Want to win some cash for yourself and your favorite charity? Here's your chance! All you have to do to enter the contest is follow any of the Twitter accounts in the Rafflecopter below. The more accounts you follow, the more entries you get into the contest.
The cash prize is as follows: $112 will go to the winner and $213 will go to the winner's animal charity of choice (must be a 501(c)(3) organization). You and the charity will also need to have a PayPal account in order to accept the prize. If you do not have one, you can easily set one up should you win the contest. The winner will be selected at random from all entries over the course of the contest.
Don't have a Twitter account? That's okay, because there are a few other ways you can enter to win. Hop on over to our "Social Media for Social Good – Follow Us on Facebook" post to enter by "Liking" the Facebook pages listed in the Rafflecopter there. You're next chance to enter the contest will be December 22nd. Look for a new post then which will focus on Google+. If you don't have an account for any of these social media platforms, you can still enter by posting a comment to any or all of the 3 blog posts for the contest. Not sure what to say in the comment section? Go ahead and tell us what charity you want to win the cash for.
This "Social Media for Social Good" contest is being put on by Two Little Cavailers and Pamper Yourself in Pink. Since they're running the contest, the participating bloggers are also eligible to win. If the Shelter Shack wins, our charity of choice is Canine Lifeline. If you would like to follow them, it won't get you an entry into the contest but they'll definitely appreciate the support! They can be found on Facebook (http://www.facebook.com/caninelifeline) and Twitter (http://www.twitter.com/caninelifeline).