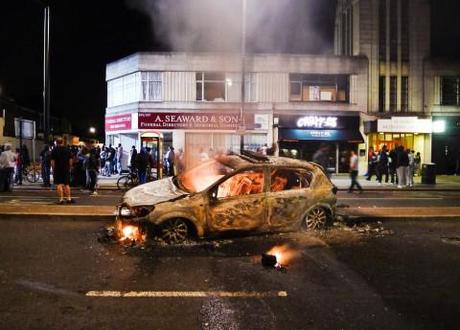 Riots on the streets of Tottenham. Photo credit: Nico Hogg, http://www.flickr.com/photos/nicohogg/6018692165/
In the wake of the riots, which saw widespread looting and violence on the streets of London, Birmingham, Manchester and elsewhere, Home Secretary Theresa May has summoned the executives from social media firms to mull whether sites such as Twitter should be switched off for known criminals during spells of serious public disorder in an effort to quell incitement. During the riots, trouble-makers allegedly used networks such as BlackBerry's Messenger to coordinate and encourage violence and looting. May's move has pleased the law and order brigade but antagonised social media bosses and opponents of online censorship.
David Cameron, in the aftermath of the riots, asked "whether it would be right" to ban people from using Facebook, Twitter or their BlackBerrys "when we know they are plotting violence, disorder and criminality." Prominent backbench Conservative MP Louise Mensch went further, arguing that Twitter and Facebook should be taken down during "a major national emergency." Her position led to her allegedly receiving malicious threats to her children from hactivist organisations Anonymous and LulzSec, staunch proponents of freedom of information.
London Mayor Boris Johnson, no stranger to publically disagreeing with his senior Tory peers, rejected the call to switch off social media. Speaking to The Financial Times, Johnson said the police did not consider restrictions necessary: "On the contrary, the briefings I've had so far on this matter make it clear that social media and being able to follow things on Twitter is of some intelligence benefit to the police."
Twitter study casts doubts on ministers' post-riots plans. The Guardian reported that analysis of more than 2.5 million Twitter messages relating to the riots in England has "cast doubt on the rationale" behind government proposals to ban people from social networks or shut down their websites in times of civil unrest. The paper said the preliminary study they have compiled "appears to show Twitter was mainly used to react to riots and looting." The Guardian database, which contains riot-related tweets sent between midnight on August 6 – the day riots began in Tottenham – and 20.00 on August 17, will be subject to more advanced analysis in the coming weeks as part of an ongoing investigation into the riots.
Social media giants won't accept emergency restrictions. Christopher Williams of the Daily Telegraph reported that Facebook, Twitter and Blackberry will almost certainly refuse to restrict their systems to prevent future riots. "It is understood that all the companies will lay out their opposition to blanket monitoring of communications or direct police powers to restrict access to individuals," said Williams, who said the execs aren't going to accept restrictions. Given the expected stance of the social media honchos, Williams reckoned that May will shift the focus on how the authorities could use social networks better during emergencies – quashing false rumours, keeping track of events and notifying service providers when accounts are being used illegally.
Cameron's incoherent position. Dan Sabbagh of The Guardian accused the prime minister of a muddled communications regulation policy which "in effect calls for both more and less censorship at the same time." The writer suggested "it would be simpler, though, to assert clear freedom-of-speech and use principles to social media, coupled with a requirement to help the police in real time in situations of emergency, than to seek to artificially constrain technologies whose use is, in reality, beyond government control unless the most draconian measures are taken."