Twitter Cards To Showcase Your Blog Posts on Twitter
Twitter Cards – Seeing tweets in the stream with images and videos inspired me to learn more about these multi-media cards. Twitter Cards allow you to attach media experiences to your tweets that link back to your own content. I loved the way they were looking in the Twitter stream. As I was considering doing away with my Yoast plugin and doing research on these media cards I learned that Yoast was easy to integrate with the Twitter Cards. Yoast is now here to stay! I love how the images come out when you see the posts in the Twitter stream.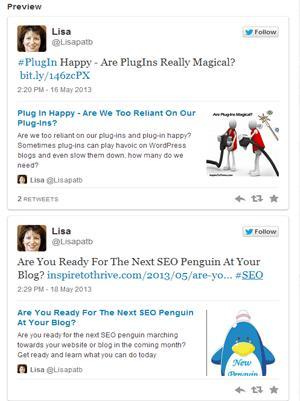 #PlugIn Happy – Are PlugIns Really Magical? bit.ly/146zcPX

— Lisa(@Lisapatb) May 16, 2013
How Can You Get Your Twitter Cards?
First you must register via Twitter and they must grant you permission. It took several days for mine to come through. You will receive an email from Twitter that you have been approved or not.  Then you must follow the instructions on how to code for the Twitter cards which can be quite technical.  You can click here to see the meta tags you would need to add.
Yoast Made Installing Twitter Cards Easy!
Luckily I have the Yoast SEO plugin and it was super easy. Check off one box and add your Twitter username. That's it! Otherwise you must add special coding to your site. That's why I did not apply immediately. I knew it would not be simple until I read about Yoast's easy settings for Twitter Cards.
If you not sure about Yoast you can follow the developer Joost de Valk on Twitter. If I can learn how to use Yoast I think you can too. It's not the easiest plugin to learn. There are many settings within it.
New on @yoast: WordPress SEO Community & Roadmap yoast.com/wordpress-seo-…

— Joost de Valk (@yoast) May 14, 2013
7 Types of Twitter Cards
Summary Cards. This is the one I decided to go with for this blog.

Large Image Summary Cards. I may consider applying for this one as well.

Photo Card. Great for photographers and photo bloggers. I also can see food bloggers using this one too.
Gallery Card. This would be for a collection of photos.
App Card. Great for Pinterest and Instagram.
Player Card. A video/audio cards, great for those who use a lot of YouTube and Podcasting. Ms. Ileane, queen of podcasts and YouTube, are you ready?
Product Card. Great for retail websites to show off their products.
More Examples of Using Twitter Cards
Macy's has a great example using the YouTube video for their tweet below via the Player Card.
From New York to California, we asked "What does America mean to you? "Here's what you shared bit.ly/11MvWMt #AmericanIcons

— Macy's (@Macys) May 18, 2013
Modern Life Blogs has their Twitter Card set up and looking very nice with their logo too.
Super Sunday..Keep Spreading Smiles bit.ly/18vHnIm @jenuinehealing @sheconsulting @lilachbullock @ainebelton @ciaobella50

— Amit Verma (@AmitV_Tweets) May 19, 2013
National Geographic also has their Twitter Cards set up and looking great. With all their beautiful photography I would not be surprised if they use several different types of these cards.
A meteor pierces brilliant jade auroras: on.natgeo.com/13mTqCe

— National Geographic (@NatGeo) May 19, 2013
Etsy, the online retailer, with almost 2 million Twitter followers, has made use of these cards for their products.
Go to sleep, little one, while butterflies flutter around you etsy.me/Z1FKRk

— Etsy (@Etsy) May 18, 2013

Have you seen some great uses of Twitter Cards? I haven't seen a lot of them and am surprised that some big companies are not using them.
Will you be setting up Twitter Cards for your blog or  website soon?