When you leave the academy, they say that you're ready. That is mostly true. And then you find one of your childhood icons passed out in an alley and you realize there's no such thing as ready.
I was working the west side, overnight shift. Something caught my eye. Were those legs and cowboy boots sticking out from behind that dumpster? The city pays me to find out. I radioed my position and went to look things over.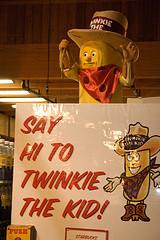 Say hi. SAY IT! (Photo credit: ptufts)
He was filthy, but I knew it was him. The dirt couldn't hide his gold color. A cowboy hat and bandanna alongside confirmed -  this was Twinkie The Kid, long time mascot for Twinkies cakes.
When I nudged him with my night stick he seemed fresh. He'd been through a lot, but was still spongy and yielding. It seemed crazy, but I thought he was even still moist. Twinkie The Kid was well-preserved.
He stirred when I nudged him again. Twinkie peered up into my flashlight beam and said "I swear, I'll have your money tomorrow. Don't beat me up again, please. Please." I moved the light so he could see I wasn't there to rob him. He slumped against the wall. It was hard to tell if that was relief or he thought I'd cause him bigger problems.
I knelt beside him. "Why, Twinkie, why?", I asked. He shook his head. "The company folded; they threw us all out on the street. Some of us were ready. Captain Cupcake and Fruit Pie The Magician had a little cabaret act and headed to Vegas. I never saw it coming. I was gonna be on top forever. That's what I thought."
Twinkie The Kid's tale of fast living back when he was on top fascinated me. Ho-Ho's and Sno-Balls were his for the taking. He had a long run, but started a Bieber-esque death spiral a few years back. Before his fame could meet its natural end, the company folded.
He found himself alone and penniless. The street took its toll. Twinkie became a snack cake living on society's edge, drunk on cheap whiskey, lying in the beam of a rookie cop's flashlight. You don't un-see something like that. I couldn't just leave him there.
I Wasn't Ready, So I Go All TV Cop On Him
"Let me help you. We can get you clean. You can work again."
"No one is going to hire a 41-year-old sponge cake. The only way I've ever made money is by looking like a snack that doesn't exist any more. Get away from me, son." Twinkie rolled over and reached for a bottle. I kicked it over and grabbed him.
I'd say I grabbed him by the shoulders, but he doesn't actually have those. I grabbed and shook him. I screamed  "snap out of it, you're not dead yet! You're so torn up on that crap you don't even know they've started making Twinkies again!" Twinkie The Kid looked up at me,  a tear washed a path of clean down what I suppose serves as his cheek. He stammered "they….they're making Twinkies?"
My impromptu intervention was working. I kept it up. "Yes, making and selling! I'm not seeing ads, they need ads. They need you! They're already selling Twinkies in Wal-Mart!"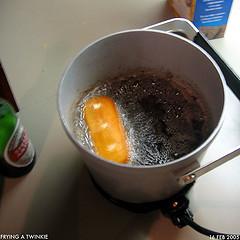 Frying a Twinkie, cream holes up. (image by dystopos CC BY-NC 2.0)
Twinkie staggered to his feet, looked me in the eye and bellowed "Wal-Mart? I'm not a whore". He took a clumsy swing at me. I ducked it and knocked him back on his cream holes. "You're right, alcoholic vagrant is a more dignified occupation" I told him. "What's it gonna be? Dry out and get back on top or freeze to death in this alley this winter? By the time you leave rehab Twinkies won't just be a Wal-Mart thing."
Twinkie The Kid paused, got up, then brushed himself off. "Do we have to call it drying out? I don't really dry out, per se." He smiled and I hugged him. He was still moist.
Welcome back, Kid.
Don't forget to subscribe for more uncomfortableness from the writers of Long Awkward Pause. Years and years of Omawarisan's gibberish are available on his site, Blurt. If you follow @blurtblog, you can find out what he had for lunch.
Related L.A.P. Posts:
Justin Gawel on TwinkiesBrainRants on TwinkiesMonk Monkey on TwinkiesChristopher De Voss on TwinkiesMike Calahan on TwinkiesChowderhead on Twinkies