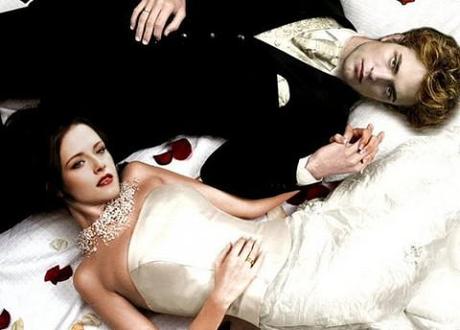 Edward and Bella Cullen: The Lady is a Vamp
Twilight! It's the seemingingly endless saga, based on the seemingly endless novels (if you can call them novels) by Stephanie Meyer, featuring a young girl, Bella, who falls in love with a chap called Edward Cullen – only problem is, he's a vampire! Uh oh. And his skin shimmers in the sunlight so he has to live somewhere rainy. That is a fact. Oh yes – and there's a werewolf called Jacob who takes his shirt off a lot, who's also in love with Bella. There is a lot of mooning about, and Bella and Edward can't consummate their relationship because Edward might get overexcited and eat Bella.
There have been three uber-successful films so far in the series that have sucked in £1.13 billion, and now, Harry Potter-stylee, the fourth book, Breaking Dawn, has been turned into a two part film. Bella and Edward get hitched in this one, with the bride as "the most obviously sacrificial victim since Diana Spencer" (thanks Peter Bradshaw – see below) so they can finally – you know, do things that married people do. Bella quickly becomes pregnant with a half-vamp half-human baby, which makes Bella very ill; and meanwhile, a werewolf pack swears revenge on the Cullen family. Critics are mostly disappointed – if that's the right word – perhaps, roundly dismissive would be a better way of putting it.
Wedding blues. The first three weren't actually all that bad, said Robbie Collins on The Daily Telegraph, but this one is truly awful, a "humourless, incoherent bore." There's some fun on the nuptial night, when the newlyweds' lovemaking manages to break a four-poster bed: "after 200-odd years of abstinence, it would do;" and there are some nice turns from Billy Burke (Bella's father) and Ann Kendrick (a friend of Bella.) The plot, though, is ridiculous, and the special effects risible. It doesn't look as if the second part will be any better, either – but at least, thanks to a camp performance by Michael Sheen, it might have a sense of humor.
Homoeroticism. Forget Bella and Edward, pshawed Peter Bradshaw in The Guardian. The real story here is Jacob the werewolf (played by beefcake Taylor Lautner) and Edward – "Jacobward." They're constantly glaring at each other with intense gazes, whilst Bella "makes Mia Farrow in Rosemary's Baby look like Popeye after a spinach brunch." The supposed drama lies in whether Jacob leaves the wolves or continues to adore Bella. But it's not really a crisis at all, and "this franchise feels like it's going on for ever."
It's all right actually. It may be silly and cringeworthy, cheered Mark Adams on The Mirror – but it does deliver the "emotional highs" that you'd expect. Roll on the next part.
No it's not, said Justin Chang on Variety. Sure, it does have its "dramatic possibilities," but there's no "sense of darkness or danger." Billy Condon is a capable director, but anonymous. Kirsten Stewart and Robert Pattinson have settled into their roles, and their relationship is genuinely touching. But whenever the film moves away from them, bang goes the narrative. But let's at least give the second part a chance, and hope for something more truly epic.