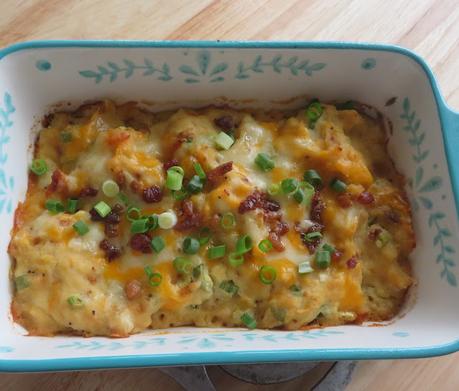 A few weeks back my sister and I picked up some Winter squashes at a farmer's market a bit further on up the valley from where we live.  They had a huge variety of squashes available, ranging from every colour, shape and size under the sun.
I bought a mash potato squash and a sweet potato squash and a spaghetti squash. My two potato type of squashes were, the mash potato squash the size of a small bowling ball, and the sweet potato squash a similar weight and size (except it is elongated) and my spaghetti squash was roughly twice the size of the other two.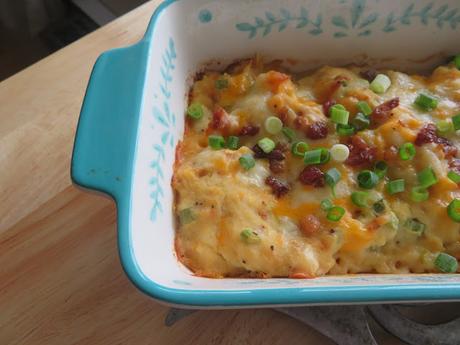 I had never cooked or eaten any of these squashes before, but I love squash in general and I was intrigued by the names. You can read about my experience in cooking the
Mash Potato Squash here
. 
My sister had also bought several squashes, including the same types and she cooked the sweet potato squash one Sunday for with our dinner.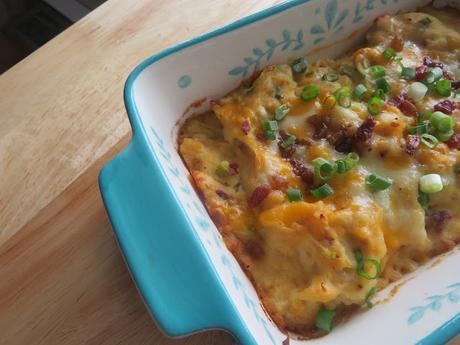 In general we discovered that both of these squashes have a very dry texture when cooked.  This lends them beautifully towards mashing, or roasting, without having to drain off much liquid.
Their flavors were also quite mild, or bland, which meant that they would be beautiful when mixed together with other ingredients.  We added butter and Maple syrup along with some seasoning to the sweet potato squash.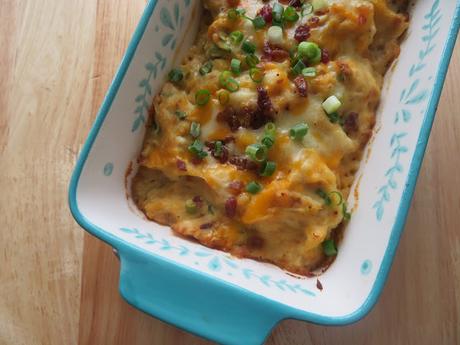 I treated the mash potato squash just like potato and simply mashed it together with some butter and seasoning. I thought it was delicious that way.
Today I got to thinking what if I really decided to treat it like a potato.  I
love
adore twice baked potatoes.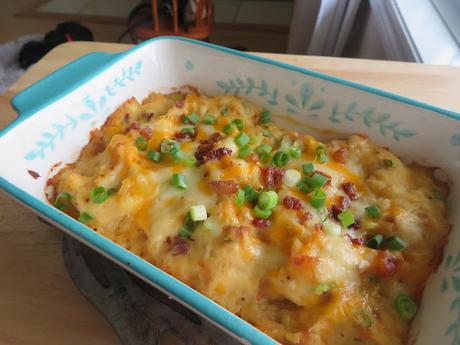 When we were growing up, it was always a real treat if our mother made twice baked potatoes.  Or stuffed baked potatoes, and it was the same when my own family was growing up.
We all love stuffed baked potatoes, be they as simple as just mashing the insides with some milk, butter, onion and seasoning and stuffing the insides back into the skin and re-baking, or if we got really fancy and added things like cheese and leeks and such!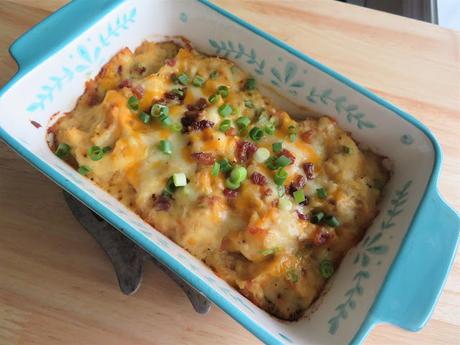 I also make a really delicious
Twice Baked Mashed Potato Casserole
.  
Twice Baked Mashed Potatoes is the perfect size for two people to enjoy and makes great use of store cupboard ingredients, or even leftover mashed potatoes.
Mashed potatoes, crumbled cooked bacon, minced chives, sour cream, cream cheese  . . .  a bit of cheddar on top. Its really yummy! 😋😋😋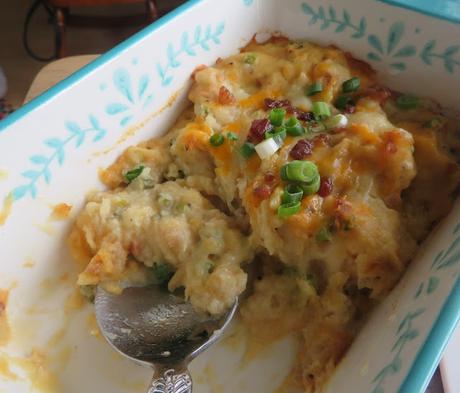 Anyways the wheels in my head started turning and I thought to myself . . .  what if I applied the same techniques to the mash potato squash?  What indeed!
The result is this fabulously tasty casserole dish that I am sharing with you today for Twice Baked Squash Casserole!  This was delicious!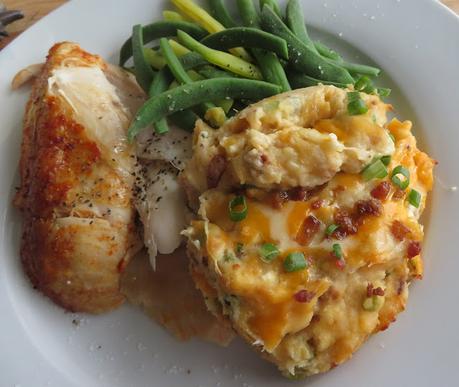 It boasts all of the elements of the mashed potato casserole with the exception of cream cheese. I didn't have any, but you can add some if you wish.  About 1/4 cup, or 1 ounce, would be perfect.
I also didn't use chives this time, I used finely sliced spring onions, or scallions as they are also called. They are also known as green onions.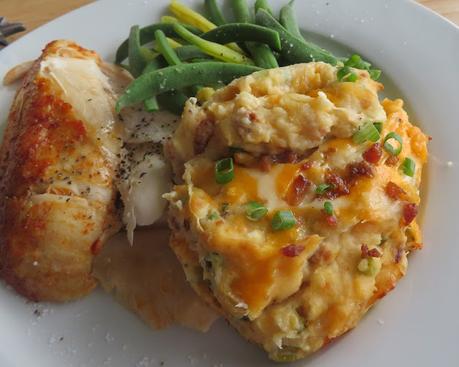 Other than that everything else was pretty much the same. I did not add milk or buttermilk because I didn't want the mixture to be sloppy.  Mashed winter squash is slightly wetter than mashed potatoes, but not much.  
But I knew adding milk would be going overboard, so don't be tempted. I also didn't add any butter and it didn't need it.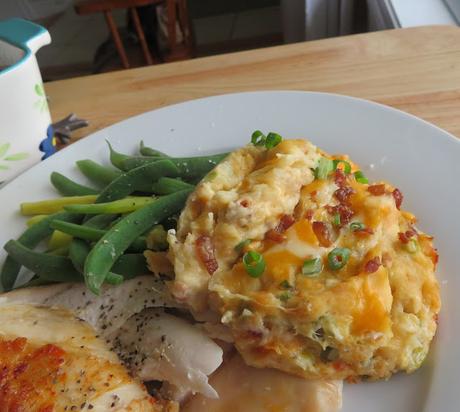 Bacon bits, sour cream, spring onions, cheese and some seasoning is all I needed to add. The squash itself was nice and nutty, with some golden brown bits from the oven roasting.  
It mashed beautifully and was lovely and dry, perfect for this application.  I simply stirred everything together and banged it into a small casserole dish topping it with some more cheese and bacon bits.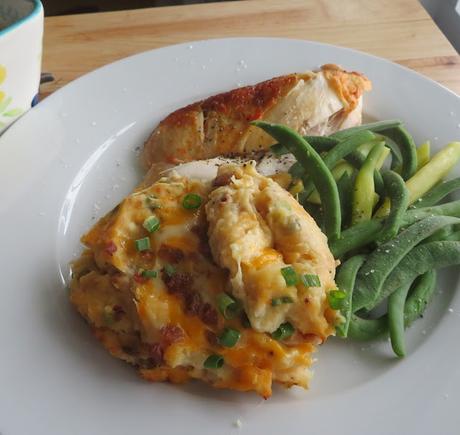 It baked up beautifully in the oven.  Nice and golden brown. I used a mix of cheddars, both white and orange, sharp cheddar.  Double cheddar. Double tasty. Double nice.
Out of the oven, I sprinkled a few more chopped spring onions on top as a garnish.  This was gorgeous. It made a beautiful side dish for the roast chicken and green beans I was also having.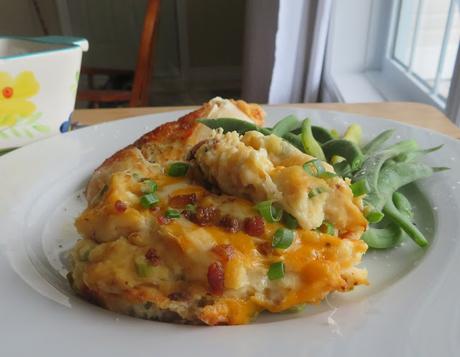 I could have very easily eaten a whole plate of this and nothing else! It was
that
good!!  I think I found a new favorite way to serve winter squash!
What is your favorite way to cook winter squash???  Do you have a favorite winter squash?  Any winter squashes you avoid?  Why is that?  I really want to know!  Lets talk!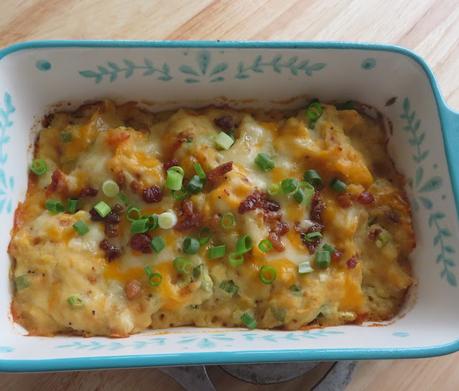 Twice Baked Squash Casserole
Yield: 3
Author:
Marie Rayner
Prep time: 5 Min
Cook time: 1 H & 5 M
Total time: 1 H & 10 M
This was a little something I came up with to use a mash potato squash that I had. You will need a squash that has a dry firm texture, not wet. Buttercup, Hubbard, Mash Potato and Sweet Potato Squashes all work well for this recipe.
Ingredients
1 dry squash (1 1/2 - 2 pounds in weight) (I used mash potato squash)
1/4 cup (30g) sour cream
1/2 cup (60g) grated strong cheddar cheese, divided
3 TBS real bacon bits
salt and black pepper to taste
3 spring onions, washed, trimmed and thinly sliced, divided
Instructions
Preheat the oven to 350*F/189*C/ gas mark 4. Cut your squash in half and scoop out the seeds, discarding them.
Place the squash halves, cut side down on a lightly oiled baking sheet. Roast in the preheated oven until tender. (Mine took about 40 minutes.)
Remove from the oven, turn cut side up, and leave to sit for about 15 minutes, or until you can comfortably handle the squash.
Scoop the flesh out into a bowl, discarding the skin. Season to taste with salt and pepper, remembering that cheese and bacon are both salty ingredients, so be judicious with the salt. Mash together with 3/4 of the cheese, 2 TBS of the bacon bits and 2/3 of the spring onions. 
Spoon this mixture into a 2-cup (1 pint) buttered casserole dish.  Sprinkle the remaining cheese and bacon bits over top.
Bake in the preheated oven for 20 to 25 minutes until golden brown and heated through. 
Sprinkle the remaining spring onions on top and serve.
Did you make this recipe?
Tag @marierayner5530 on instagram and hashtag it #TheEnglishKitchen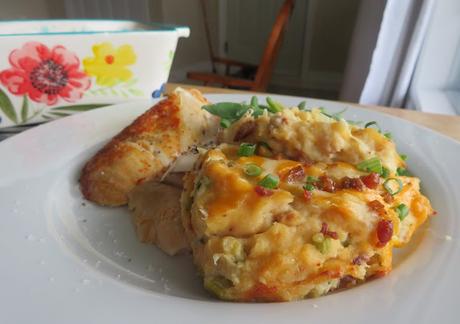 This content (written and photography) is the sole property of The English Kitchen. Any reposting or misuse is not permitted. If you are reading this elsewhere, please know that it is stolen content and you may report it to me at: mariealicejoan at aol dot com 
 Follow me on Bloglovin