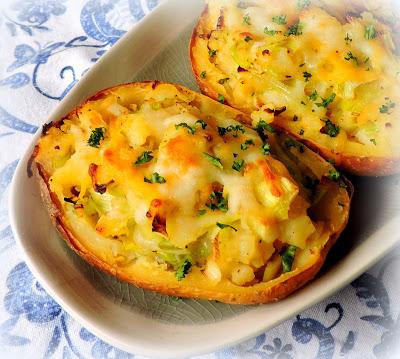 One of the things we loved most when I was growing up was when my mother would make twice baked potatoes.  They were a real treat for us.  She didn't do anything really special to them . . . she just basically scooped the insides out and mashed them with butter and milk, a bit of seasoning and then refilled the skins and baked them for a bit longer until the surface of the mash got a bit crispy.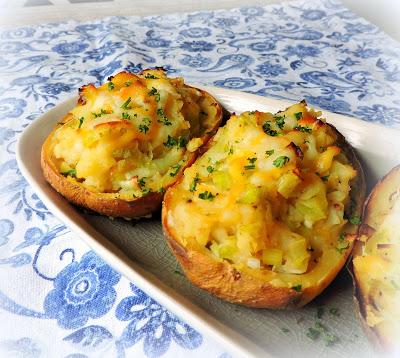 She might have added a bit of minced onion from time to time, but that is as fancy as she got. She liked to keep things really simple.  We thought they were a real treat. She could never make enough of them for us . . .  kinda like her butter fried potatoes.  We gobbled them up!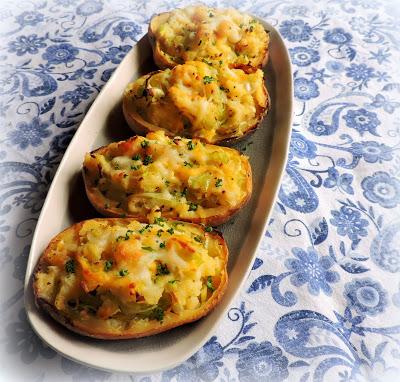 I used to do the same thing for my own kiddies, except I got a tiny bit fancier and used some sour cream, butter, and chopped spring onions . . . and then gradually through the years I added other bits and bobs as I was inspired . . .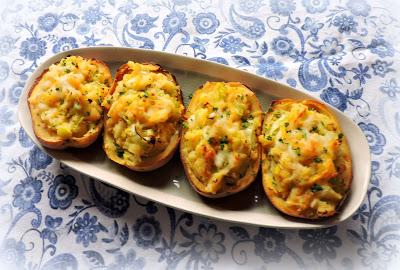 Chopped bacon or ham, cheddar cheese, sometimes creamed cheese, garlic . . .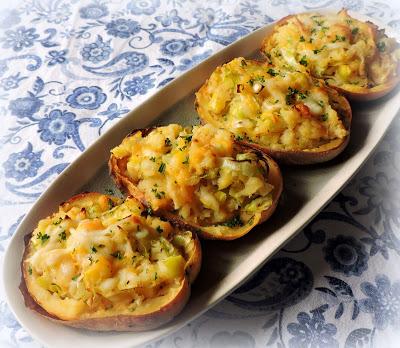 Not all together mind  . . .  just a bit of this and a bit of that.  I think my children's favourites were when I did them with sour cream, cheese, chives and bacon.  I'll let you in on a little secret, they were my favourites also!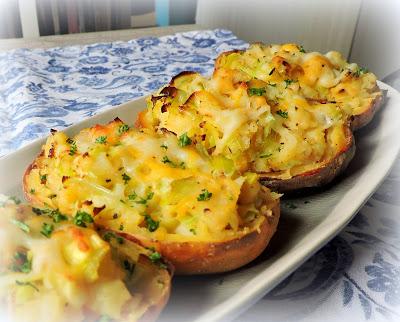 I had some leek which needed using up the other day and decided to saute it in some butter and use it to stuff some baked potatoes . . .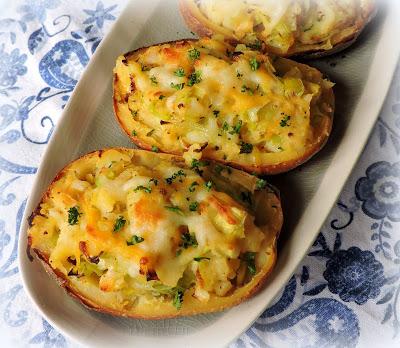 Along with a little bit of a four cheese blend.  Mine had Cheddar, Jack, Red Leicester and Gouda in it.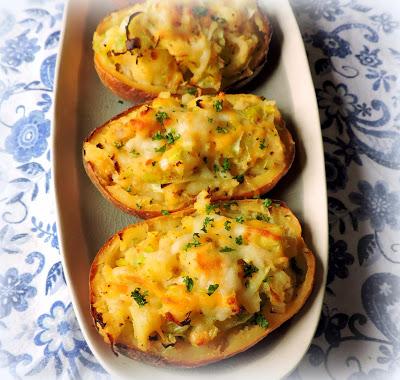 I scooped the potato insides out and mixed them with some seasoning, the cooked leeks and the cheese and stuffed them back in.  Do leave a thin layer of potato in the skins when you are scooping the potato out. It makes for more stability in the finished product. 
Don't pack the filling in too tightly either when you are refilling the skins.  You want it a bit loose and craggy looking.  This makes for lots of lovely crispy edges, which we love.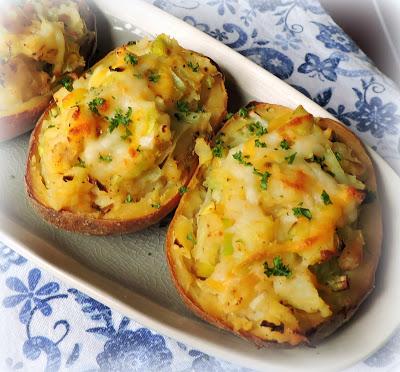 I like to sprinkle a bit more cheese on top before I pop them back into the oven.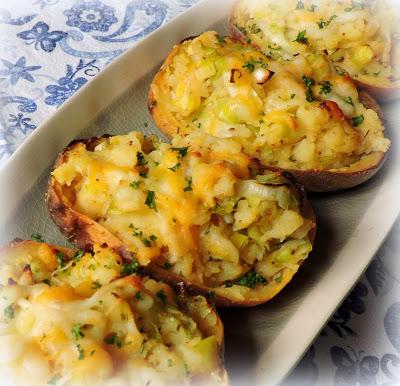 You don't need a lot really, just a couple teaspoons on top of each.  Or not, as you wish. We like the extra cheese.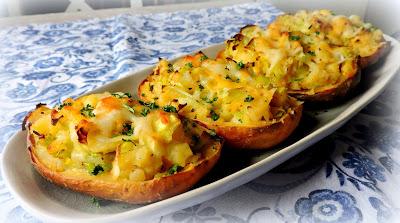 You don't really have to bake them for long after you have re-stuffed them.  You are basically only reheating already cooked stuff . . .  and making sure the cheese melts.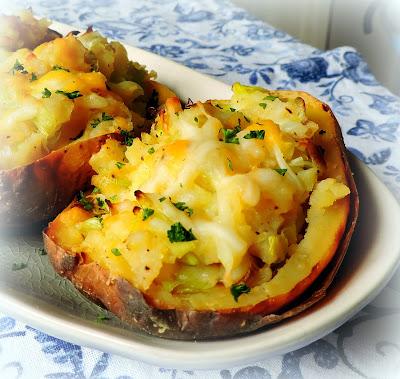 And of course you want some crispy bits.  They are the best!
Yield: 4
Author: Marie Rayner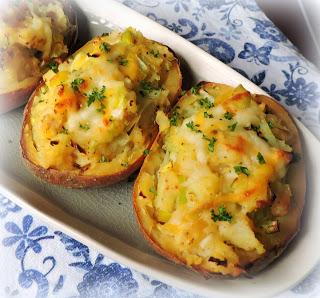 Twice Baked Potatoes with Leeks & Cheese
prep time: 5 mins
cook time: 2 hour
total time: 2 hours and 5 mins
These are the perfect light lunch or a delicious side for with your supper.
ingredients:
4 large baking potatoes2 medium sized leeks1 1/2 TBS buttersalt and black pepper to taste124g grated four cheese blend, plus a bit more for sprinkling (1 generous cup)
instructions:
Preheat the oven to 200*C/400*F/ gas mark 6. Scrub
the potatoes clean and prick with a fork. Place into the oven directly
onto the oven rack.  Bake for about 1 1/2 hours, until the potatoes give
 a bit when gently squeezed.  Remove and set aside to cool while you
cook the leeks.  Keep the oven on.
Trim the
dark green parts from the leeks and discard, or save to use in making
stocks. Cut the remaining stalk in half lengthwise and rinse well in
cold water to remove any grit or dirt.  Slice thinly.  Melt the butter
in a large skillet.  Add the leeks and saute gently for about 5 minutes
 until softened.  Set aside.
Cut the potatoes
in half lengthwise.  Carefully scoop out the flesh into a bowl, leaving a
 thin shell. (I find a teaspoon works beautifully for this.)  Mash
together with the softened leeks and some salt and black pepper to
taste.  Stir in the cheese.  Mix well together. Place the potato halves
on a baking sheet and then stuff lightly with the potato/leek/cheese
mixture.  Try not to compact it. Leave it loose, you get more crunchy
bits that way.  Sprinkle with a bit more cheese.  A  pinch works well
for each.
Return to the oven and bake for a further 10 minutes, until heated through and golden, with some crispy bits.Created using
The Recipes Generator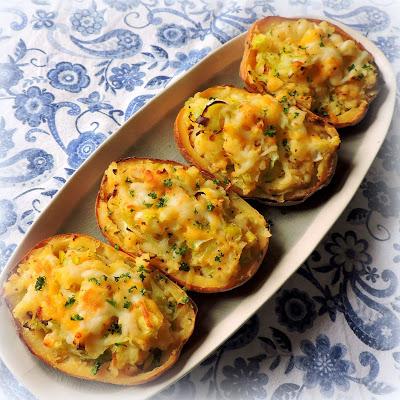 I can't think of anything these wouldn't go with. I love them even on their own with nothing else!  Its a simple thing really . . .  twice baked potatoes.  Its really true that the simple things in life are the best things!  Bon Appetit!