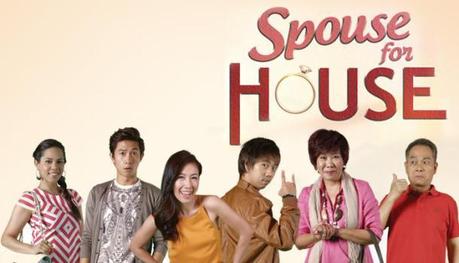 Marriage is a partnership between two willing partners. It's a social and legal contract: these two partners agree to protect, love, and cherish each other until one of them or their relationship expires.
In Spouse For House however, the social contract of marriage is driven by a more business-like and Singapore-flavoured contract - the Housing Board (HDB) contract that engaged couple John (Alaric Tay) and Jessica (Selina Li) have signed. They had met 8 years ago, seemed to be The One to each other and their marriage a formality, until one of them developed second thoughts.
And then the other half had the same doubts too.
The result is a partnership in which John and Jessica agree to the marriage and live in their new HDB flat for the minimum five years, after which they would sell the flat and split the money.
This idea is all about John and Jessica riding out the obligations that have been placed upon them by expectations and contracts. "Is it because you're getting married because everyone says you should? Your parents, your friends, and most importantly, HDB?" muses John as he controls his nerves.
Furthermore, the expectation of parenthood for the couple looms large. John's mother wants John to give her grandchildren, and she is not shy about it. Needless to say, John's parents (Irene Ang and Richard Low) and Jessica's mom (Sue Tan) are in the dark about the deal between John and Jessica. Instead, only John's older brother Kai Lan (Desmond Tan) and Jessica's best friend Vanessa (Rebecca Spykerman) have a clue about this whole arrangement. And they're on board.
To admit that you don't know each other after eight years of romance is a leap in logic, and throughout the episode we see flashbacks which show both of them displaying a lack of understanding of each other. They go some way to bridging the gaps but never really highlight major rifts or flaws in each other that would force such a drastic decision. Perhaps this could be elaborated on in future flashbacks.
Apart from the central couple, the rest of the main cast is established in an effective, if basic, fashion. John's parents are loving but fall into the familiar trope of a laid-back husband and an over-eager wife, while Kai Lan is a rich playboy who is impressed by the longevity of John and Jessica's relationship. Vanessa and Jessica's mom hardly get any screen time in the pilot, but surely they will feature more often in later episodes as a counterweight to John's family.
Spouse For House looks to be a romantic sitcom that has begun by setting the weight of its concept on its central couple, John and Jessica. Whether that succeeds or not remains to be seen but for now, John and Jessica's relationship has failed, and we are at the start of a new beginning for them.
John's parents are loving to excess. "I loved it, Kitty." "I loved it, Macho."
John's father's desire to just go and eat throughout the episode was admirable. "No wedding? Can I go and eat now?"
And the best line:
"Jessica, will you take my hand in pretend matrimony, to have and not hold, through renovations and housework, for the next 5 years till the sale of our flat do us part?"
Spouse For House aired on Mediacorp Channel 5. A second season will air this year.