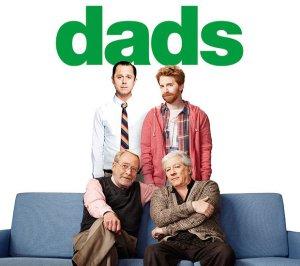 STARRING: Seth Green, Giovanni Ribisi, Martin Mull, and Peter Riegert.
CREATED BY: Seth Macfarlane
The notorious series has premiered. Dads. You might have heard about this. Critics are hating this series, and FOX is loving it. FOX's promo for the second episode is basically shaking a finger at critics by announcing that Dads made it to the second episode. The real question is, does Dads deserve all that hate? Not really.
Eli (Seth Green) and Warner (Giovanni Ribisi) are best friends who run a video game company. They're successful, wealthy, and can't shake the presence of their dads. Warner's dad, Crawford (Martin Mull) already lives with him, and is a nuisance he can't shake. David (Peter Reigert) comes into town to visit Eli, unaware that it's Eli's birthday, and by the end of the pilot has moved in with Eli.
That's basically the pilot. Yes, there were asian jokes. Moderately offensive, I suppose. I think Macfarlane's other sitcoms have done worse things though. The four leads are just OK in their roles. The show reminds me of a lot of other sitcoms that have tried and failed, because they aren't funny enough. Shit My Dad Says, Rob, and Guys With Kids come to mind. Is it the worst show we'll see this fall? If it is, this is a pretty good fall season. There must be something worse than this.
PREDICTION: WILL NOT GET A FULL SEASON ORDER
FINAL GRADE: C-