Tuscany inspired recipes
Inspired by a post on the Tuscany Now blog, Mrs Foodie put her cooking hat on and made some Italian food for these lovely summer evenings.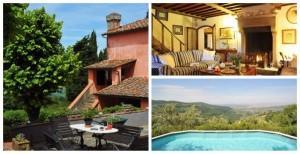 Tuscany Now Villa
Chicken with Sage
© Food and Deink Glasgow Blog
Chicken with sage
ingredients
3 tablespoons butter
12 sage leaves
4 skinless, boneless chicken breasts, pounded
8 fluid ounces of chicken broth
2 tablespoons lemon juice
2 tablespoons capers
1/4 teaspoon corn flour
Directions
In a large pan, melt butter.
Press sage on chicken and cook, until golden, transfer to plate.
Whisk broth, lemon juice, capers and corn flour into pan and reduce.
Pour over chicken.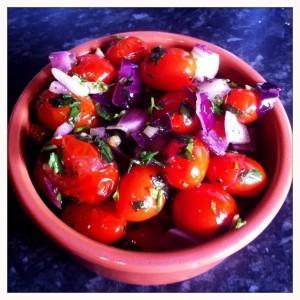 Spicy Tomato Salad
© Food and Drink Glasgow Blog
Spicy Plum Salad
ingredients
2 tablespoons Olive oil
1 pint cherry tomatoes or plum tomatoes
3/4 teaspoon crushed red pepper
1 clove garlic, grated
1 tablespoon chopped fresh basil
1/2 chopped red onion
Directions
In large pan, heat Olive oil.
Add tomatoes and red pepper, cook until blistered.
Off heat, mix in garlic, onion and basil.
Serve the tomatoes as a side dish with the chicken or as a starter, of course have an Aperol Spritz to keep you going

If you fancy keeping tabs on the competition, follow #TuscanyNowCookOff