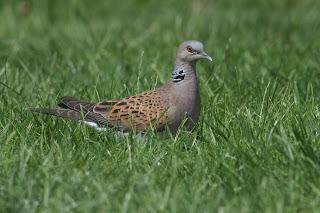 © Jill Pakenham/BTO
The BTO's latest Breeding Bird Survey (BBS) report published today has revealed that Turtle Dove numbers have hit a new low, declining by 93% since 1994. This trend is mirrored across Europe, with a decline of 78% between 1980 and 2013.
Turtle Doves spend the winter in West Africa, arriving back to the UK in April to breed. Once in the UK, they prefer areas of bare ground with open water and mature scrub areas in which to nest, with a plentiful supply of seed to feed their young.  Before the BBS began in 1994, changes in land management had already impacted the population greatly and the species has continued to decline to this day. The highest remaining breeding densities occur in eastern and southern England, and they have now disappeared from large areas of the country.
One cause for this decline is thought to be the lack of seed from arable plants, which historically formed the bulk of Turtle Dove diet during the breeding season, resulting in a much shorter breeding season with fewer nesting attempts. The trichomonosis parasite, better known for driving Greenfinch declines, has also been recorded in a high proportion of Turtle Doves in recent years and may be having an impact.
Hunting pressures during the Turtle Dove's migration through southern Europe is thought to impact on the population, although assessing the scale of this effect is difficult because the relevant data on the number of birds being killed is hard to come by. Further pressures in their wintering grounds of West Africa are also thought to be potential factors behind the decline, with changes in both climate and land-use reducing over-winter food availability.
Sarah Harris, BBS Organiser at the British Trust for Ornithology
,
 said
 "As a child, Turtle Dove used to nest at my local patch, Rye Meads, in Hertfordshire but the last singing male was recorded there in 2008. Structured volunteer surveys, such as the Breeding Bird Survey, rely completely on the generosity and dedication of thousands of volunteers across the UK to turn general observations like this into facts and figures that help us keep an eye on birds such as Turtle Dove. Our thanks go out to each and every BBS volunteer."
Anna Robinson, Monitoring Ecologist at the Joint Nature Conservation Committee
, added "
The evocative call of the Turtle Dove was once a more common addition to our summer soundscape. The BBS has been a valuable tool in showing the extent of decline, and has triggered conservation efforts. 'Operation Turtle Dove' (www.operationturtledove.org) is carrying out a range of targeted actions including promoting Turtle Dove friendly land management to farmers through agri-environment schemes. Let's hope the BBS will detect a positive impact from this effort in the future."
Dr Mark Eaton, RSPB Principal Conservation Scientist, RSPB Centre for Conservation Science,
said: 
"The Turtle Dove is the UK's fastest declining bird and, given the matching decline across Europe, is now considered at risk of global extinction. If we are to prevent it going the way of the Dodo, we need urgent coordinated conservation action, with farmers and conservationists working together to create the best conditions for them on our farmland. The efforts of farmers helping Operation Turtle Dove offers this iconic species a lifeline."