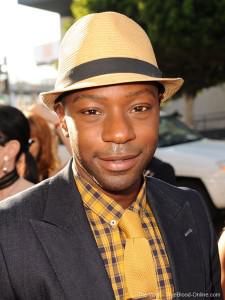 Monique at Shadow and Act on Cinema of African Desposa, got an exclusive interview with True Blood's Nelsan Ellis and below we provide a part of that interview for you.
You may know Nelsan Ellis from his character, Lafayette, on HBO's hit fantasy series, True Blood. However, did you also know that he's an acclaimed short film director and screenwriter? This year Nelsan has stepped into the filmmaker's seat again, co-penning and directing the dramatic short, Page 36.
After exhaustively reaching out to his publicist to request an interview, I was able to speak to his long time filmmaking partner J David Shanks; he passed along a message to Nelsan that S&A was very interested in speaking with him about the film and voila…a day later, I received a reply! Nelsan was kind enough to take time out of his very busy schedule to speak to S&A about his upcoming film as well as some exclusive tidbits on his preparation for the role of Lafayette in True Blood. Below are some highlights from our chat…
Monique: Hi Nelsan, so great to talk with you today! I would like to start off with this question…as an actor which do you prefer, film or television?
Nelsan: I personally prefer film over tv. My ultimate love is film. I've always loved film ever since I was a kid.
Monique:For black actors in general, which category needs more representation?
Nelsan: I think there could be more black faces in film, tv and theater…actually. I think we're underrepresented in all three mediums.
Monique: You've written a few stageplays, am I correct?
Nelsan: Yes, I have.
Monique: What types of stories are you interested in creating and do you think that there's been certain stories featuring black people that have been covered over and over again?
Nelsan: Yes. I think we've been known for sort of "mom on the couch" dramas. It almost limits us in a way. In this big, vast, human experience…all we know how to do is the "momma on the couch" drama. When you see other cultures films, you see a myriad of different aspects of the human experience that they deal with. For some reason, we're not worthy to explore all the different human experiences. It's like we're being looked at as either being limited or not being able to do the full human experience. I don't know what it is. It's not that we don't have those stories, we're just not included in them and we don't do them.
Monique: I want to talk about your new film Page 36 screening next month at the ABFF but this is not your first foray into producing and directing…you also directed wrote a film called Trespass?
Nelsan: Yes. you're right.
To read the rest of this interview go to: blogs.indiewire.com