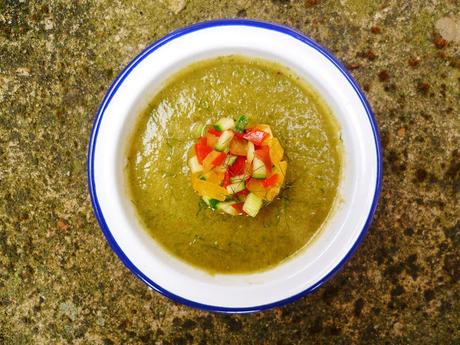 turkish-style cucumber and tomato soup
So much for the expected heatwave. Oh well, I love this simple soup, which is slightly tart and refreshing on a hot day (rain or not and rather nice at the end of summer too. Don't be deceived by its somewhat sludgy appearence!

While no cooking is required, although you will need a blender. This soup is reminiscent of one that I often have when on holiday in Turkey. The Turkish version is thinned out with yogurt, which you may decide to use (depending how strictly you adhere to the "raw food diet").
 
Serves 2-3
Skill level: Easy

ingredients:
2 large English cucumbers (about 1kg), halved and deseeded. Roughly chop, reserving about 2 tbsps, which should be finely chopped (for serving)
2 tomatoes, deseeded and roughly chopped
4 spring onions, white parts only, roughly chopped
2 garlic cloves, finely chopped
juice of 2 lemons
2 tsp raw sugar or honey
half tsp dried mint
salt and freshly ground black pepper
120ml organic yogurt (optional)
a handful of cherry tomatoes, finely chopped, to serve
fresh dill, roughly chopped, to serve
directions:
Tip the roughly chopped cucumber into a blender (making sure you have reserved about 2 tablespoons of cucumber). Add the chopped tomatoes, spring onions, garlic, lemon juice, honey and dried mint. Whizz until smooth. You can sieve the soup at this stage to remove any errant seeds, if you want to.

Season to taste and adjust if necessary. You will probably need more salt than you would usually use. It should also be slightly tart. You could at this point stir through the yogurt, if using.

Cover and refrigerate overnight, which allows the flavours to develop.

Serve at room temperature. Check the seasoning again.

Combine the chopped cherry tomatoes and cucumber. Add a scoop of the chopped vegetables to the bottom of each bowl.

Pour the soup around the chopped vegetables. Sprinkle over the chopped dill and serve.