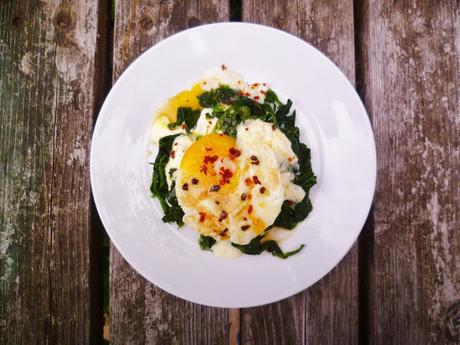 Turkish poached eggs in yogurt (cilbir)
I have a feeling that when I meet new people I have barely got the social niceties out of the way before I am grilling them on their favorite foods. Omer was no exception, as he told me about cilbir, a Turkish egg and yogurt dish, his favorite comfort food from childhood. Sadly, something got a bit lost in translation as Omer's passionate defence of gloopy eggs in a sour yogurt sauce sounded, frankly, revolting. But then Omer isn't much of a cook and hadn't actually cooked it himself. And in trying to get firmer details, I struggled as my Turkish is non-existent too.

So Omer phoned home. If in doubt, get your mother to explain. He translated for me, I made notes. Now I began to understand the sheer beauty and simplicity of cilbir. Now that I understood how it is cooked, it sounded delicious. Good old anne!
This has become a firm favorite in the Kelly household, whether breakfast, lunch or a light supper. While it is usually served with pitta breads to mop up the egg yolk and yogurt, I like to plonk the egg and yogurt on a bed of wilted of spinach; it just feels right somehow.
Serves 2
Skill level: Easy
ingredients:
280g Greek-style plain yogurt
1 tbsp fresh bronze fennel (or dill), finely chopped dill
1 garlic clove, very finely chopped
salt and freshly ground black pepper, to taste
2 tsp white wine vinegar
boiling water
2-4 eggs
60g butter
1 tsp Aleppo pepper (or mild chilli flakes) plus extra to serve
200g spinach
directions:
Combine yogurt, fennel and garlic in a bowl. Season to taste. Set aside.

Put spinach in a saucepan with salt and pepper over a medium heat. Put a lid on the saucepan. Cook until wilted. Strain out any excess moisture over a sieve. Divide spinach between 2 plates.

Spread the spinach with the yogurt mixture. Set aside.

Melt butter in a small saucepan, together with the Aleppo pepper. Keep warm while you prepare the eggs.

Crack eggs into individual ramekins.

I poach eggs in the microwave, but the classic way to poach them is to add 2 tsp of vinegar to a pan of simmering water. Add a pinch of salt.

Using a spoon, create a whirlpool in the water (to help egg white wrap around yolk). Slowly tip each egg into the water. Turn off heat. Cook for about 3 minutes (so the white is firm but the yolk is runny) before draining onto kitchen paper.

Place 2 eggs on each plate of yogurt and spinach.

Drizzle over the spiced butter.