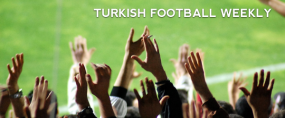 This week on Turkish Football Weekly:
Week 6 results and the week 7 schedule of the Turkish Super League are reviewed.  This includes a discussion on the derby between Galatasaray and Fenerbahce.  The panelists debate the match and it's moments.
European action featuring Turkish teams is discussed.  This delves into a debate on Galatasaray's current form in the Champions League, and the encouraging performances of Trabzonspor and Besiktas in the Europa League.
News this week concerns injuries, and suspensions resulting from direct red cards seen in week 6 action.
Subscribe to the show via iTunes.
Subscribe to the show via Stitcher Radio.
Check out the Turkish Football News website.
Follow the panelists on Twitter: @ata_dizdar (Ata), @razzerian (Kaan)