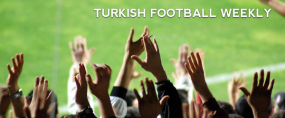 Spring is in the air.  The snow is melting.  Soccer is in season for the two pundits considering their country of residence.  But they're always on point when it comes to soccer/football in Turkey.  This week on Turkish Football Weekly:
Week 23 results of the Turkish Super League are reviewed.  Featured topics of discussion in the review include the derby between Fenerbahce and Galatasaray, Trabzonspor's demolition of Mersin Idman Yurdu, and one particular play in the Karabukspor-Gaziantepspor match which one of the pundits thought should have warranted an ejection.  The week 24 schedule gets the rundown.  The leaders in the standings will have a chance to reverse the first meetings of their respective opponents this weekend.
The UEFA Europa League round of 16 first leg between Club Brugge and Besiktas is reviewed.
News this week features discussion on one closed section sanction that will stand out in a couple of weeks, along with the Clubs' Union proposing an EPL-like breakaway (but without the breaking away).
Subscribe to the show via iTunes.
Subscribe to the show via Stitcher Radio.
Subscribe to the show via PlayerFM.
Follow the panelists on Twitter: @ata_dizdar (Ata), @asimbey (Jeremy)