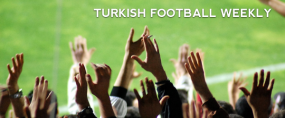 This week on Turkish Football Weekly:
Week 19 results of the Turkish Super League are reviewed.  Highlighted this week is the Fenerbahce-Trabzonspor match, Mersin Idman Yurdu ending their winless streak in an emphatic manner, and both Besiktas & Galatasaray winning despite playing at a sub-par standard.  The week 20 schedule gets the rundown.
With the Europa League back in action next week, Jeremy brings on a guest to preview the Liverpool-Besiktas tie.  (We would've gotten someone to help preview the Trabzonspor-Napoli tie, but all the potential guests had other obligations to attend to.)
The Turkish Cup round of 16 was played this past week.  While much of the matches went mostly ho-hum, one particular match had some shenanigans occurring.  The guys discuss who advanced and the match in question.
News this week sees the injury bug hitting Besiktas, and suspensions.
The major topic of debate this week concerns Trabzonspor chairman Ibrahim Haciosmanoglu, and his telephone call to referee Bulent Yildirim a few days before Yildirim was set to referee the Fenerbahce-Trabzonspor match.  The guys debate the controversy involving Haciosmanoglu.
Subscribe to the show via iTunes.
Subscribe to the show via Stitcher Radio.
Subscribe to the show via PlayerFM.
Follow the panelists on Twitter: @ata_dizdar (Ata), @asimbey (Jeremy)