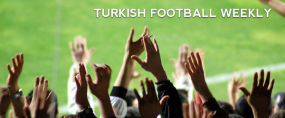 With Jeremy still out work related reasons, and nobody else to fill in on short notice, this week's episode of Turkish Football Weekly features Ata going solo.  Featured this week on a truncated edition of the podcast:
Week (or rather, matchday) 30 & 31 results of the Turkish Super League are reviewed in brief.  The schedule for week (or matchday) 32 is given a rundown.
There's two quick newsbites this week.  One of which concerns two Turkish clubs running afoul of UEFA's Financial Fair Play policy.
Subscribe to the show via iTunes.
Subscribe to the show via Stitcher Radio.
Subscribe to the show via PlayerFM.
Follow the panelist on Twitter: @ata_dizdar (Ata)