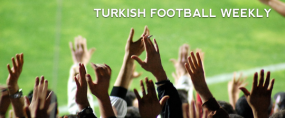 The Turkish national team seems to have gotten cooked in Euro 2016 qualifying.  At least the Super League is back in action, and with a derby on tap too.  This week on Turkish Football Weekly:
The Turkish national team games in Euro 2016 qualifying are reviewed.  This also includes a debate on the blame game that many have participated in after the past weekend's matches.
Nadeem Raja delves into the TFF 2nd and 3rd divisions in this week's report on the lower leagues.
The week 6 schedule of the Turkish Super League is discussed.  This also includes a "sleeper pick" for the match of the week (outside of the derby this weekend of course).
After much delay over the last few weeks (mostly due to finding good timing for this), the debate on how well the Passolig system has worked finally occurs.  The panelists go into detailed debate on the positive and negative impact the e-ticket system has had on the Turkish Super League so far.
Subscribe to the show via iTunes.
Subscribe to the show via Stitcher Radio.
Follow the panelists on Twitter: @ata_dizdar (Ata), @razzerian (Kaan), @kankagroup (Nadeem)