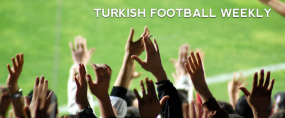 It didn't look so good for the Turkish national team.  The Super League is back though.  Some clubs even start their European adventures.  This week on Turkish Football Weekly:
The 2016 European Championship qualifier between Turkey and Iceland in Reykjavik is reviewed.  There are some tangential topics which stem from the game.
Week two of the Turkish Super League is this weekend, and the schedule is given the rundown.  This week's match of the week concerns Trabzonspor hosting Fenerbahce.
Nadeem Raja takes a look in the lower leagues in his Lower League Review.  This week that concentrates on the TFF 2nd Division and the TFF 3rd division.  (Also, Nadeem is looking for anyone who can direct him to news of the Turkish amateur league.
Galatasaray, Besiktas, and Trabzonspor start off European campaigns this coming week.  The guys talk about the opponents and their thoughts before those games.
It looks as though the Turkish Football Federation might have to implement social media policies for their leagues.  Felipe Melo's suspension for a retweet is discussed.
With the recent news of some of the leaders of the Carsi supporter group being arrested for what the government termed "attempting a coup", the situation there is discussed.
Subscribe to the show via iTunes.
Subscribe to the show via Stitcher Radio.
Follow the panelists on Twitter: @ata_dizdar (Ata), @razzerian (Kaan), @kankagroup (Nadeem)