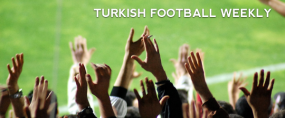 This week on Turkish Football Weekly:
Week 25 results of the Turkish Super League are reviewed.  Some of the things highlighted is some big wins for a couple of clubs in the bottom half of the table, an extended halftime (for some strange reason) & one Kasimpasa player having accusations thrown his way in the Kasimpasa-Galatasaray match; and the Fenerbahce-Besiktas derby.
The two particular highlights of the derby that got people talking were Emmanuel Emenike's actions, referee Firat Aydinus' decision regarding Emenike, and the war of words between Fenerbahce's Emre Belozoglu and Besiktas manager Slaven Bilic.  The panelists debate these events.
News this week features Besiktas losing a goalkeeper for the rest of the season, and Kayseri Erciyesspor looking for a new manager.
The Turkish national team is in action as they have a Euro 2016 qualifier to worry about (and a friendly, but then again, it's a friendly).  The roster for the upcoming weekend is analyzed and debated as well as Turkey's chances of victory.  Also, one defender called up to the Turkish national team decided to sit this weekend's games out because of one particular call-up.  This also is discussed.
Subscribe to the show via iTunes.
Subscribe to the show via Stitcher Radio.
Subscribe to the show via PlayerFM.
Follow the panelists on Twitter: @ata_dizdar (Ata), @asimbey (Jeremy)