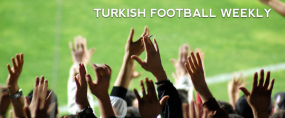 The regular episode of Turkish Football Weekly this week sees Ata Dizdar joined by Kaan Bayazit.  Results from from the playoff rounds of the Champions League and Europa League involving Turkish clubs are reviewed.  The Turkish clubs remaining in Europe found out who their opponents are in the group stages in their respective competitions, and the guys analyze the draw.  News this week includes a few releases from contracts and an update on the Orduspor situation.  The opening week's matches of the Turkish Super League then get analyzed.
Subscribe to the show via iTunes.
Subscribe to the show via Stitcher Radio.
Follow the guys on Twitter: @ata_dizdar (Ata), @razzerian (Kaan)