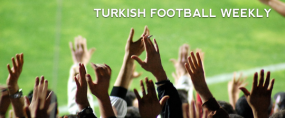 Although we'd like to make a Turkey joke for Thanksgiving, those are overdone.  But the hosts did get their fill of the fowl kind of turkey over the holiday.  This week on Turkish Football Weekly:
Week 10 results of the Turkish Super League are reviewed and the schedule for week 11 gets the rundown.
European action involving Turkish teams are reviewed.
The major news this week involves the sacking of Cesare Prandelli as Galatasaray manager.  The guys discuss this development as well two other coaching changes in the Turkish Super League this past week.
Subscribe to the show via iTunes.
Subscribe to the show via Stitcher Radio.
Check out the Turkish Football News website.
Follow the panelists on Twitter: @ata_dizdar (Ata), @asimbey (Jeremy)