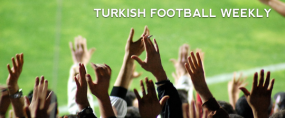 With Jeremy traveling for work related reasons, Ata is join by Kaan Bayazit for this week's episode of Turkish Football Weekly.  Featured this week on the podcast:
Week 29 results of the Turkish Super League are reviewed.  With the rescheduling due to the Fenerbahce bus shooting that caused a suspension of league play some weeks ago, the week 30 and 31 schedule get a brief rundown.
With the top of the Super League standings being as tight as they are, the guys review the individual schedules for the last five matches of the three championship contenders.  There is also a debate concerning which club has it tougher to close out the season.  (Unfortunately after recording, we realized that we forgot to factor in the 2nd leg of the Turkish Cup semifinals in the discussion.)
There's also an update of the PTT 1st division considering one club there has now clinched promotion (the one that inevitably was going to clinch it anyway).
Subscribe to the show via iTunes.
Subscribe to the show via Stitcher Radio.
Subscribe to the show via PlayerFM.
Follow the panelists on Twitter: @ata_dizdar (Ata), @razzerian (Kaan)