I had no idea these 'burgers' would be better the next day and cold!  Yep, while they were boholicious right after cooking, hot and loads of flavors then bites dipped in the yogurt minty sauce, as day after finger eats, they were even better.  This recipe is not mine~~it comes from one of my most favorite cookbooks, which I rarely use,  'Jerusalem' by Yotam Ottolenghi and Sami Tamimi.  It's more than a cookbook, it's a historical perspective on foods of Jerusalem and life there~~the photos are captivating and the recipes offer a chance to move beyond traditional spices and combinations of ingredients.
While I adhered to the recipe pretty darn closely, I did do a few things differently~~more amounts of spices, canola instead of sunflower oil, the addition of breadcrumbs and red chili flakes, mint in the sauce rather than sumac (which I could not find for the life of me!).  Ground turkey is healthy, but it errs on the side of being really bland, so for our palates, I knew I needed to ratchet it up even more. You'll love the grated zucchini in these burgers…it added a lot of moisture, so that's why I included the bread crumbs.  You bet I'll be making more of the recipes from Yotam & Sami's healthy exotic cookbook!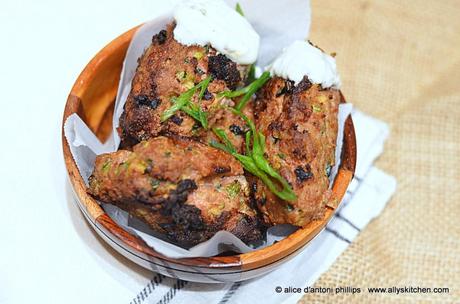 Serves: 6
Preheat oven to 350
What you need:
1 lb ground turkey
2 cups grated zucchini (about 1 large or 2 medium zucchinis)
3 green onions (w/tops trimmed somewhat) sliced thinly
1 beaten egg
2 tbl chopped mint
4 tbl chopped cilantro
1 tbl minced garlic
1 tbl ground cumin
1 1/2 tsp sea salt
1 tsp red chili flakes
1/2 tsp coarse ground pepper
1 cup bread crumbs
1/2 cup canola oil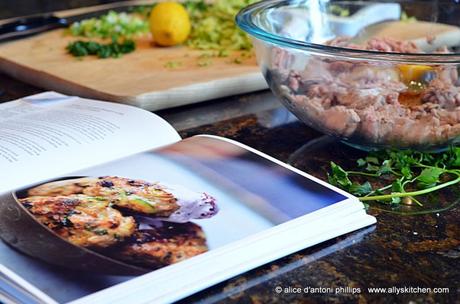 Sauce:
1/2 cup sour cream
1/2 cup Greek plain yogurt
1 tbl chopped fresh mint
1 tbl lemon zest
2 tbl lemon juice
1/2 tsp red chili flakes
1 tsp minced garlic
1/2 tsp sea salt
1/2 tsp coarse ground pepper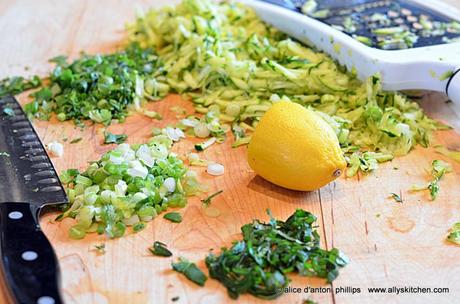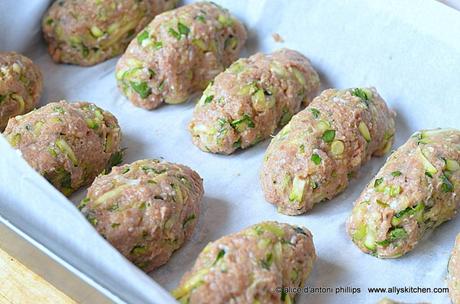 What you do:
First make the sauce.  combine the yogurt, mint, zest, lemon juice, chili flakes, garlic, salt and pepper in a bowl.  Whisk together & refrigerate until ready to use.
Combine the ground turkey, zucchini, green onions, egg, mint, cilantro, garlic, cumin, salt, chili flakes, pepper and bread crumbs in a bowl and blend together well.  Form into about 1 1/2 to 2 ounce shapes of your choosing.  I made mine round and oblong.
Heat the canola oil in a large heavy skillet over medium high heat.  Place about 4 patties (do not crowd) in the hot oil and pan sear on one side about 2 minutes, then turn/rotate browning on all sides.  There will probably be some sticking, so have several utensils (metal spatula, wooden spoon, rubber spatula, etc.)  handy to turn and move around.
Once the patties are browned, gently remove to a parchment paper covered cookie sheet or another skillet.  Finally, put all the browned patties in a preheated 350 oven about 5-7 minutes.  Remove, drain, and let rest about 5 minutes before serving with the sauce.