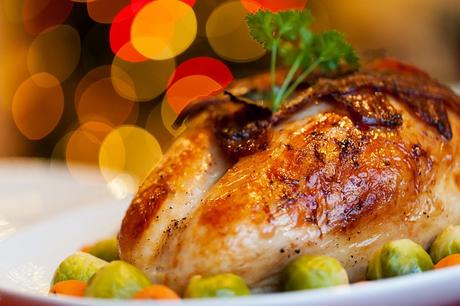 Two thirds of UK consumers will be sitting down to enjoy British turkey this 25 th December, proving that turkey is still top of the table for Christmas 2015. Over 52% said they'll opt for a whole turkey, while 41% will go for the convenience of a crown and 7% will choose a smaller turkey joint.
The recent research commissioned by British Turkey, showed that the average spend per diner was £20.19 with wine and champagne being the items that most consumers are likely to 'splash out' on.
In the kitchen, it is mum that rules the roost spending an average of 3.3 hours cooking lunch. Mum doesn't get a rest, as well as cooking lunch she is most likely to choose and wrap the presents, buy everything for the big day and serve drinks. Good old dad is likely to put up the tree and be the first to get a little tipsy!!
The most common mishap on Christmas Day was that the food wasn't all ready at the same time; others included lumpy gravy, soggy veg, overcooked turkey and sprouts like bullets! An unusual 17% of those surveyed even insist in having have tomato ketchup with their Christmas turkey!
41% said that the favourite part of Christmas is spending time with our families, while 32% of us say Christmas dinner is the highlight of the day.
The British Turkey Information Service which conducted the research are keen to stress that there's no need to get into a flap about cooking your turkey. If you're not sure which size turkey to buy visit www.britishturkey.co.uk. Also on the website you can calculate defrosting and cooking times and watch a carving video. You can even text the word 'turkey' followed by the weight of your turkey in kilos to '64446' and you will receive a return text with the cooking times and number of people your bird will feed.
Or if you prefer to talk to someone, call the British Turkey helpline on 0800 783 9994 - lines are open weekday 9am-5pm up to Christmas Eve. There is also an Online Live Chat available from 1 st-24 th December for any specific questions or queries you may have.