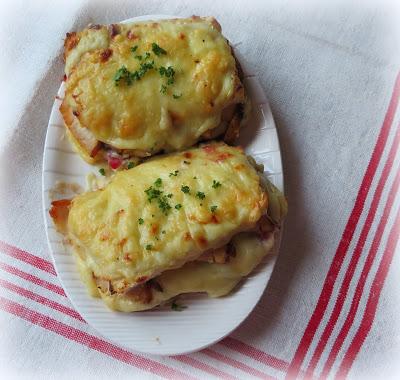 One of my greatest weaknesses has to be sandwiches.  I know that I have many weaknesses, of which these are only one, but . . .  on a scale of 1 to 10, sandwiches are a 10+ for me.  I just adore sandwiches.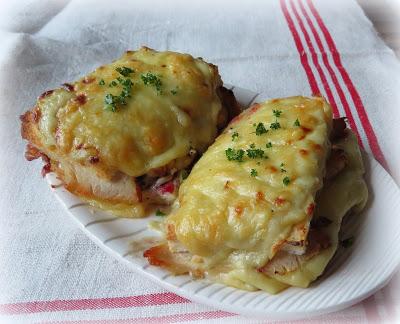 My Aunt Freda also loved sandwiches, so I guess we are a lot alike in that respect.  If it is between two slices of tasty bread, I love it . . .  for the most part.  There are a few exceptions.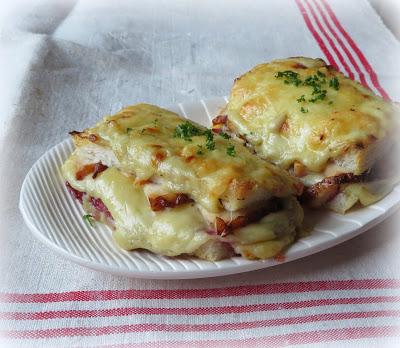 I know most people will have cooked their turkeys for Christmas (or Thanksgiving) and you might not have leftover turkey in the house at the moment.  We cooked our Turkey at New Years.  It is important to note that you could also make these with slices of Deli-turkey.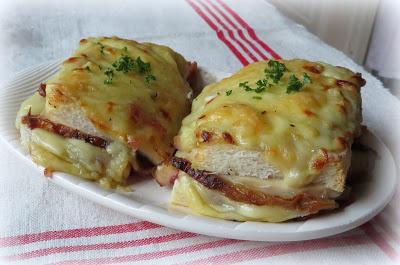 I have made Croque Monsieur sandwiches in the past with ham.  You can find
that here
.  They were most delicious.  Topped with a fried egg, they become a Croque Madame.  Also most delicious.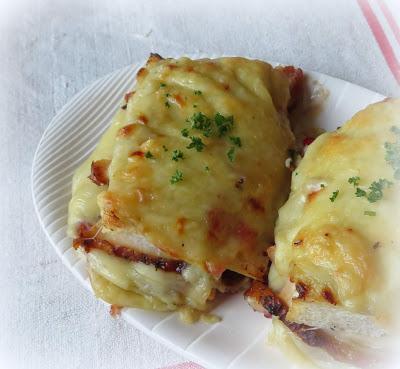 I found a recipe for this tasty Turkey Croque-Monsieur on the
Jamie Oliver site
.  Attributed to Chef Bruno Loubet from the Bistro Bruno Loubet, in London's Clerkenwell, it looked and sounded absolutely fabulous.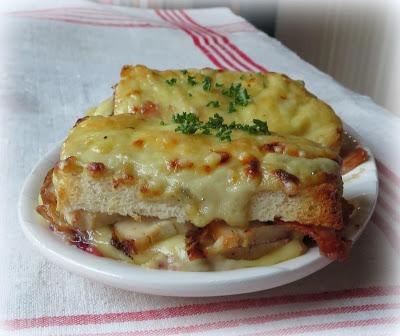 It would also allow me to use up some of our leftover Christmas cheeses and cranberry sauce!  Win/win/win all round!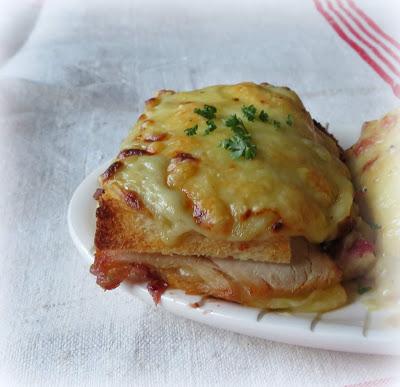 You begin by making a delicious Stilton cheese sauce, lightly flavoured with Dijon mustard.  It is luscious and rich.  This gets spread on the bottom slice of bread (use a rustic white bread) after you have spread the bread with some cranberry sauce.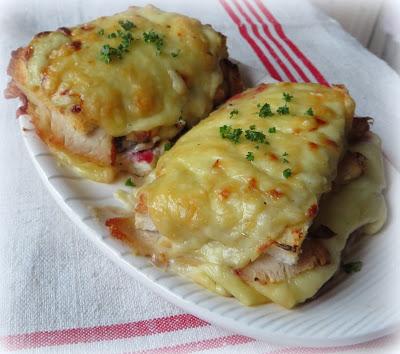 Gruyere cheese gets grated on top of that and then you layer on turkey, the top slice of bread, also spread with some of that luscious Stilton cheese sauce  . . .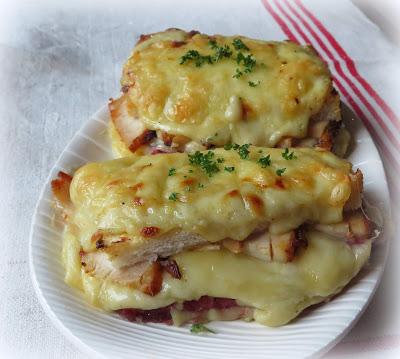 A final grating of Gruyere cheese and they are ready to toast in the oven  . . .  a hot oven . . .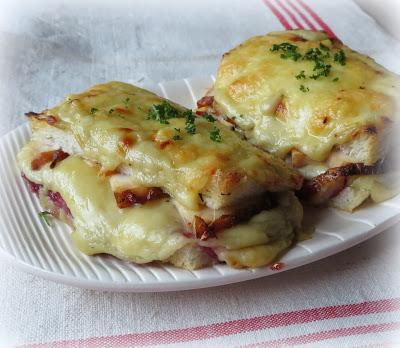 Just until the sauce has bubbled and melted a bit, along with that cheese  . . .  gilding the sandwiches with a blanket of deliciousness . . .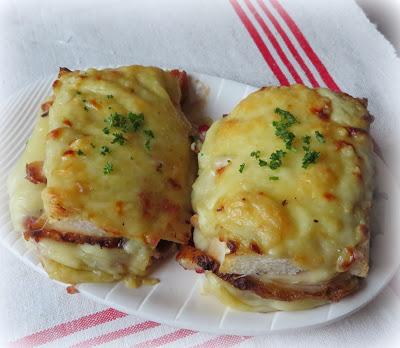 This sandwich is so simple to make.  If you can make a simple cheese sauce, you can make this!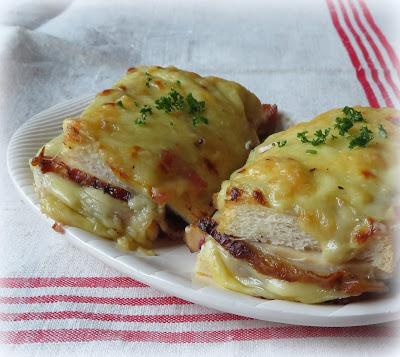 Its also very quick to make once you have all of the ingredients assembled . . .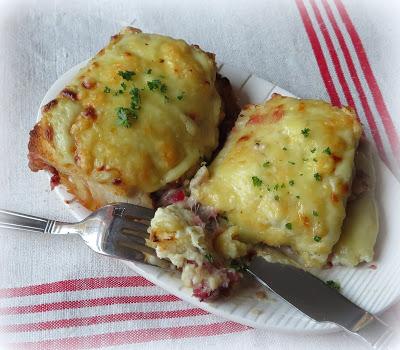 And it is incredibly delicious!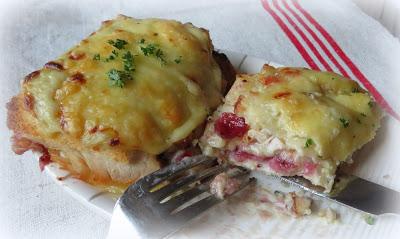 So delicious that while I was meaning only to have a tiny taste  . . .  before I knew it half the sandwich had disappeared and I was licking my chops.   I'll start my diet on Monday. 
😏
Yield: 4
Author: Marie Rayner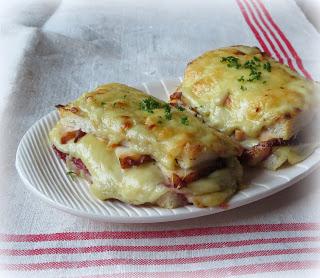 Turkey Croque-Monsieur
prep time: 15 mins
cook time: 15 mins
total time: 30 mins
A deliciously different turkey sandwich, with layers of a tender turkey breast, cranberry sauce, a Stilton bechamel, and Gruyere cheese! Rich and fabulously tasty!
ingredients:
3 TBS butter5 TBS flour400ml milk (1 2/3 cup)2 TBS Dijon Mustard100g Stilton cheese (3 1/2 ounces) crumbled8 slices of a sturdy crusty white breadcranberry sauce100g Gruyere cheese (3 12 ounces)400g sliced cooked turkey (14 ounces, scant pound)salt and black pepper as needed
instructions:
Preheat the oven to 220*C/425*F/ gas mark 7.  Line a baking tray with foil and spray lightly with nonstick cooking spray.
Melt
 the butter in a saucepan.  Whisk in the flour and cook for several
minutes.  Slowly whisk in the cold milk and cook, stirring constantly,
until the mixture bubbles and thickens.  Stir in the mustard and
crumbled Stilton.  Whisk to melt the cheeses and then remove from the
heat.  Taste and adjust seasoning with salt and pepper if desired.
Spread
 four slices of the bread with cranberry sauce and then half of the 
Stilton sauce.  Place onto the baking sheet.  Grate half of the Gruyere
cheese over top.  Place the sliced turkey on top of the Gruyere cheese.
 Spread the remaining Stilton sauce over the other four slices of bread
and place on top of the turkey.  Grate the remaining Gruyere cheese over
 all.
Bake in the preheated oven until the cheese melts and the sandwiches are golden brown and heated through.  Delicious!Created using
The Recipes Generator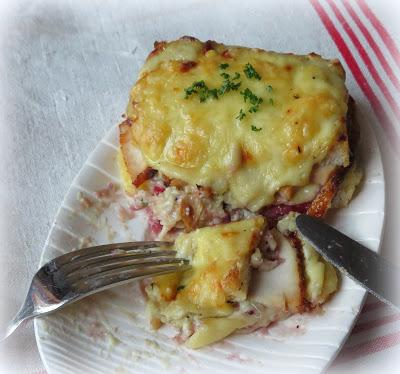 If you don't have turkey to use, or are all turkey'd out (understandable) do bookmark this to make at some future date.  You will not be sorry you did!  Bon Appetit!