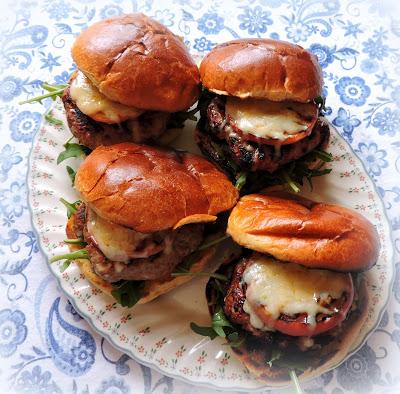 We are huge fans of Turkey Burgers in our home.  In fact I would go so far as to say that we actually like them far more than we like regular burgers. We especially enjoyed this version that I cooked recently on our Space Grill. We sure are enjoying the beautiful weather and are taking advantage of this grill whenever we can.  It will be winter soon enough!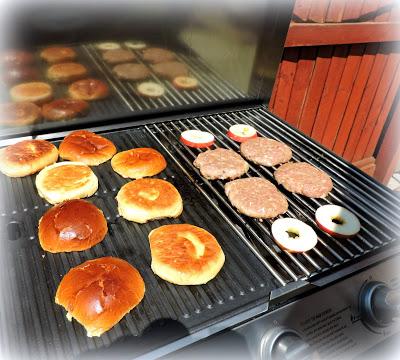 Another reason we have been using it a lot (aside from the weather) is that is it just so darned easy to sue and to clean.  I could never get Todd to start up our old BBQ. He did not enjoy all the faff involved. This one, I just flip it out and turn it on.The patented automatic fold-down drip-tray means NO MESS, Perfect for all home types from small units to luxury homes, 3 separate individual ignition burners means fast starting.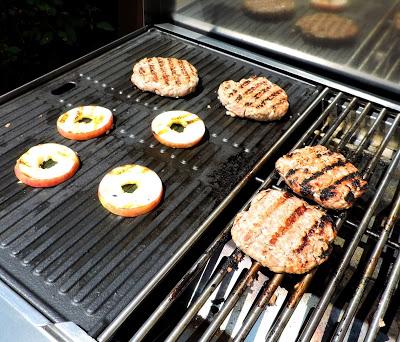 It has multiple cooking plates with reversible flat / grill designs. Open flame grill plate option included for healthy cooking. The sleek modern design that adds value to your home. It folds away in seconds, saves room and reduces clutter.  Composed of chef-grade, stainless steel  it is also rust resistant for longevity. The lid also doubles as a splash-back to protect your home. No other BBQ can do all of this! When you are done using it, just let it cook, clean the burner plates/grills, wipe out the fold down drip tray, and fold it all back, neat and tidy in wait for the next time. We love it!  You can find out more about it here.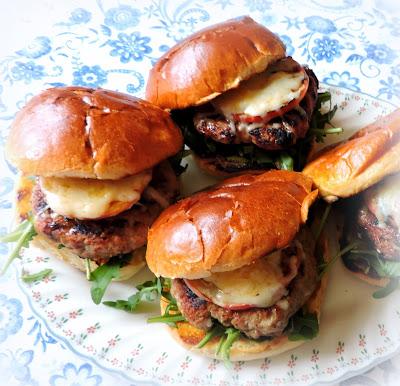 These are really delicious turkey burgers.  I saw a lot of recipes floating around that used apple and spring onions to flavor the burgers.  I expanded on that a bit by using some grated honey crisp apple, minced red onion,  along with some  finely grated orange zest for plenty of flavor.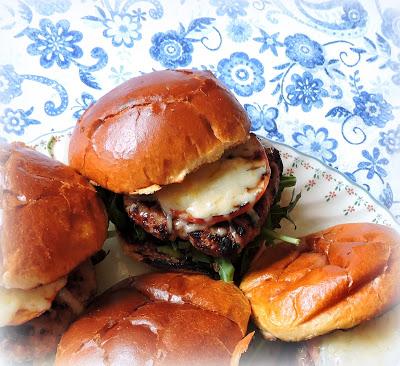 I only used the ends of the apple in the actual burgers, the rest of it was sliced thinly and grilled along with the burgers.  I shaped the burgers and then chilled them for several hours so that they really took in the flavours and firmed up nicely.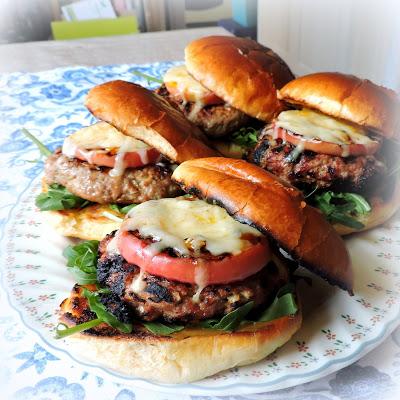 They grilled up lovely. When the burgers were almost done, I brushed the apple sliced with some honey mustard and popped them onto the grill plate.    I didn't want them to get soggy, but preferred them to retain some of their natural crispness.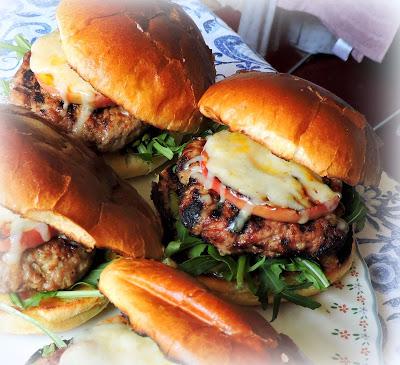 I thought the grill lines would look lovely and enhance their flavours a bit. The honey mustard also added a bit of a tang to work with the sweetness of the apple.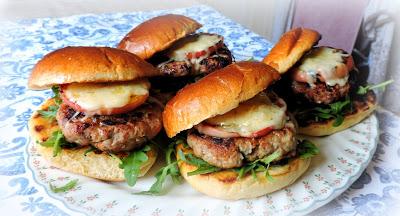 Once I had them the way I wanted them, I popped them onto the grilled burgers and piled on the grated cheddar, leaving it just long enough to melt down over those apple slices and the burgers.  Oh boy  . . . were we in for a real treat!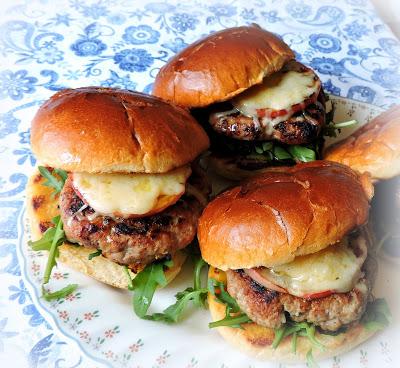 These were fabulous served on toasted brioche buns along with  some baby rocket leaves, which added a peppery touch.  (Baby Arugula if you live in North America.)  Altogether these were pretty wonderful!  I served them with some coleslaw for a really tasty supper!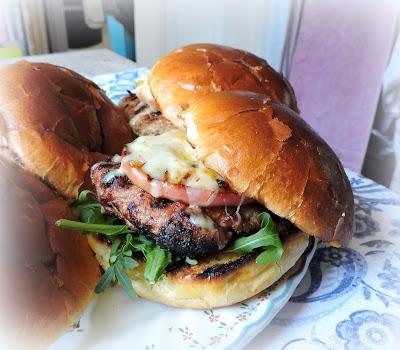 *Turkey Burgers with Cheddar & Apple*Serves 4Printable Recipe 
Moist and juicy with just a hint of orange. Serve with coleslaw for a real family pleasing combination! 
450g ground turkey (1 pound, preferably a mix of light and dark meat)2 TBS honey Dijon mustard, plus additional for spreading 1/2 TBS finely minced onion1/2 tsp finely grated orange zest1/2 tsp salt1/2 tsp black pepper1 large honey crisp apple, unpeeled60g strong white cheddar, grated (1/2 cup)4 brioche burger buns, lightly toastedrocket leaves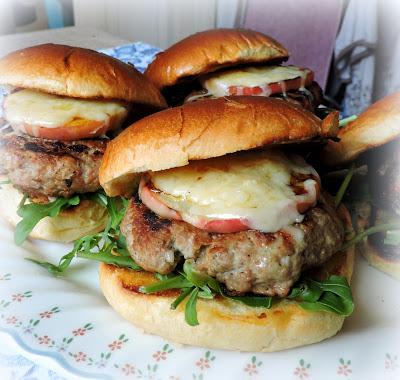 Crumble the ground turkey into a bowl. Add the mustard, minced onion, orange zest salt and pepper.  Cut the ends off of the apple. Grate the ends to give you 1 1/2 to 2 TBS of grated apple. Add this to the ground turkey and then mix all together to blend evenly.  Wrap the remainder of the apple in plastic wrap.  Shape the turkey mixture into 4 flat patties. Place on a plate, cover and chill in the refrigerator for about 1 hour until firm.
Heat the grill on high for about five minutes  Core the remaining apple and cut into 4 rounds. Grill the burgers for 5 to 6 minutes per side, until the juices run clear.  For the last few minutes of cook time, brush the apple slices with a bit of honey mustard and grill them along side of the burgers, for about 1/2  minute per side. Place one slice of apple on top of each burger along with 1/4 of the cheese.  Grill for a further minute to allow the cheese to melt, before removing. 
Spread both halves of the toasted buns generously with honey mustard,  Place some rocket leaves on the bottom, then top with a burger, and finally the burger bun tops. Serve immediately.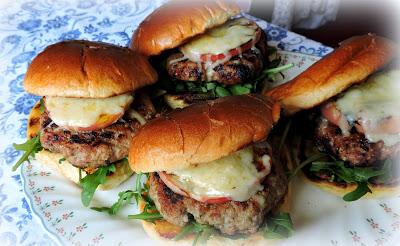 I wonder how much longer we are going to blessed with this fabulous grilling weather!  It hasn't been quite as hot this week, but we still haven't had a lot of rain and its been really quite pleasant sitting out in the garden . . .  cooking, eating and reading.  I hope it keeps up for a while longer!!  In any case, if you are looking for a deliciously different turkey burger this weekend, look no further. You are going to love these.  I guarantee!  They're splendiferously tasty! Bon Appetit and Happy Weekend!