The Tunisian "sun cuisine" is based mainly on olive oil, spices, tomatoes, seafood and lamb. Tunisian fare gets its distinctive fieriness from their Mediterranean neighbors and the many civilizations which have ruled the land now known as Tunisia; Phoenicians, Romans, Arabs, Turkish, French, and the native Berber people.
Because tuna, eggs, and olives feature prominently in Tunisian dishes, they make good meals for meatless Fridays during the Lenten season in which Catholics abstain from eating meat as an act of penance. This tuna salad works especially well for lunches which can otherwise be quite challenging for kids who take their lunches to school during Lent!
While this version of tuna salad is significantly more involved than just adding chopped onions, celery and pickle relish to a can of tuna, but it is well worth every extra minute. The potatoes make the tuna salad creamy and the lemon gives it a good tang.
2 7-oz. cans of water-packed tuna
1 large Yukon Gold potato, peeled, cubed (½-inch pieces)
1/4 cup extra virgin olive oil, plus more for drizzling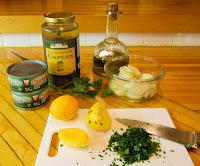 1/4 cup lemon juice
4-5 tablespoons fresh parsley, chopped
1 small clove garlic, minced
1/4 cup capers, drained and rinsed
1 tablespoon green olives, sliced (optional)
2 large hard-boiled eggs, sliced
2 tablespoons Harissa (Tunisian hot chili sauce)
2 crusty bâtards (short baguettes)
Kosher salt to taste
Freshly ground black pepper
Cover the cubed potatoes with cold, salted water in a small saucepan. Bring to a simmer and cook until tender, about 20 minutes, then drain and let cool.
Meanwhile, cover eggs with cold water in another small saucepan. Bring to a simmer over medium heat. Remove from heat, cover and let stand 9 minutes. Drain the eggs and cool, remove shells, slice and set aside until ready to assemble sandwiches.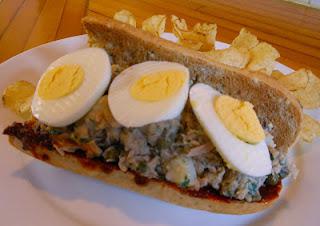 In a large bowl, combine the tuna, olives, capers, parsley, lemon juice, garlic, olive oil, salt and pepper and mix together with a fork. Gently fold in the potatoes without mashing them too badly.
Split the bâtard(s) in half lengthwise and toast under the broiler until light brown. Spread one side of the bread with harissa and then layer the tuna salad on top and drizzle lightly with olive oil. Place egg slices on top and close the sandwiches. Cut each sandwich in half crosswise and serve with crispy chips and some homemade pickles.