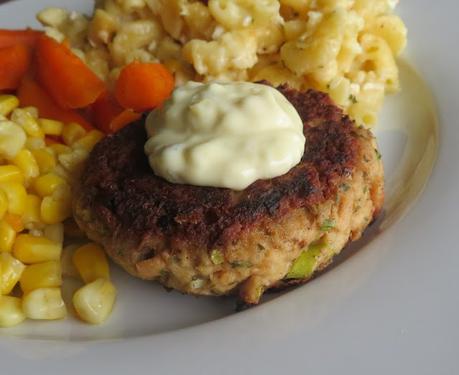 Fish for Friday here with my favorite recipe for Tuna Patties. These are the best Tuna Patties and the good news is I have downsized the recipe to feed only two.
These delicious Tuna Patties have always been something which I have loved.  Not only are they super simple and easy to make, but they are also really delicious!!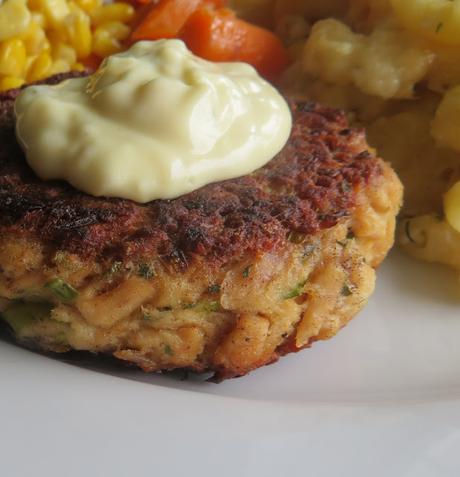 Tuna was not something we really had in our home when I was growing up. Then one day in Grade 8 my friend Cindi and I were eating our lunches prior to band practice and she moaned about having a tuna sandwich.
I think I might have had ham salad or some such. She thought my lunch looked better and so we traded. I fell in love with tuna sandwiches right then and right there!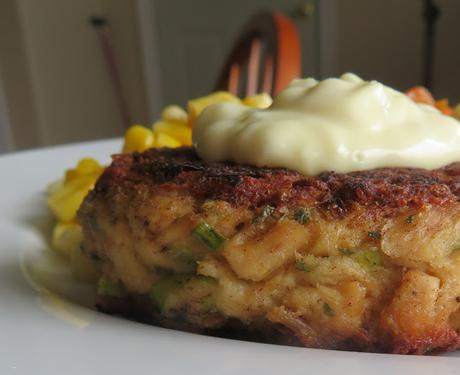 Mom had always bought salmon for us to use in sandwiches, but she had never bought tuna. When I told her how much I had enjoyed Cindi's tuna sandwich, she started to buy tuna for us to have in sandwiches from time to time.
Mom always mixed pickle, onion, a bit of celery and mayonnaise in the tuna sandwiches that she made for us. Much the same as she did for the salmon ones. We were fans of both!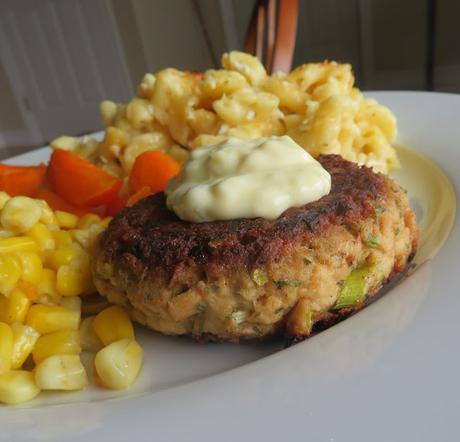 Something like this might not be super practical for the larger family, but they do make a fine supper for the smaller family, and they are quite simply perfect for two people.
You get two servings out of one tin of tuna, which makes two tuna patties.  For a larger family you will need to double the ingredients.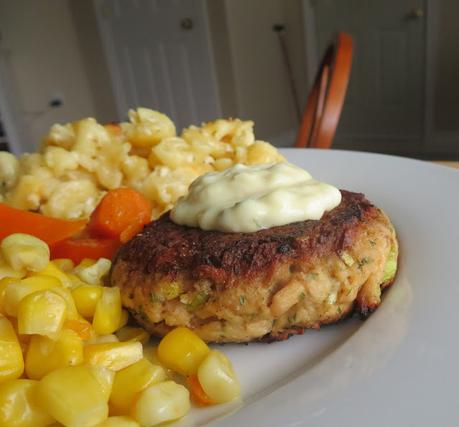 This could be rather expensive if you are like me and only use Albacore tuna.  I think Albacore gives you the best flavor and I like it. I just think it tastes better.
Albacore tuna shares many of the same nutritional advantages as other types of tuna.  It's a rich source of complete protein, selenium and vitamin B-12. It is also better source of heart-healthy omega-3 fatty acids than other tuna species.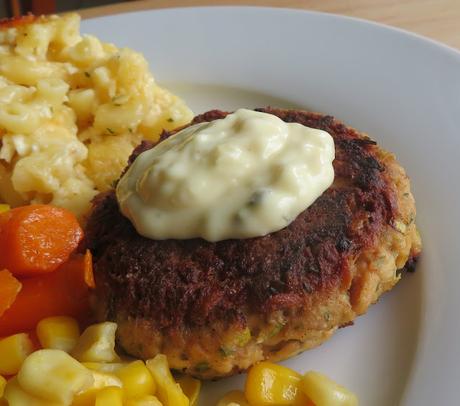 Having said that, you go ahead and use whichever tuna it is that you enjoy, and that you can afford to buy. Using Albacore tuna is only a personal preference that I have.
What I also love about this recipe is that it is very easy to throw together at the last minute. Its a great store cupboard recipe.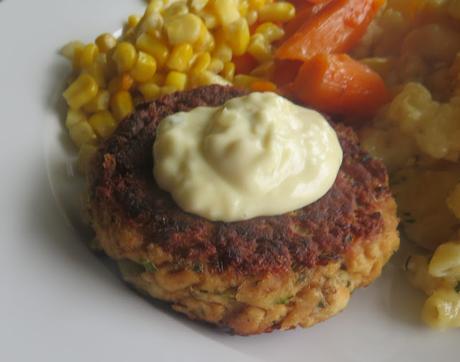 I always, ALWAYS have the ingredients needed to make them in my larder or cupboards.  Nothing spectacularly unusual is needed to make them. Only simple ingredients.
That's the way I like to cook most of the time, using simple ingredients and simple methods!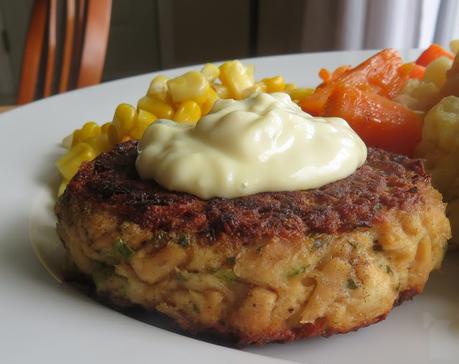 WHAT DO YOU NEED TO MAKE TUNA PATTIES
You only need a few simple store cupboard friendly ingredients to make these delicious patties.
tinned albacore tuna
mustard (I like Dijon)
fresh lemon (the zest and the juice)
some fresh or dried herbs
1 spring onion/scallion
an egg yolk
half a slice of bread
seasoning
tabasco sauce
butter and light olive oil to shallow fry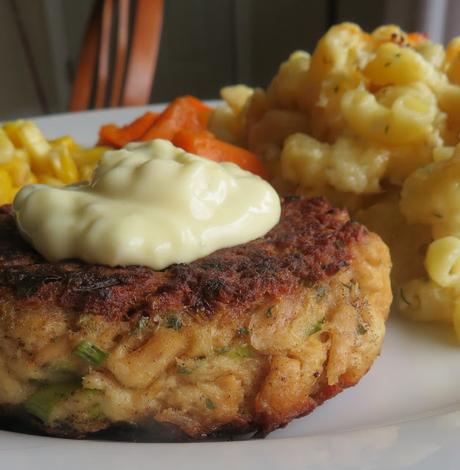 All of these ingredients are mashed together and then shaped into patties. Its a very easy thing to do to shape them into patties.
Just divide the mixture into equal halves and shape each half into a ball.  Then flatten each ball into a patty shape.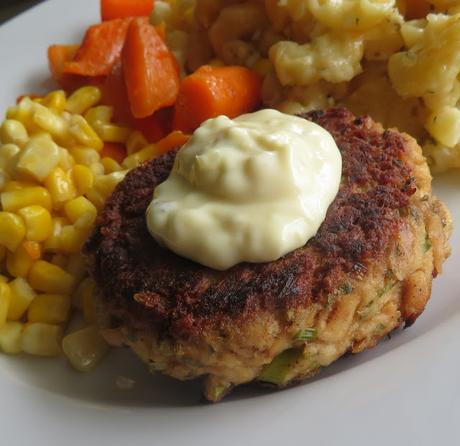 Once shaped I like to place them onto a place and cover with a bit of cling film and then chill them for an hour or so.  This helps them to stay together better when it comes to frying them.
It also means that you can mix everything up, shape and then chill, ready to pop into a skillet at the end of the day when you get home from work.  The perfect make ahead!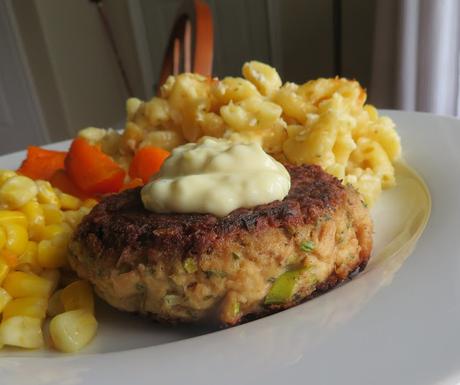 I  like to fry them in a mix of light olive oil and butter.  There is not a lot of butter in the mix, only 1/2 teaspoon, but it does add to the flavor. 
They taste like you have used so much more.  Trust me on this.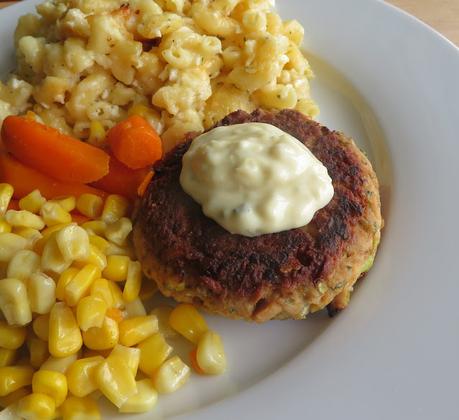 I only ever use light olive oil for cooking. This is not extra virgin olive oil, which comes from the first pressing, but it is still olive oil and good for you.
In any case there is not a lot of either the oil or the butter. Just enough to do the job and give some flavor.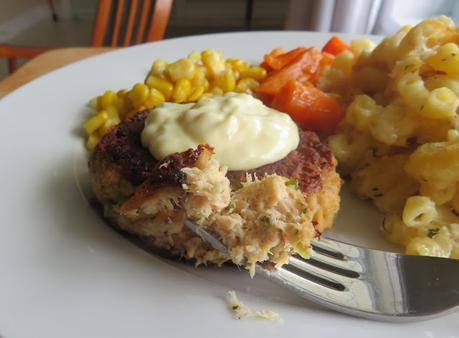 You can use either fresh herbs in these or dried. I don't have as many fresh herbs available to me here, so I tend to use dried most of the time. When they are being used in a dish such as this, it really doesn't matter.
Obviously there are other times when you will need to use fresh.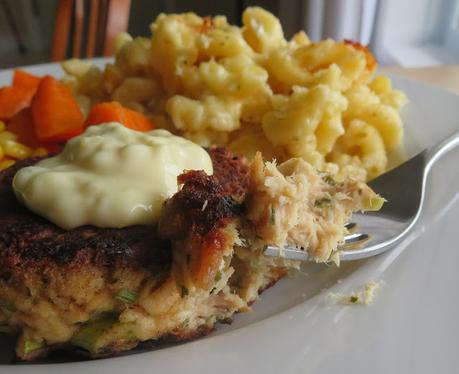 It doesn't take very long for them to cook. You only want to cook them until they are golden brown on both sides. Try not to rush it by having the heat up too high or you will burn your butter.
Burnt butter does not taste nice.  You cannot rush a good thing.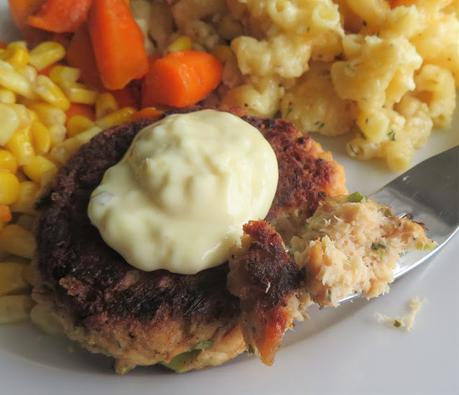 These tasty patties are excellent served with my homemade tartar sauce. I love this sauce. Its so much tastier than ready made. You can find my
recipe for Homemade Tartar Sauce here
. 
It seriously is the best Tartar Sauce ever.  It is a recipe I learned to make when I was working at the Manor. I used to make them homemade
Cod Fish Cakes
for supper sometimes on a Friday and I always made this sauce to go with them.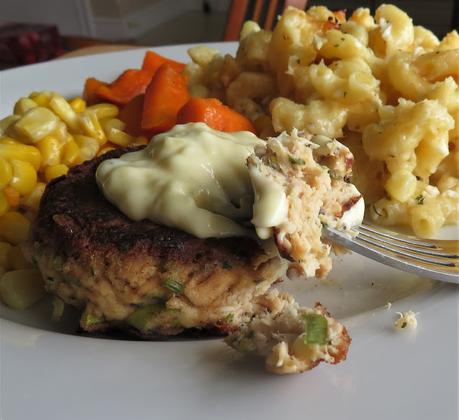 Not a fan of tartar sauce? Not to worry. These also go great with wedges of fresh lemon for squeezing over top!!
They are also really good served in a bun as a type of burger.
I enjoyed mine today with some mac and cheese and leftover vegetables from last nights dinner.  All in all this was a very tasty supper for myself! I hope you will give them a go too!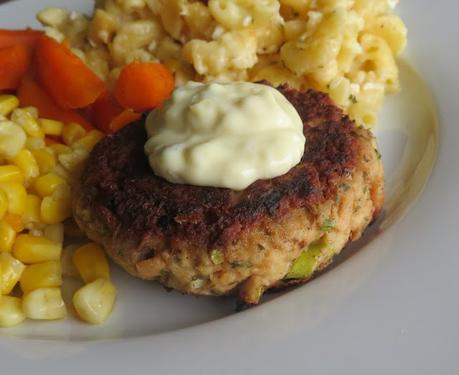 Tuna Patties for Two
Yield:
2 servings
Author:
Marie Rayner
Prep time: 10 Min
Cook time: 10 Min
inactive time: 1 Hour
Total time: 1 H & 20 M
Quick, easy, and sized perfectly for two people. You can enjoy these simple tuna patties with a wedge of lemon to squeeze over top, or with some delicious homemade tartar sauce! They are delicious both ways!
Ingredients
1 (5 to 6 ounce)(140-170grams) tin of albacore tuna
1 tsp Dijon mustard
1/2 tsp olive oil (use only if using water packed tuna)
1/2 slice of white bread torn into small pieces
1/2 tsp freshly grated lemon zest (I use my fine microplane grater)
1/2 TBS fresh lemon juice
1/2 TBS water or juice from tin of tuna
1 TBS chopped fresh flat leaf parsley (or 1/2 TBS dried)
1 TBS finely chopped green onion
1 large free range egg yolk
salt and black pepper to taste
Tabasco sauce to taste
1 TBS light olive oil
1/2 tsp butter
To serve: (optional)
Fresh lemon wedges
tartar sauce
Instructions
Drain your tuna well, reserving liquid.  Flake the tuna into a bowl. Add the olive oil and 1/2 TBS of the tuna liquid.  Mash well together.
Add the bread, lemon zest, lemon juice, mustard, parsley, chives, hot sauce and seasoning.  Mash well together and then taste. Adjust seasoning as necessary and then stir in the egg yolk.
Divide the mixture in half and shape into two balls. Flatten each ball into a patty and place onto a plate. Refrigerate for one hour.
Heat the olive oil and butter over medium high heat in a non-stick skillet.  Once the butter begins to foam, add the tuna patties.  Brown nicely on both sides, approximately 3 to 4 minutes per side.
Serve hot with your lemon or tartar sauce.
Did you make this recipe?
Tag @marierayner5530 on instagram and hashtag it #TheEnglishKitchen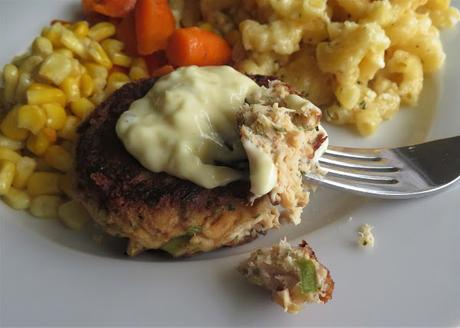 All of the content you see here on this page, both photography and written, are the sole property of The English Kitchen, Marie Rayner. Any reposting or misuse is not permitted. If you are reading this elsewhere, please know that it is stolen content and you may report it to me at mariealicejoan at aol dot com. 
Follow me on Bloglovin