Woo hoo! We've made it to the East Coast. Savannah, Georgia, one of the most beautiful cities you could hope to walk around, but more of that tomorrow, once we've finished all the walking and been to every neighbourhood. After all the deep-fried southern soul food we've enjoyed over the last few weeks we were actually craving something lighter, fresher and, yes, healthier. Here's how we went.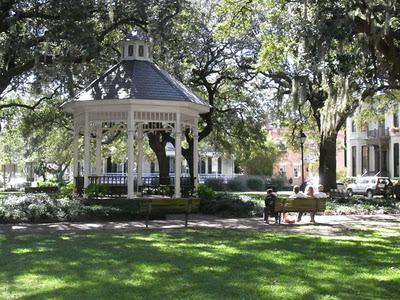 OK. For starters, one classic Savannah, Georgia photo to set the scene. This really is a town of a thousand delightful neighbourhoods.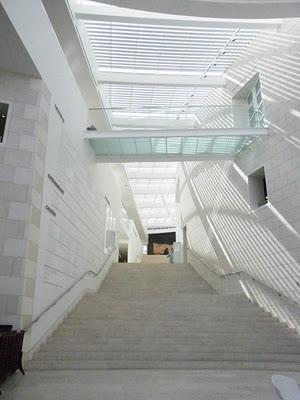 In the centre of town, however, the Jepson Art Gallery is an equally wonderful modern space, and it was in the cafe (from which I took this shot) that we enjoyed a much healthier lunch.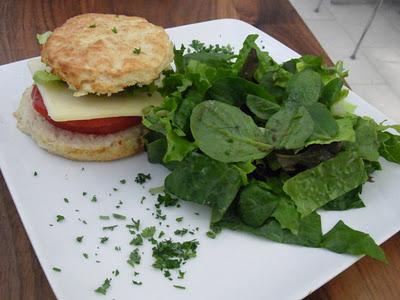 Pammy would like you to know that this photogenic Biscuits with Tomatoes, Swiss Cheese, Basil Aoli and Salad was a truly impractical thing to eat. As mentioned several Tummy Times ago, biscuits are a baked thing rather like Aussie scones, but often a bit wider and flatter than scones. When used here as a substitute for a bread roll, they collapsed into half a dozen little bikkies after the first bite. This is a classic of 'it seemed like a good idea at the time'. It passed the taste test (nice) but it didn't exactly shine in the 'pleasure to eat' department.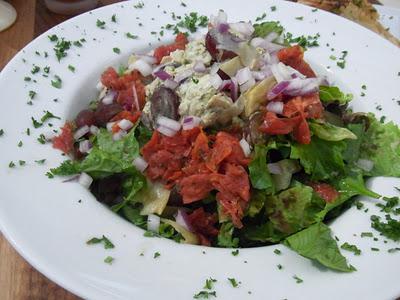 I had a saintly salad. Well, actually, no I didn't. I had a chicken salad, which featured halved seedless red grapes, sun-dried tomatoes, red onion, cold cooked chicken blended with a herby mayonnaise, Cos (romaine) lettuce and a basil vinaigrette. What a mouthful of a description, but it turned out to be a pleasant mouthful for lunch. All it lacked was crunch...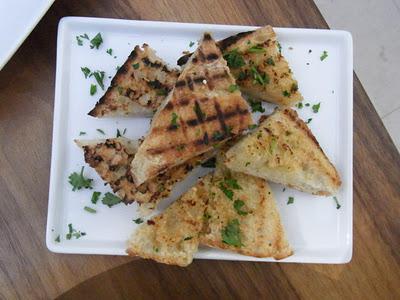 So I ordered a half-plate of grilled ciabatta bread drizzled with olive oil and scattered with herbs.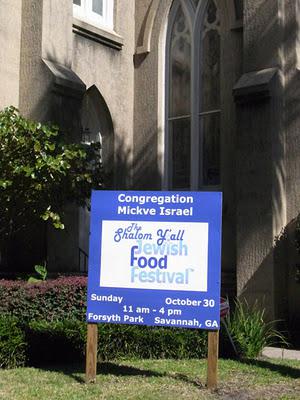 After lunch we went exploring the amazing streets of Savannah and along the way we spotted this missed opportunity for Tummy Timers, the 'Shalom Y'all' Festival of Jewish Food, advertised outside the local synagogue. Sounds both fun and yummy.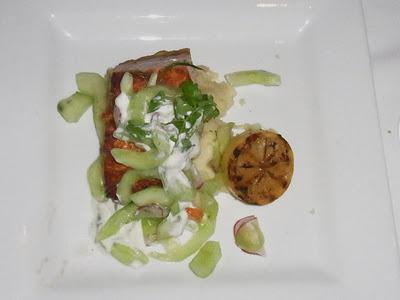 Last night we dined out at what turned out to be a much more flash restaurant than we expected, but it was a night of interesting food served in a beautifully restored old house. The restaurant is called

'The Olde Pink House'

and it's inside an historic mansion fronting Reynolds Square, on Abercorn Street. Somehow I was so keen to get stuck into our entree of a shared plate of a dozen oysters natural that I forgot to photograph them, but you know what oysters look like. The oysters were from just down the coast in Florida (not on the Gulf Coast side) and while, quite honestly, they weren't as good as creamy, superb Sydney Rock Oysters they were still the cleanest, freshest flavour (with a squeeze of lemon) we had enjoyed in weeks. After that fab entree,
Pammy ordered the grilled salmon with dill cucumber salad, and they cooked the salmon the way she likes it: rare.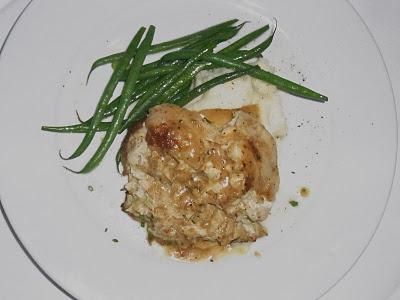 I had a crab-stuffed black grouper, with lightly steamed string beans on the side. Please note, that in Savannah they pronounce the name of this fish 'group-er', and not the Aussie way of 'grope-er'. I did notice the waitress twitch just a fraction when I placed my order. Oh, and it might not be all that photogenic but it was deliciously crabby, with the grouper a mere casing for the crab main, flavour-wise.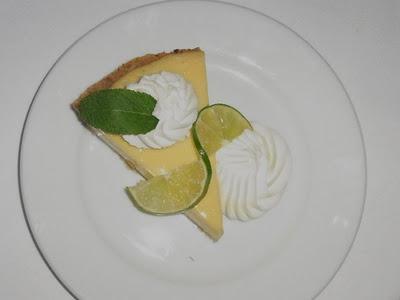 As so often happens with goody-two-shoes diners, by the time they have had salad for lunch and fish for dinner the danger period is desserts, and we both succumbed, I am happy to say. I had a key lime pie (not my first this trip) and this one was up there with the best of them, but all of them have been of a high standard.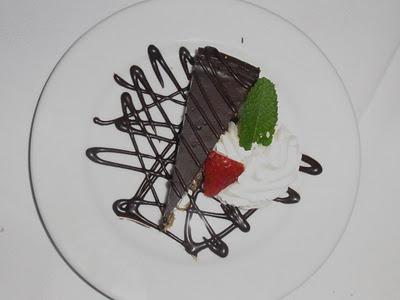 Pammy lost her head for a moment and blurted out "I'll have the Chocolate Oblivion Torte, please" but she recovered beautifully when this relatively restrained, but deeply chocolatey little slice appeared. She approved on all counts. Got her chocolate fix, didn't overdose.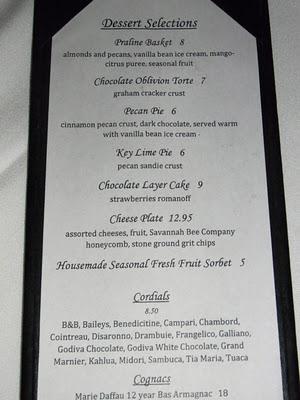 One cute note to finish on is the dessert menu, or more specifically the dessert drinks menu. We both loved the way they listed all the liqueurs as 'cordials'.

We'll tell you a lot more about this truly beautiful place with a blog posting tomorrow, but Savannah is well known for its food and it's living up to its reputation. On our first night here we were too tired from driving down here to venture far looking for a restaurant, so we went to a local pub, the

Crystal Beer Parlor

, and even there the crab cakes I had were light and full of fresh, real crabmeat, while Pam's lamb rack was cooked pink, how she likes it. Shame I didn't take the camera, but we didn't think pub grub was going to be all that enthralling. That's a mistake I keep on making on this trip. I forget to take my camera when I dine out and then I wish I had. Just goes to show you that the food here continues to be full of pleasant surprises.