I'm calling this the Soul Food edition of Tummy Time, although Pammy thinks it might be closer to the mark if I called it the Southern Fried edition of Tummy Time. We're going to say a final Tummy style farewell to New Orleans for starters, then get down to some serious eating here with mains and desserts in Montgomery, Alabama.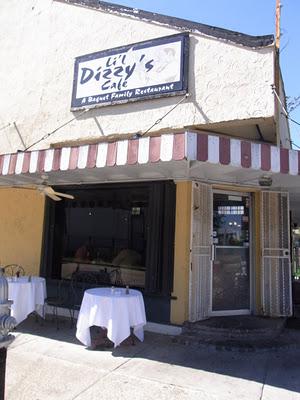 "You must go to Li'l Dizzys on Esplanade," said the owner of the Upperline Restaurant where we dined out one night early in our stay in New Orleans. And we're sensible enough not to turn down a recommendation like that, especially when it comes from the owner of a restaurant where we had just enjoyed a fine meal. Li'l Dizzys is a cafe that does breakfasts and lunch. Many say it has the best Southern Fried Chicken in New Orleans, but really it's just famous for all its good Soul Food.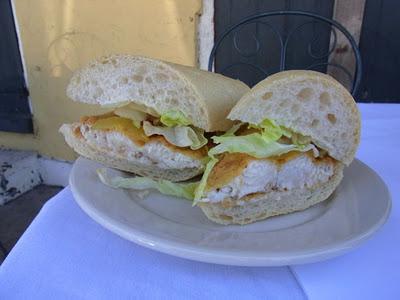 Pammy chose the catfish Po' Boy, and like the shrimp Po' Boy I had the other day at Mother's, this had the same great virtues: fresh, light baguette loaf; juicy fresh-cooked fish inside; a light amount of salad on top ("hold the mayo" said Pam, and they did): and that's it. Lightness was its virtue, flavour its soul. Perfect.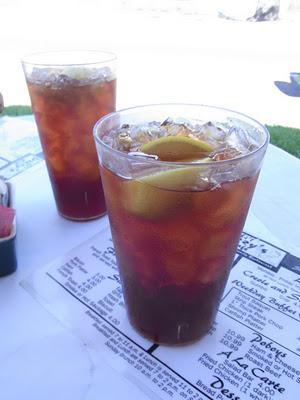 The current record for biggest ever glasses of iced tea goes to Li'l Dizzys. These must have been a full quart each. Very nice they were too. Most of the time when you order iced tea, which everyone offers, you get the choice of sweetened or unsweetened. If they have run out of either option, it's always the sweetened stuff they no longer have. And so everywhere we have gone we've enjoyed our preference: unsweetened iced tea. Very refreshing, and if you want it a tiny bit sweeter you can always open a sachet of sugar and add a bit of your own.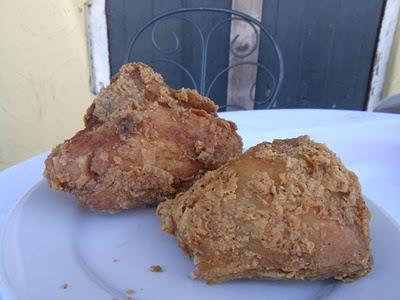 Of course I ordered the Southern Fried Chicken. When ordering, you're always asked to specify white (breast meat) or dark (thigh/drumstick), and so the most common order is one of each, although you can order whatever you like, in whatever number you like. These two cost a grand total of $5, and they were large pieces with lots of juicy but not oily flesh. The crispy coating didn't feature a lot of spices or extra flavours; it was quite delightfully plain, apart from the presence of a bit of salt and pepper. Yum.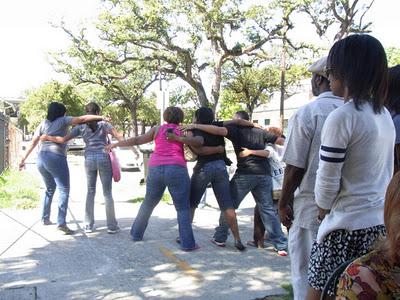 How do the customers like Li'l Dizzy's food? This tour group came out singing and swinging – they'd had a great time there!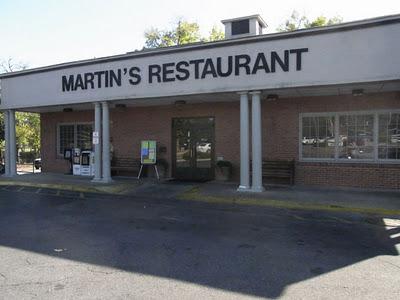 Now, moving on over to Montgomery, Alabama, there's a restaurant here that's famous for its country cooking. So we had to go to Martin's. Its location is as typically American as can be: it's in a strip mall on the side of a main road. (This is why the centres of so many towns are so quiet and deserted – everyone lives out in the suburbs and they shop at local strip malls like this one, which includes a supermarket, dentist, hardware store and several other shops supplying the locals' needs. These malls aren't giant multi-storey things; just a big parking lot with a long array of single-story businesses that you can easily park close to. On main roads in bigger towns each shopping centre can sometimes be less than a mile apart, there are thousands of them all over the place.) Anyway, back to the Soul Food/Tummy Time experience at Martin's....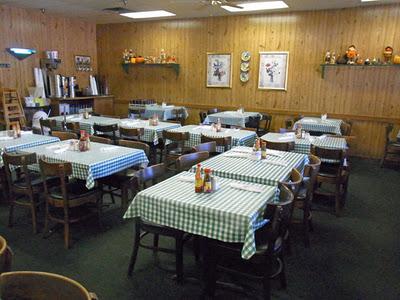 Inside, Martin's is all country-style quaintness. Where are the customers? In the next room. We ended up eating there well after 2pm, and the lunch crowd had gone. Martin's also opens for dinners from 4pm to 7.30pm. They dine early out here in the Montgomery burbs. To check out the full menu and more, visit the website here, at

www.martinsrestaurant.org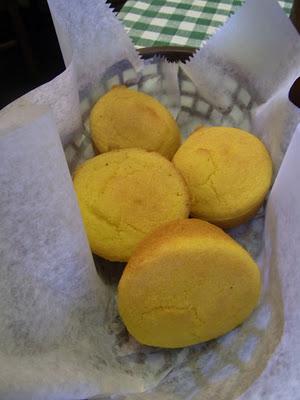 To start things off we ordered some corn bread, and in a few minutes out came these little muffins in a basket. Now, Martin's is famous for both its corn bread and southern fried chicken, and so my fate was sealed. Corn bread? Tick!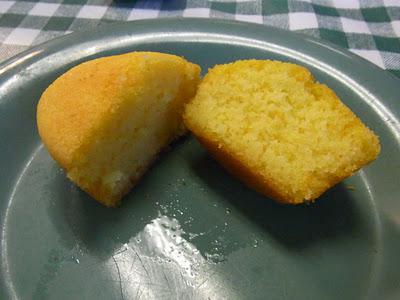 Talk about deeee-licious, these light and fluffy corny things were a great way to get the taste buds going. They were quite moist and pleasant just on their own, but you can slather butter onto the warm buns and let it melt down fast before enjoying some more. I had heard that corn bread is good, and they're right.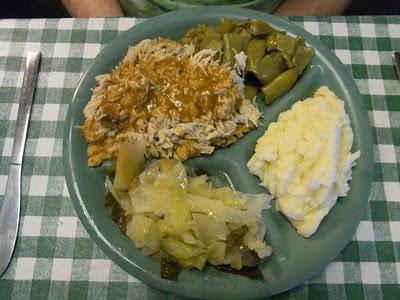 Pammy ordered the 'roast turkey with dressing' and what came out was shredded roast turkey meat covered with the stuffing from the turkey. The plates were mess-hall quaint in that they were divided into little compartments ("like a TV dinner" said Pam) in which Pam had a side each of shredded steamed cabbage, steamed string beans and mashed potato. The vegies were well cooked (OK, overcooked) but still very full of flavour, so however they overcook them, they do it well. The mash was buttery, and the turkey itself was extremely delicious, if also very filling.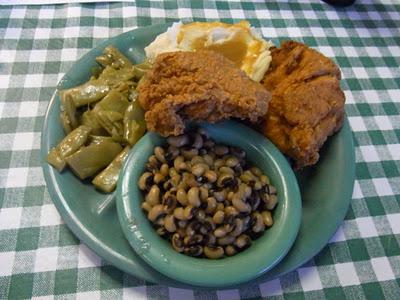 Of course I ordered the Southern Fried Chicken, and do you know what? It was almost identical to the wonderful chicken at Li'l Dizzys. It was hard to separate the two for quality: juicy, not oily, tender; salt and pepper the only spices on the coating; one each of light and dark meat; big pieces of each, too. Yum, but I won't fit into my jeans if I keep on eating this stuff! On the side I also had the string beans and mash, but I went for the black-eyed peas and they were a very simple, long-cooked, tasty dish as well. This was plain food at its best. But we hadn't finished. The owner of the restaurant had a nice, friendly chat with us, after hearing our Aussie accents ("Y'all visiting?"), and with her smooth southern friendliness made us feel as if we'd be mad to walk out the door without trying her pies, and so in we plunged into dessert world.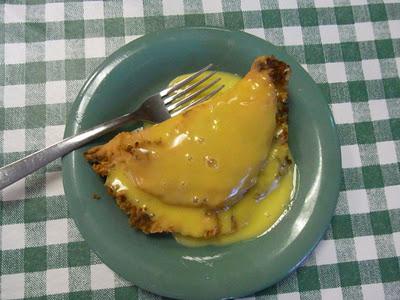 This was all my fault. I spotted a sign on the counter saying 'Fried Pies' and underneath it 'Peach or Cherry'. That must have put the wicked idea into Pammy's head, and so later on she ordered the Fried Peach Pie, which came with a creamy buttery sauce. It was very freshly cooked ("the fried pie will be only a minute or two more, Honey" the waitress helpfully told us while we waited) and so it came out warm and sweet. Being deep-fried, the pastry wasn't all that light but wasn't heavy either, and they didn't spare the sugar with the peach filling. Pam's a oncer on these.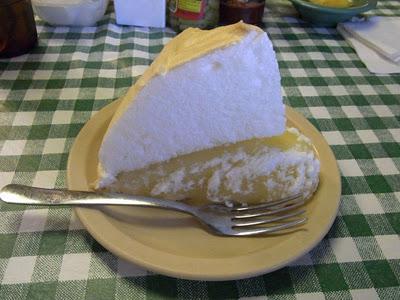 I got lucky! Now, there's no way you will ever believe me when you see this photo of a bulging Lemon Meringue Pie with its own pot belly, but this was the lightest, most beautiful Lemon Meringue Pie I have ever eaten. I have cooked several hundred Lemon Meringue Pies in my time and this was so much better than mine. Everything was light. The pastry base was thin and light. The lemon curd was oh so light and lemony but not too sugary. Even the meringue was somehow lighter than usual. It's a standard-setter, this one. When I get home I am going to have to work on my Lemon Meringue Pie skills. This was a 10. My best is probably a 6 by comparison. Note to self: must improve pie skills!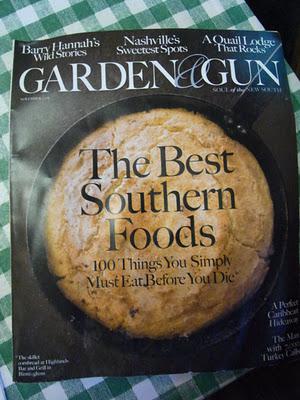 Finally, I have to show you the magazine which the owner proudly brought out to show us. Martin's had been featured in the "100 Things You Simply Must East Before You Die" story and it was their corn bread which made it into the mag. Note the mag name: 'Garden and Gun'. It's a magazine for outdoorsey people who like to cook, and who like cooking what they catch or kill. Inside, it's not as bad as you might imagine, in fact it's a nice looking mag with a wide range of stories other than hunting inside (craftspeople, a man who hand-builds kayaks, cooking, etc). It comes out 8 times a year, and a year's subscription costs $17.95. I'd be a subscriber at that price!

After that huge meal at Martin's we ate nothing more that day, and we also went for a long walk as well to work off at least one ounce. But Pammy says enough is enough on this Soul Food caper; she won't be able to fit into her clothes soon.
So Tummy Time is going to go looking for some healthier options from now on. Farewell, Southern Fried Chicken, you were great. Farewell, Lemon Meringue Pie, you were perfect.
Hello salads, hello grills (must do more walkies)!