We've been so caught up looking at volcanos, canyons and gaudy casinos that you'd almost think we hadn't had time to eat, and so let's set the record straight on tummy time USA. We've been eating well, very well indeed!
We simply didn't have our act together enough to take photos of all the good meals we enjoyed in Hawaii, but the food there was very interesting and healthy, especially if you choose the local Hawaiian foods. As for Las Vegas, room service at Caesar's was fine, too, but the one thing we're missing here in the USA is vegetables! There are salads galore here but precious few vegetable dishes, even on the side.
Today, with the excitement of Grand Canyon just barely behind us, we set our sights low and only aimed to travel less than 100 miles down to the main east-west highway and Flagstaff in Arizona. But on the way we ran into a wonderful way to start our 'food blogging' component of the holiday, at the lonely outpost of Cameron, Arizona. You can find Cameron on the new map which I have added to the top right-hand corner of the blog. As we move along I'm going to update the map to show you where we're going. So, for starters, two hot and thirsty travellers stopped off at the Cameron Trading Post, looking for a bit a lunch but, most importantly, a cool drink.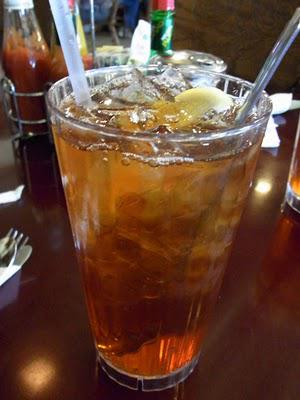 Iced tea. Real iced tea, made from tea, water and nothing else. No sugar. Just lots of ice cubes on top. The big spoon is there for you to stir in the sugar which you add yourself, to taste. We both wanted iced tea, and so it's $2.99 for two 'bottomless' glasses of real iced tea.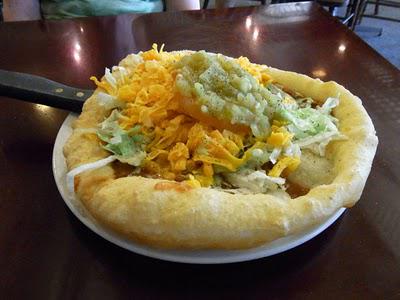 Pam ordered the Mini Navaho Taco, which is a vego taco ($10.99). No, that isn't a six-inch entree plate, it's a 12-inch dinner plate. That's the Mini taco. The regular is even bigger. It's a base of beans covered with shredded lettuce, sliced tomato, grated cheese and a topping of mild green chilli salsa. The taco itself is a lightly pan-fried, soft dough that's not at all heavy. An American lady on the table next to us was peering over, and when she discovered that this was the mini, she and her husband shared one between them. Pam ate most of the topping and only one-third of the taco, and the verdict was 'delicious'.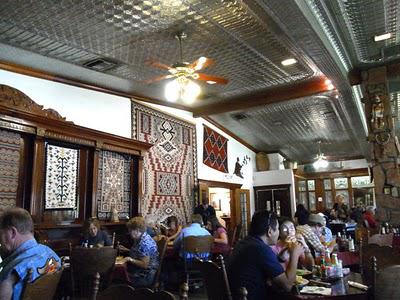 Now, the room itself was a highlight of being here. The Trading Post was built in 1916 and it still features the original pressed metal ceilings and the old cupboards from the early days. It's a large, superb dining space, an amazing oasis out here in the desert. The Navaho rugs on the wall ($5000 if you want a small one) are beautifully made.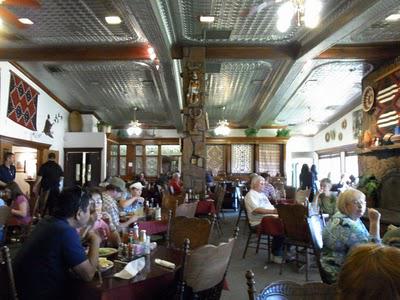 The place was packed but the service was fast, friendly and efficient.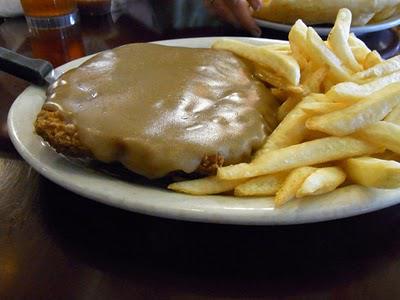 "That's disgusting, are you actually going to eat that?" Pammy helpfully enquired. Sorry folks, if you have a delicate constitution, but this Chicken Fried Steak is on my list of American Ethnic Foods I Must Try. For Aussie readers, this is a glorified beef schnitzel. It's a thin slice of beef that has been crumbed and pan-fried. That's the Chicken Fried Steak bit. As for the gravy, maybe it's standard. How would I know? The meat itself was tender and moist and very well cooked. The fries scored 5.5 out of 10, a bare pass mark. But I ate all of my schnitzel (er, chicken fried steak), unlike Pam's half-finished taco-eating effort.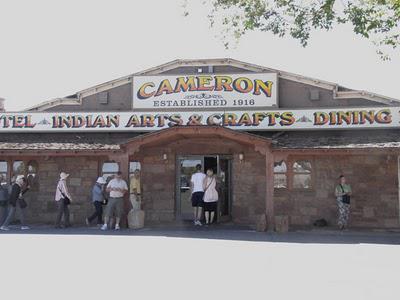 This is the unremarkable building in which this lovely old dining room is found.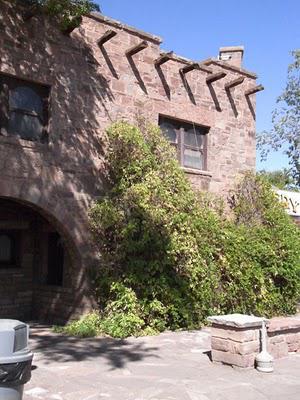 The other buildings in the square at Cameron also had that old-world Arizona charm, too.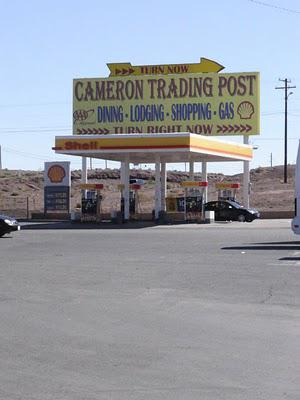 The same cannot be said for the signage enticing us into town. However, it is effective in that we stopped here, along with dozens upon dozens of others, but when Cameron is the only speck on the map which looks like a town for travellers departing Grand Canyon to the east, enticing people into town is a pretty easy game.
As for all the other meals we've had so far, it's not really all that different from touring rural and coastal Australia, where inconsistency of food quality is the norm. The service is better here, though. We've had some very good sandwich-style lunches, and the coffee here is no worse than instant coffee. We haven't enjoyed a good coffee yet, but it isn't dreadful, either. We've tried half a dozen Californian white wines and have liked two out of six so far. All three Californian reds we have tried have been very good.
We're off to New Mexico tomorrow, a state which actually has an Official State Question. The question? Red or Green? Que? They're talking chilli. They like to serve chilli with everything. Now that sounds interesting...