If you've signed up to receive our newsletters (if not, sign up here!), then you've probably seen our new collection by now, which is a lovely assortment of mixed metals. Because of the ever-so-popular mixed metal concept (it goes with pretty much everything), we wanted to use the same concept but go with something other than gold and silver. This time we decided to go with the elegant tone of rose gold juxtaposed with silver and the results were definitely a nod for approval. Check out four of my favorite picks below. And if these styles don't tickle your fancy, there are more new jewelry styles to choose from!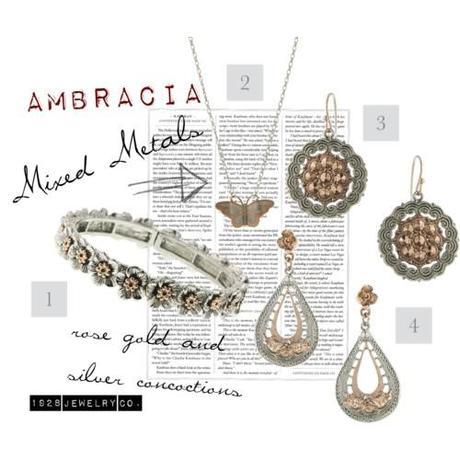 1). Ambracia Clusters Flower Stretch Bracelet – It doesn't look it, but the bracelet stretches and is a definite style maker—a double perk!
2). Ambracia Mixed Metal Butterfly Pendant Necklace -This adorable pendant has curved wings for that extra flair

3). Ambracia Mixed Metal Round Scalloped Earrings – These drop earrings have become one of my favorites. Detailed as can be with swirls and scalloped edges, these they deliver a unique accent to whatever you're wearing below!
4). Ambracia Teardrop Mixed Metal Earrings – The petite rose buds on the post adds a sweet, vintage accent to any look—a definite must-have!