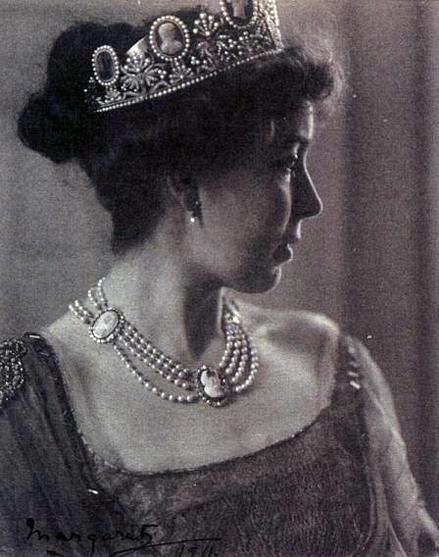 I don't know about you but I've always had a liking for cameo ever since I was a little girl without knowing what it was. I remember loving these Hattie Brooks-labeled tin cookies etched with a Victorian lady silhouette on the side, and then I saw someone wearing a ring that looked similar and thought "oh, a Hattie Brooks ring! I want one of those!"
Cameos have been around forever since the 19th century, worn by the royales of the time like Queen Victoria and her nobles, which makes it even more exciting when you come across one in your grandmother's jewelry box. The best thing about it is it's timeless appeal, and this year the cameo is getting a new emphasis from top designers around the globe. Below, Lanvin draws inspiration from the Victorian era as models strut down the runway wearing a large cameo necklace and gloves for a vintage throwback.
Choose your favorite cameo piece and juxtapose it with futuristic looks for that edgy appeal. We recently brought back Pandora's Onyx Black Cameo Locket Necklace (the brass locket on right), which is one of my favorite styles at the moment! Have a fab Tuesday!