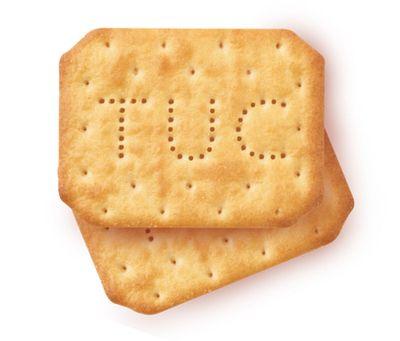 My friend Allison is staying with us. Allison is a friend from way back when I lived in San Francisco (years ago we went to Lourdes with Annie to celebrate the miracle of Allison's little nephew...) 
Anyway, last night we had dinner at Thierry's house. Before dinner an aperitif was served. I took a cracker, a TUC offering it to Allison, and asked if she had ever had a French verision on a Ritz cracker before? We dipped them into Tarama. It struck me funny that I recalled a Ritz cracker at that moment, and that a TUC so familiar is unknown in the States and visa versa.
Small cultural difference of little importance.
TUC is the French cousin to the Ritz cracker. I loved your comments yesterday! Who knew one could have a good laugh over a cracker's name.
As Allison is from San Francisco French Husband asked her if she had ever heard or seen the "Blue House"? Allison did not, either did I. As French Husband told us the story I thought to myself I have been married to this guy for 26 years, met him in San Francisco and he never told me of the "Blue House"?
Small cultural differences are important.
La Maison Bleu by Maxime Le Forestier have you ever heard of this Blue House? I have heard this song many times in France, and never knew the connection until yesterday....
"Americans love singing about cities.
They sing about the London Bridge falling down,
about knowing the way to San Jose, and even sometimes about the Champs-Élysées.
Yet it might surprise the average American to know that other people - even the French - do the same thing. Originally from Paris, I grew up singing in the shower a French song about San Francisco called "La Maison Bleue (The Blue House)." It was written in the 1970s by famous French singer Maxime le Forestier and told of a painted house set aside a San Francisco hill:
It was a blue house,
That stood against a hill
We come there walking, we don't knock
... Those who live there, had thrown the key
When San Francisco
Gets foggy
When San Francisco
Lights up
San Francisco where are you?" Via SF GATE for more about this article follow this link.
Can you name a song with a City's name in it?

La Maison Bleu by Maxime Le Forestier  song sings about San Francisco.