This is a sponsored post written by me on behalf of TUACA Vanilla Citrus Liqueur  for IZEA. All opinions are 100% mine.
Today's post is sponsored by TUACA®. Have you had it yet? TUACA® is " a vanilla citrus liqueur, a brandy, blended with natural sugar, fine spirits and vanilla essences." Doesn't that just SOUND amazing?
You guys. It's fantastic. And even better, it puts a delicious twist on one of my favorite drinks, the Moscow Mule. Paired with ginger beer and lemon juice, it's a totally refreshing fall drink.
But, that's not all. TUACA® was also a key ingredient in my grown-up root beer float! I love it, because it's TOTALLY mixable and the vanilla undertones work well in so many different pairings. It's a bit spicy, definitely refreshing, and gives my favorite drinks a warm and velvety feel.
And, it finally pushed me over the edge to purchase some copper mugs. Aren't they perfect? I wish it was acceptable to drink my coffee out of them in the mornings, because I kind of love them.
There's something about my recent TUACA® discovery that has really expanded my horizons - it's a very complex flavor, so experimenting was a lot of fun. I knew the TUACA®Mule would be a home run, but honesty I was uncertain that the root beer float would work. After one sip, I knew I was on to something and my innovations haven't stopped since. The vanilla citrus is totally versatile. Crisp and refreshing? Yup. Warm and spiced? Yup, that too.
Over the weekend, the weather was warm, it was sunny and too warm for long sleeves. Tuaca Mule to the rescue! Aren't they pretty? My husband and I both enjoyed ours out on the deck while watching leaves fall from the trees on a beautiful fall day. Awesome.
But then, just two days later the weather changed to rainy, breezy and cool. So of course, the warm, spicy vanilla flavor was beckoning - and my beloved Kansas City Royals are playing the World Series...you see where this is going. So, why not? I wanted a treat after dinner to go with the game.
I keep saying this, but YOU GUYS.
TUACA® root beer floats. Wow.
It was pretty delish. I mean, look at it.
I could go on, but what else is there to say? Start with good ice cream, a good, creamy root beer and a splash of TUACA®. And, a "little" whipped cream never hurt anyone, right?
If you are as inspired as I am and want to give TUACA® a try, I've shared my recipes with you below. Also, check out the TUACA® Pineapple Spritzer (link here: Tuaca y Pina) and the TUACA® Hot Apple Pie (link here: Tuaca Hot Apple Pie). Both are fantastic. Click HERE for a product locator for a store near you. Hope you love these, enjoy!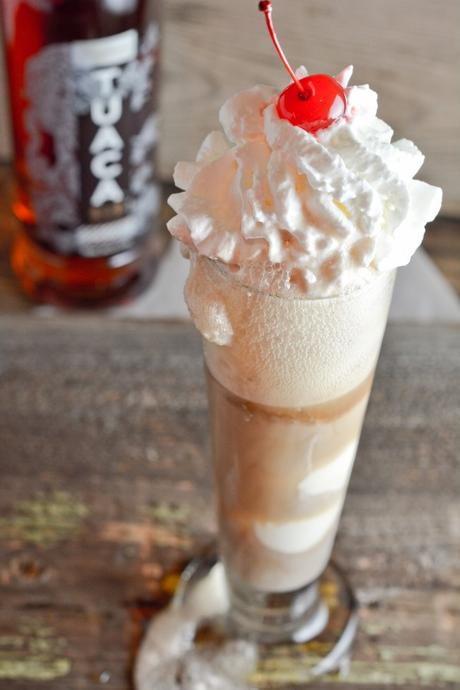 leave a comment your way - using facebook or disqus: