More about:
TSC Signature
I used to wait to travel to France to spend endless hours at signature gourmet shops like La Grande Episserie de Paris or Lafayette Gourmet… simply to give my senses a treat. I recently discovered that I can do the same in Lebanon – TSC Signature. Set in the vicinity of posh boutiques and key establishments, and at the core of the historical Beirut Souks, is tailored to the taste of the most fastidious shoppers and certified gastronomers to offer a refined shopping experience.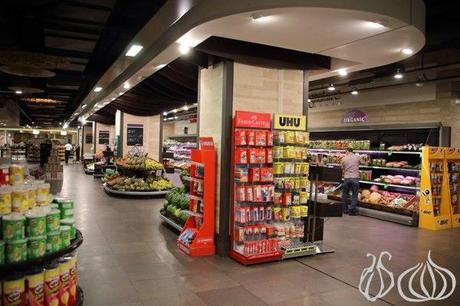 This gourmet shrine reveals a dazzling tapestry of exotic, natural and organic fruits & vegetables and carries a wide assortment of fresh fish, fine imported delicatessen, high-quality meat and delectable breads and pastries. It holds the best selection of Al Rifai nuts and Al Baba sweet delicacies.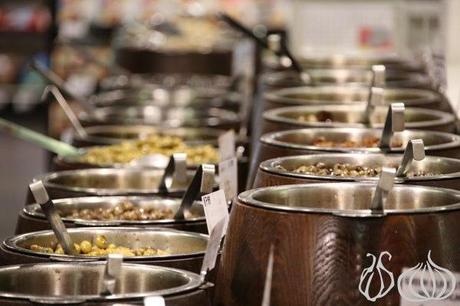 If you visit the grocery department, you will discover an enchanting and colorful treasure trove hosting exclusive gourmet and Lebanese heritage goods. Each item is a remarkable masterpiece displayed with elegance and flair to unveil a world of endless choices. To complete your shopping, you will also find all your basic and daily grocery needs.
The classy wine rack and cigar humidor adorn the store with a magical touch offering an inviting and warm atmosphere to unleash your senses and explore the exquisite aromas of the world-class wine and cigar selection. Even Valrhona boutique – The Supreme Reference in Chocolate – found seclusion in the store introducing divine creations and tempting flavours.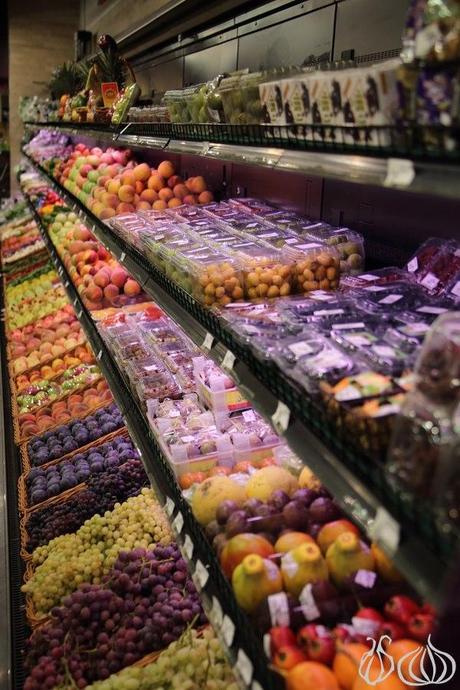 Opulent yet refined, elegant yet simple TSC Signature, endowed with a unique cachet, is designed to cater to your every whim providing you with customised ordering, the highest standards of customer service and the widest range of rewards.
Opened in 2010, TSC Signature is not your usual supermarket but a place where everything is acceptable to make your taste buds scream in awe. Choose anything from anywhere in the shop and have it enjoyed in the middle of the food court. For example, grab a freshly baked baguette, choose some premium cheese of your choice, couple them with a fine bottle of wine, then sit back to enjoy.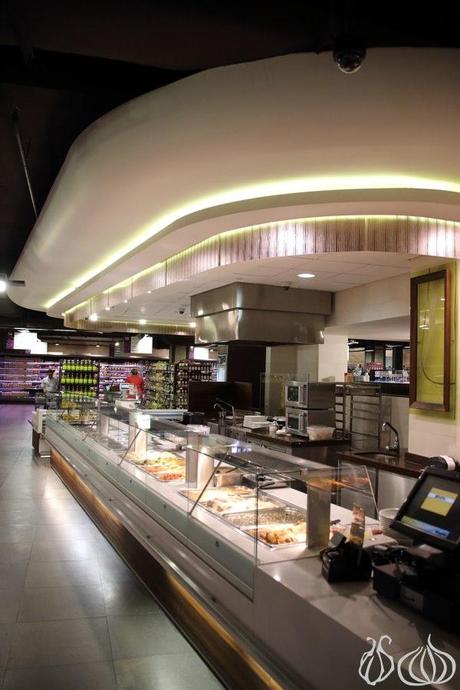 The shop described:
TSC Signature has two entrances, one closer to the main road and the other facing the Beirut Souks orange sculpture
Two cashiers on both sides of the shop, check you out without waiting time
Customer service is located at the end of the shop facing the parking elevator for any eventual need
A long, rich and varied fruit section looks like nothing you've seen before. Fresh colors make your mouth water
The concept is build around a food court: Anything you dream of is available for inhouse consumption or take away
Deep inside the shop, imported goods are displayed on 15 distinct alleys of shelves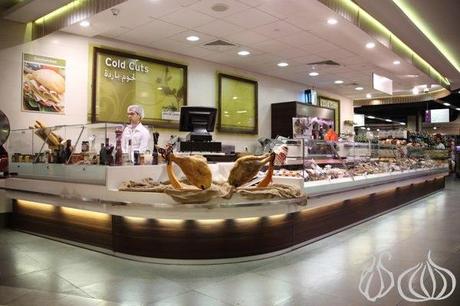 The ready to eat sections:
Grill house and shawarma: A charcoal grill shawarma unique of its kind
Juices and Salad bar: The juices are freshly squeezed by the hour depending on the season's availability. The fresh products are kept in crushed ice until bought for consumption. 12 different salads are prepared every morning, served as the client asks for it
Lebanese section and cold appetizers display: Hummus, tabbouleh, fattouch, moujadara, moudardra, white beans, green beans, mousaka3a, batanjen…
Hot Meals: Up to 12 choices available every single day. Salmon, pasta, moughrabiyeh, mloukhiyeh, steamed rice, Caju nuts chicken roulade, boiled vegetables, mashed potato
Cold Cuts, sandwicheria: Sandwiches prices can vary from 10,000L.L up to 150,000L.L depending on the filling chosen
A fully loaded Sushi Conveyor
Cheese Fridge: Many renowned French names imported specially for TSC
Bakery and Sweets: Just name it, TSC has it: Pizza, mannish, kechek, croissant and much more freshly prepared on an hourly basis
Cafe (separate menu, hot drinks and special mix)
Pizza and saj
Fish section (oven or fried): for 20,000L.L you have a hummus, salad and French fries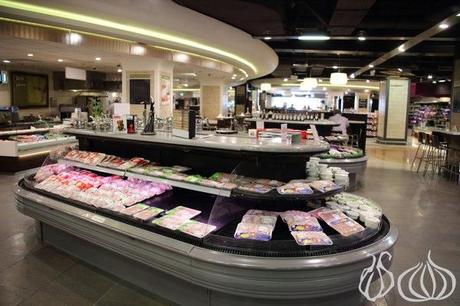 Different shopping sections:
Vegetables
Nuts
Cold cuts
Cheese section
Dairy products
Bakery, bread and sweets
Meat (local and imported)
Grocery: Specialties from around the world
Wine and alcohol section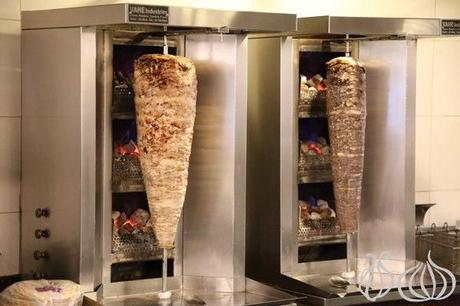 Good to know:
Baguette and bread are produced locally
Buy anything and have it rolled for you in a sandwich on the spot
Plat du jour: 17,000L.L A rich and generous plate
There is a special elevator going up directly from the parking into the shop in case you want to avoid the mall crowd
A coffee shop, next to the news stand, has a separate menu especially tailored to have a quick bite and a coffee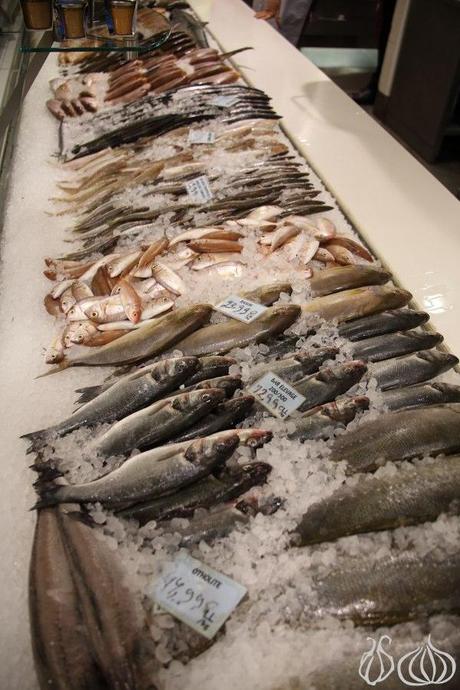 I enjoyed my time today:
I met Maitre Ghazi, the head waiter, responsible for a team of eight continuously present on premises to offer a fine lunch experience to everyone who passes by TSC
Chef Ali prepared a special pizza for the occasion. A thin dough with crunchy borders filled with a signature sauce Ali prepares by himself daily
Rabih responsible for the fish section is a fisherman himself and will make sure to answer every question you have about seafood. For 20,000L.L, your favorite fish will be fried or grilled and served with hummus, salad and french fries
Chef Amer EL Hajj, TSC's Executive Chef accompanied me on my tour today, introducing me to his special recipes and future plans. With a kitchen staff of 40 active chefs, Amer makes sure all customers leave happy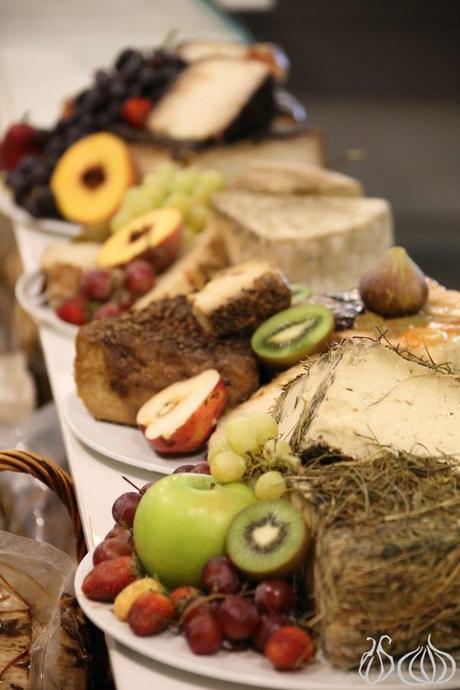 The things I loved:
For the very first time, I feel pampered in a supermarket in Lebanon
The vegetables and fruits fridge is breathtaking
The shelves have lots of interesting products and sections that cater to many special to different needs that have not been taken into consideration in Lebanon before
"Organic" is seriously taken into consideration
The sushi conveyor belt offers a rich selection at an affordable price
I enjoyed the meat section where Waguy, Angus and fine selections are proposed
The lighting and food displays are all mouthwatering
TSC has the Morello Forni, one of the best Italian pizza ovens in town
Harry's my favorite bread made in France, is sold at TSC
The famous Caviar Petrossian from France is sold in here
The shelves have food items from around the world: Indian, Mexican, Chinese, Japanese…
Look after the "Imported for you" label to find out the products especially imported by TSC into the country
Dr Pepper, Starbucks coffee bottles or Lemon 7up are products you can find in the fridge
If you're looking for a unique food shopping experience you think you can only find in Europe… Head down to TSC: You'll be impressed.
























Pages  [
1
]  [ 2 ]  [ 3 ]  [ 4 ]  [ 5 ]  [ 6 ]  [ 7 ]  [ 8 ]  [ 9 ]  [ 10 ]  [ 11 ]