With summer coming to an end, we must prepare ourselves mentally and physically for the changing weather which can be harsh to our bodies in many ways. When the cold starts to roll in, people start to bundle up and worry less about their beach body. Hibernation seems to take its toll on our motivation and therefore making finding energy harder. However, it is not a reason to neglect our health! If that is your case, here is a good and easy solution.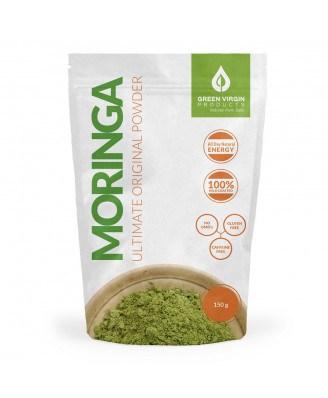 A new product has been trending lately in the health and food industry. It has been rated miraculous because of its numerous benefits. Have you heard of Moringa powder? If not, you must get your hands on this product. Not only is it natural and organic, it is very versatile. Everyone can definitely find a use out of you. It is never too late to take action and help your body feel better.
Properties
Moringa powder is made with Moringa oleifera tree leaves. For better results, it is preferred to use dried leaf powder over fresh leaves because it has been found to be more nutritious. It can be kept for several months and will not lose its nutrients. It contains about 20 types of amino-acids, 46 antioxidants and 36 anti-inflammatory compounds. It can significantly increase your daily value of iron and calcium. It is also a source of many vitamins such as A, B, B1, B2, B3, B6, C and E. To top it off, it is a good source of protein and fiber. So if you intend on starting a diet, this can be a great option to consider in order to provide a more fulfilling meal. It is also very maternity friendly.
Benefits
As mentioned before, this product is as great as it gets. If you suffer from distraction, Moringa powder will increase your concentration and focus. This can be very useful for students or people who must pay attention to detail on an everyday basis. For people wanting to start a diet, this plant can help increase one's energy by increasing stamina and reducing hunger. For maximum result, it is recommended to exercise regularly and drink a lot of water for its effects to be optimized. Moringa products should be used as a complementary ingredient to an actual diet. Health wise, it can improve well-being by regularizing sugar levels, lower cholesterol and control blood pressure. Therefore this product would be very beneficial to people suffering from diabetes. It overall improves immunity system which can stipulate hair and nail growth. It also acts as detox and eliminates all toxins from the body. Beauty wise, Moringa products can enhance the appearance of skin by providing all its nutrients. It can be used to heal wounds and prevent pimples as well as delaying skin ageing. Overall, it can be used for various reasons.
Different ways to incorporate it in your daily routine
The easiest way to use Moringa products is to add it to your daily diet. It is suggested to use the powder version and add it to any meal preparation. It is also easier to dissolve in liquids such as smoothies and soups. If the taste isn't to your liking, there is also the option of Moringa capsules. Either way, you will be receiving all its nutrients. By simply incorporating this product to your daily consumption, you will see and feel a difference. Don't let this fall season get the best of you and choose a lifestyle that will bring out the best version of you!