Hi Huneybees,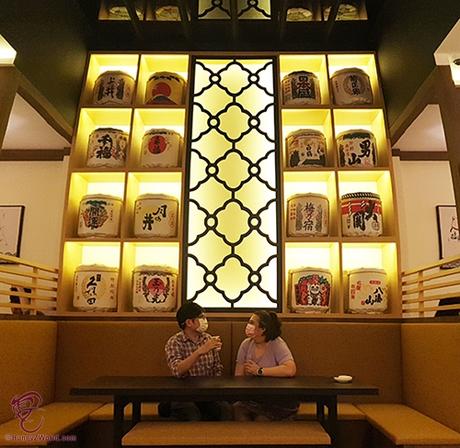 You've been working hard and it's time to treat yourself to a good meal this weekend. If Japanese cuisine is what you are craving, here's a recommendation.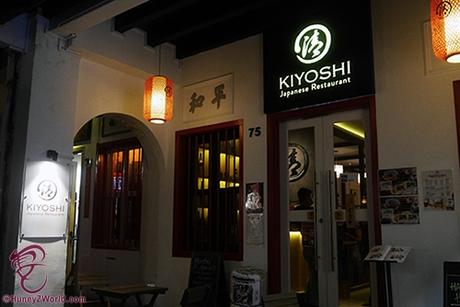 Located in the heart of the CBD area, along Amoy Street, is the Kiyoshi Japanese Restaurant. It is a  relatively new (launched in April 2020) family-style restaurant specializing in Inaniwa Udon, yakitori, sushi, and affordable bento sets.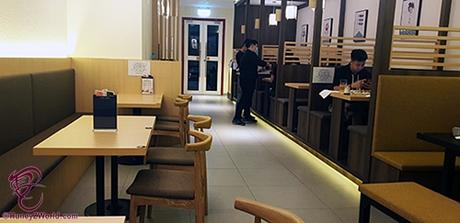 Keeping true to its name - Kiyoshi 清 meaning "pure" in Japanese, the restaurant is a refreshing take as you step into its brightly lit interior. One feels homely and comfortable to dine in, with a few Instagram worthy spots for your wefies while waiting for your food to be served. The restaurant has taken all the safety precautions from Covid, so you can dine in peace...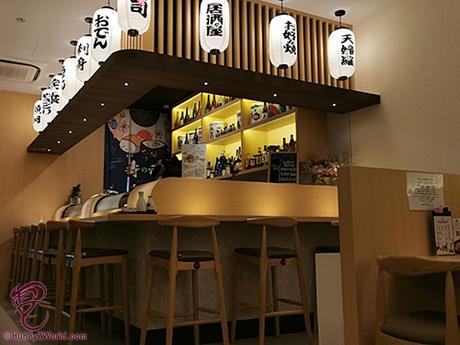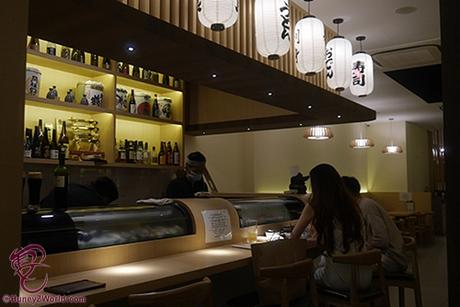 There's even a LIVE sushi bar for you to see the chef in action.
Hungry already? Let's start with some Yakitori.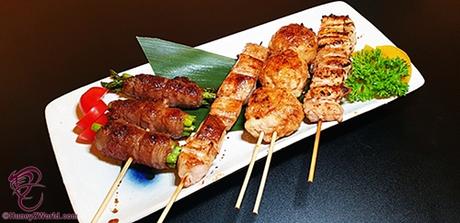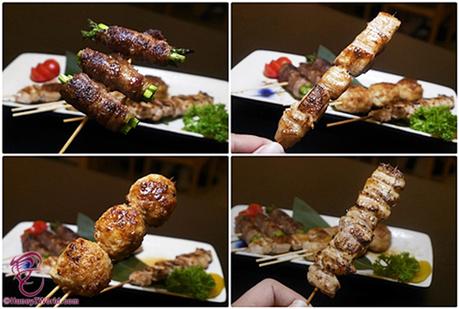 We had Asparagus wrapped with pork, chicken, pork balls as well as beef. I liked that the meat is lightly marinated, not overpowered with teriyaki sauce, so you can still taste the light freshness of the meat with a little smokey touch.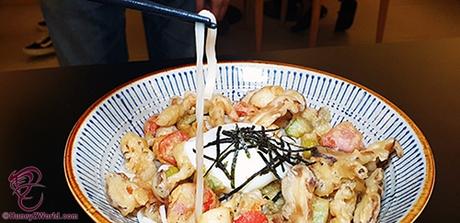 The restaurant specializes in Inaniwa udon, a type of udon made in the Inaniwa area of Inakawa machi, Akita prefecture. This cream-colored udon is hand-stretched and is slightly thinner than regular udon, yet thicker than sōmen, or hiyamugi noodles. The most important part of the making process is the repeated hand-kneading technique which helps it to achieve its thin, smooth, and delicate, melt-in-your-mouth texture. 
The restaurant serves many different styles of udon dishes - Kiyoshi Combination Udon (comprising three kinds of Japanese cold noodles including Ikura Salmon Udon, Tempura Udon, and Nebaneba Udon), Aburi Salmon Salad Udon, Tempura Oroshi Udon, Tem Chirashi Udon, Beef Onsen Udon, Prawn Udon, etc.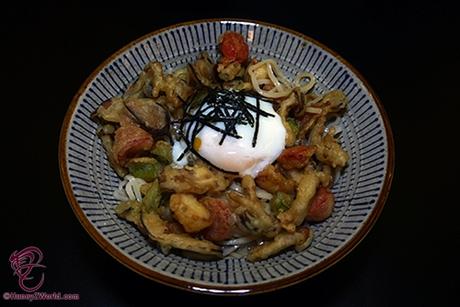 For me, I think the 
TEM Chirashi Udon is a must-try dish. 
The thin udon is served cold with assorted tempura (scallop, mushroom, avocado, and capsicum), topped with a soft boiled egg and seaweed strips. It's not only a colorful visual presentation, it is also an interesting play on textures. You get the crispy bites from the tempura and then the soft silkiness of the udon mixed with the egg yolk, I've not had udon this way before and I think it makes a good summer dish.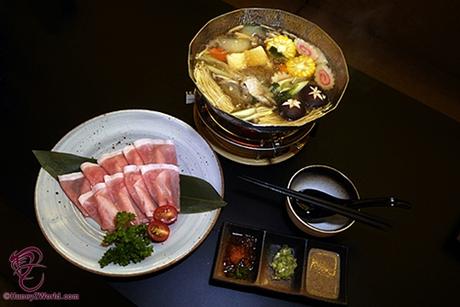 Another dish that left an impression on us was the Kiyoshi Nabe Mono. We had it with the Dashi Soup Base, which complemented very well with the fresh vegetables and brought out the freshness of the meat - Hokkaido Pork. There's other meat selection and add ons too - 
A4 Wagyu, US Beef, Tsukune & Satsuma age.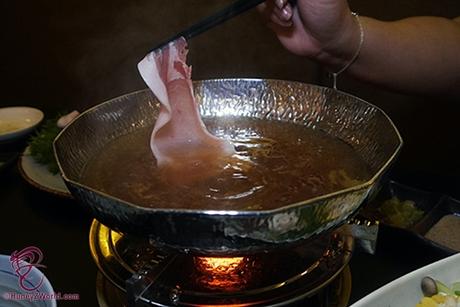 What's special was when you are finished with the Nabe Mono, cooked rice and an egg are added into the soup. The waiter will help with this part, stirring in the pot slowly until the soup is absorbed and the dish becomes a pot of yummilicious congee.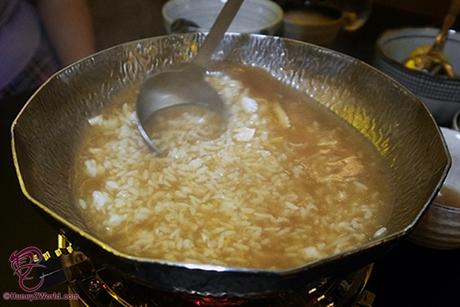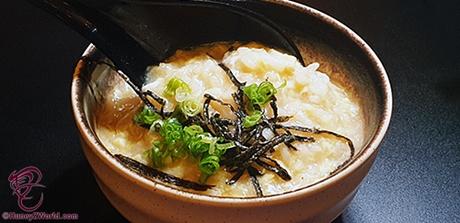 You can add in the provided spring onion and seaweed strips to taste or opt for their specialty udon instead of rice, for a nice bowl of warm udon to end the dinner.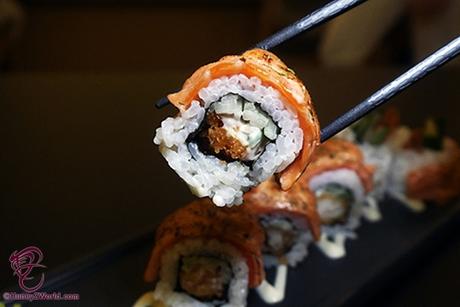 So, these are some of my recommended dishes for you to try out at Kiyoshi, of course, there are still the usual known Japanese dishes like sashimi, donburi, ramen and bento sets, waiting for you to enjoy. Cheers to a wonderful meal and have a great weekend! 😀
Kiyoshi Japanese Restaurant
75 Amoy Street
Singapore 069894
Tel: +65 6223 0995 / +65 9366 6419
Website: https://kiyoshi.sg/
Opening Hours
Monday to Thursday: 11am to 3pm; 5pm to 10pm
Friday: 11am to 3pm; 5pm to 10.30pm
Saturday: 11am to 3pm; 5pm to 10.30pm
Sunday: 5pm to 10pm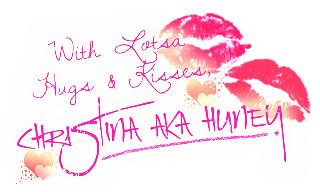 Do follow me on my social media for more daily updates...Facebook page | Twitter | 

Instagra

m

http://www.huneyzworld.com