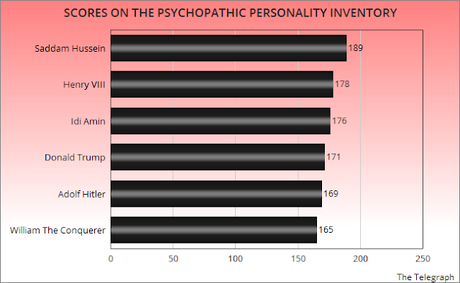 The chart above, from The Telegraph, shows the Psychopathic Personality Inventory score of some rather heinous historical figures. The answers to the test (which reveals psychopathic tendencies) were given by experts on those figures.
Donald Trump scored scarily high on the test -- just above Adolph Hitler and just below Idi Amin.
A high score doesn't necessarily prove a person is a psychopath. Some tendencies can drive a person to be successful. But Trump scored high in some troublesome categories like cold-heartedness (and he has repeatedly shown that trait since becoming president).
Donald Trump is a psychopath.